Posted on
Sun, Feb 10, 2013 : 5:59 a.m.
University of Michigan expansion: Buying land in Ann Arbor raises questions about tax base
By Kellie Woodhouse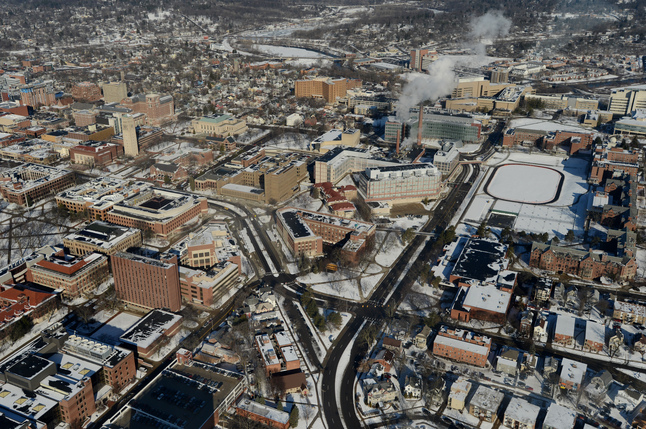 Melanie Maxwell I AnnArbor.com
Related articles:
University of Michigan expansion in Ann Arbor means two things: the university is prospering and the city will lose valuable tax revenue for every piece of real estate acquired to support the growth.
The school has acquired 29 properties in Ann Arbor throughout the past 13 years, according to U-M records.
U-M officials say the university's expanding footprint helps businesses and allows it to employ more people and strengthen Ann Arbor's economy - but city officials say it's hard to ignore the impact on the city when acres of land go off the tax rolls.
As a public university, U-M is exempt from paying property taxes.
U-M in Ann Arbor
Key figures
2.39 square miles: The amount of land U-M owns in the city of Ann Arbor
29: The number of properties U-M has purchased in Ann Arbor since 1999
34 million: The amount of square footage U-M's Ann Arbor buildings comprise
$5.1 billion: The book value of U-M's Ann Arbor properties
Three and a half years ago when U-M
purchased the 174-acre Pfizer property
in northeast Ann Arbor, mixed feelings reverberated throughout the city.
On the one hand, the $108 million purchase was assurance the property would not sit vacant for years as Pfizer sought a buyer. As thousands lost their jobs, U-M promised the site would facilitate the creation of hundreds of new positions. Yet the purchase meant 4.8 percent of the city's tax base was taken away. Pfizer paid the city $4.1 million in taxes in 2008.
"The truth is we want people there, but is the boost to the businesses across the street significant enough to offset that [loss in revenue]?" city council member Sabra Briere, D-1st Ward, asked recently.
With ebbs and flows, similar debates have played out for decades as the university purchases property in Ann Arbor.
The university owns 2.39 of the city's 28.55 square miles as of October 2012, according to city assessor Dave Petrak. That's about 8.4 percent of the city's land area.
Courtney Sacco I AnnArbor.com
The figures are more dramatic when considering downtown Ann Arbor. The university owns 22 percent of the downtown acreage, or 42 acres out of the 191 acres that aren't considered public right of way, according to the Ann Arbor Downtown Development Authority.
Of the 29 properties U-M has purchased in Ann Arbor since 1999, 27 are downtown.
"It's inevitable that if the university continues to purchase property, that is going to have an effect on the city," said Ann Arbor Mayor John Hieftje. "If you keep buying a few properties every year, they add up."
Strategic growth
Downtown acquisitions are strategic: Since 1999, most have been clustered near Wall Street; the area that transitions the Old Fourth Ward to health system property near Glen and Ann; along South Division Street between Packard and East William streets; and near the law school.
"We very seldom purchase property," U-M Chief Financial Officer Timothy Slottow said in an interview after the school's Board of Regents approved the $1.5 million purchase of the Blimpy Burger property and adjacent parcel at 551 S. Division St. in December.
"When we do purchase property, it is for a very specific mission-driven purpose or it is very strategically located," Slottow continued. "It's always nice when you're the size that we are if you have some opportunity to build a building on your core site, and we are basically land-constrained on central campus."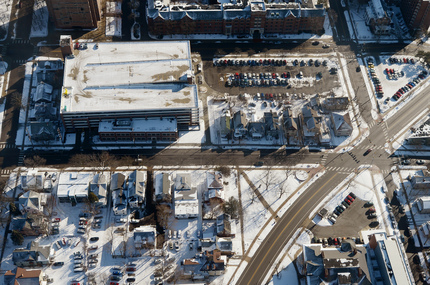 Melanie Maxwell I AnnArbor.com
The school has also embarked in billions of dollars worth of construction in the past decade, building a 1.1 million square-foot children's hospital, the 10-story North Quad residence hall and learning complex, a state-of-the-art business school and multiple parking garages, among dozens of other projects.
In a state filing, the university reported owning buildings totaling 33.56 million square feet within the city in 2011, according to the Michigan Department of Licensing and Regulatory Affairs. Slottow has reported that, as of June 2012, the Ann Arbor campus comprises 34 million square feet of building area.
In 2004, U-M reported owning buildings totaling 26.85 million square feet.
In Ann Arbor Township, U-M reported owning buildings totaling about 611,000 square feet in 2011, up from the 441,900 reported in 2004. Throughout greater Ann Arbor, U-M owns 3,244 acres of land.
The school's Ann Arbor properties are worth $5.1 billion, according to U-M spokesperson Rick Fitzgerald.
The city of Ann Arbor's tax base is less than that. In fiscal 2011-12, the city had a taxable value of $4.68 billion, according to the Michigan Department of Treasury, and collected $76.5 million in property taxes.
Is it sustainable?
"I've grown up in Ann Arbor and I've seen the changes over the years - and while they are small, incremental purchases, just in my lifetime they add up pretty substantially. My concern is not so much with the short-term," said council member Stephen Kunselman, D- Ward 3, who wants the university to focus on "building up" instead of building out.
"What does that mean for the future of Ann Arbor if the university keeps growing? What is it going to be 150 years from now? It's going to be the city of the University of Michigan."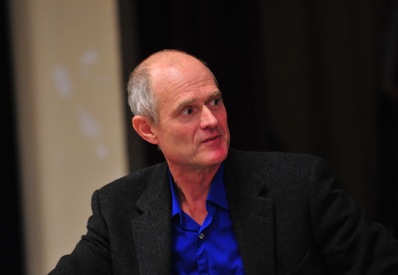 Ryan J. Stanton | AnnArbor.com
Roughly 40 percent of the city's land is non-taxable, and the two largest tax-exempt entities are city parks and U-M, said Hieftje. The city has no estimate for the revenue it loses due to U-M's tax exempt status, but the amount is well into the eight-figure range.
Hieftje says the "constant drip" of taxable properties becoming non-taxable will continue to whittle away at the city's revenue base, possibly creating future hardships for the city.
"It's really obvious that the university brings great things to our city: jobs, the arts..." he said. "But it's also obvious that the university doesn't pay taxes, and that's just the way it is at public universities. If they continue to purchase properties the tax base will be reduced."
'One is good for the other'
University officials contend the school's growth, and subsequent effect on the city's finances, is minimized by the economic stability U-M brings to Ann Arbor by providing employment and admitting thousands of students, which in turn boosts local housing, restaurants and businesses.
"As the university grows, so do the businesses, so does the housing market, so does Ann Arbor. One is good for the other," U-M regent Andrea Fischer Newman said in an interview after a December Board of Regents meeting.
"Arguably, if there wasn't a university here, the community might not be here that the university supports."
From 2002 to 2012 the university added 9,200 jobs in Ann Arbor. U-M has roughly 41,700 full-time employees in Ann Arbor.
Though the lion's share of property taxes are shouldered by single-family homeowners, many of those homeowners are employed by the university.
"The presence of the university really does buffer our economy in rough times," offered city council member Sally Peterson, D-2nd Ward.
Using figures from the Michigan Department of Treasury, U-M community relations director Jim Kosteva compared the fluctuations in Ann Arbor's taxable value during and after the economic downturn with the taxable values of properties of comparable communities in the state.
From 2008 to 2012 eight cities —including Dearborn, Farmington Hills, Livonia, Sterling Heights, Troy, Warren, Lansing and Grand Rapids— on average lost 23 percent of their taxable value. Ann Arbor, on the other hand, lost 4.4 percent of its taxable value.
Meanwhile, before the recession, from 2001 to 2008 those eight communities had a 25 percent growth rate in their taxable value. During that period Ann Arbor experienced a 43 percent growth rate.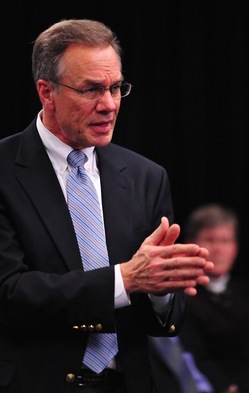 Ryan J. Stanton | AnnArbor.com
"There's a relationship there," said Kosteva. "When an employer in the area does have that kind of job growth it's going to have the positive effect that it's had in terms of local property values."
He added: "The university consistently demonstrates its value as a significant asset to the community."
When compared with four other college towns in Michigan, Ann Arbor fared well. While it lost 4.4 percent of its taxable value from 2008 to 2012, Kalamazoo and East Lansing lost between 12 and 15 percent of their taxable value. Mt. Pleasant and Marquette both gained value, 2.3 percent and 11.2 percent respectively.
In a few cities, tax-exempt universities will offer municipalities annual payments in lieu of property taxes. For example, Brown University, which owns a physical plant worth more than $1 billion, offers Providence, R.I., a $4 million annual voluntary payment and has committed to give the city another $31.5 million over the course of 11 years. Harvard and Boston University voluntarily give Boston multimillion dollar payments each year.
Over the past two decades, city officials have considered formally asking U-M to offer voluntary compensation in lieu of property taxes. Those discussions have been fruitless, involved parties say.
'Support each other better'
Briere says that once the university began consistently expanding about 25 years ago, beginning when James Duderstadt was president of the school from 1988 to 1996, tensions between the school and the city increased.
"The biggest issue is the university responds to a completely different set of laws than the rest of us, and because the university doesn't have to follow the city of Ann Arbor's resolutions, they only have to deal with Ann Arbor when they are using a right-of-way," Briere said.
"We can try to hold the most ridiculous things up as leverage, like how big an awning is, but it's terrible leverage. It's not something that makes anybody feel proud."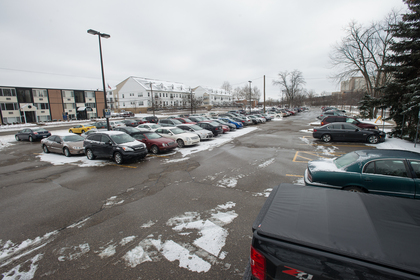 Courtney Sacco I AnnArbor.com
Though acknowledging tensions, Hieftje said the current town-gown relationship in Ann Arbor is at an all-time high.
"Historically speaking, the city and university relationship is probably more cordial right now than it's ever been," he said, explaining that the staff of the entities work well together. He also noted collaboration between the city and university on economic development and cited Ann Arbor SPARK as an example.
"This is a whole new level of cooperation that exists today, [developed] in the last ten years or so, that wasn't ever here before." Hieftje said. "The university has really stepped up to the plate on tech transfer and working to keep businesses here."
Petersen said there exists "a lack of a cooperative relationship between the city and the university at the highest levels. Hieftje agreed said such tensions "are a given" and have existed throughout the university and city's history.
"There's probably some resentment among those in the city toward the university because they don't have to pay taxes and they don't have to abide by our local ordinances," Peterson said.
Such resentment rises to the surface when residents feel helpless to stay changes to their neighborhoods due to university development.
A group of residents that live along Wall Street, for example, are frustrated by the imminent construction of a parking garage near their homes. Since 1999 the university has purchased seven properties along the Wall Street corridor in Lower Town and added an addition to the Kellogg Eye Center located on the street. University master plans indicate the eventual construction of two garages on that corridor.
Residents who live along Plymouth Road, near the intersection of Huron Parkway, were recently angered when the university installed a 2.4-acre solar panel array without first notifying the nearby community or holding a public meeting.
"We are very, very fortunate to have them here," city council member Jane Lumm, an independent representing the city's 2nd Ward, said of the university.
"There's no doubt about it and I won't dispute that one iota. But by the same token, there are so many ways we could support each other better."
Kellie Woodhouse covers higher education for AnnArbor.com. Reach her at kelliewoodhouse@annarbor.com or 734-623-4602 and follow her on twitter.