Posted on
Thu, Nov 15, 2012 : 6:45 p.m.
Workforce at University of Michigan's North Campus Research Complex hits 1,700
By Kellie Woodhouse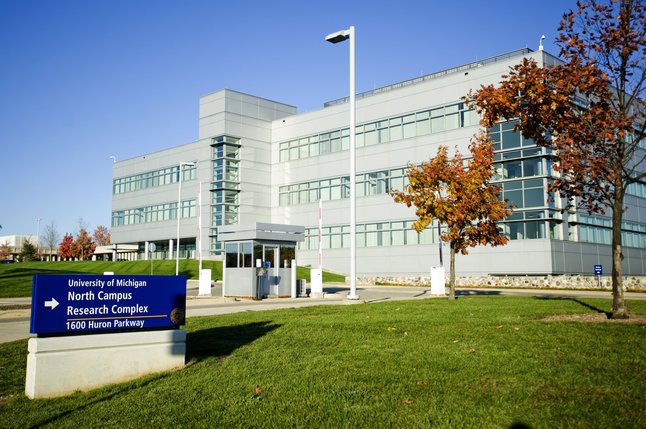 Joseph Tobianski I AnnArbor.com
There are now roughly 1,700 people working at the North Campus Research Complex, a 27-building, 174-acre swath in northeast Ann Arbor the University of Michigan purchased 3 ½ years ago.
That's an increase from the 1,423 workers U-M reported at the complex in July and the 1,120 workers U-M reported in February.
U-M purchased the 2.2 million square-foot complex from Pfizer in 2009 for $108 million. David Canter, executive director of the complex, told AnnArbor.com this summer that it would be another four or five years until the complex reaches capacity, which is between 3,000 and 3,500 employees.
Of the 1,700 people working at NCRC, nearly 300 occupy new positions created since the school began populating the site in March 2010.
"The campus is vibrant," Ora H. Pescovitz, CEO of the U-M Health System, said on Thursday.
Also on Thursday U-M's governing board approved a $17.5 million renovation of a NCRC building. Roughly 68,000 gross square feet of the 1960s-era 'Building 20' will be upgraded for use by the medical school.
U-M CFO Timothy Slottow said the retrofit was "totally anticipated" when U-M purchased the complex in 2009. The project follows a $13.7 million renovation of a 120,000 gross-square-foot NCRC building for health services research.
U-M plans to have invested $300 million in NCRC facilities —including the initial purchase price— by 2015.
Here's a look at NCRC growth: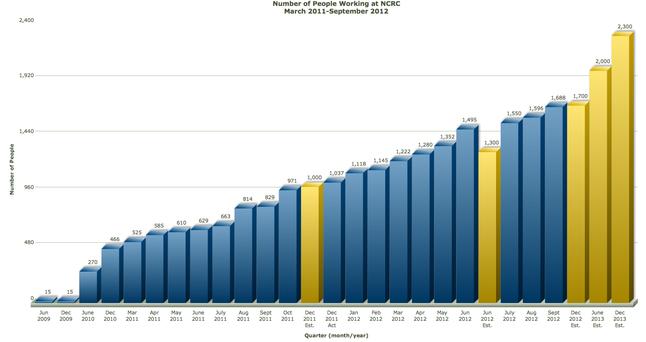 University of Michigan chart
Here's a percentage breakdown of who was working at the site in June (The largest unit was the Medical School at 71.3 percent):
University of Michigan chart
Kellie Woodhouse covers higher education for AnnArbor.com. Reach her at kelliewoodhouse@annarbor.com or 734-623-4602 and follow her on twitter.