Posted on
Fri, Feb 22, 2013 : 10:08 a.m.
Ypsilanti indie band Chalet Shalom releases album; U-M symposium examines caribou hunting in the Great Lakes region
By AnnArbor.com Staff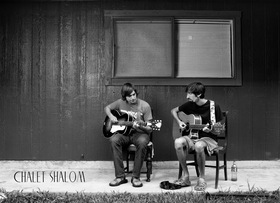 From an Ypsilanti indie-folk band releasing a new album to a lecture on caribou hunting in the Great Lakes region, here's a roundup of some of the stories posted on AnnArbor.com's Community Wall this week:
By: vncolbert: Brand new album from the indie/folk band Chalet Shalom

Chalet Shalom, an indie/folk band based out of Ypsilanti, MI recently put out a new full-length album, titled "Like Shadows Under the Sun."
By: University of Michigan Museum of Anthropology: Saturday 2/23 : Archaeological, Ethnographic and Paleoenvironmental Perspectives on Caribou Hunting in the Great Lakes : A Multi-Disciplinary Symposium
This symposium brings together researchers throughout North America who focus on different aspects of caribou hunting in the Great Lakes Region.
By: Erin K. O'Neill: Ann Arbor Digital Marketing Agency Hired by ThinkStretch
By: Nancy: PVC Monthly Meeting, Social & Orientation - March 8, 2013
By: Tristan: South Pointe Scholars Charter Academy Holds Open House for 2013-2014 School Year
By: Jan Hack: Master Iyengar Yoga teacher Lois Steinberg to present Workshop at Ann Arbor YMCA 2/22-24
By: Dawn Farm Education Series: Recovery From Addiction and Christian Spirituality
By: Janet Hawkins: WCC Launches Online Degrees
By: J.C. Parikh: U of M Social worker to discuss teen depression at Eastern Michigan University
AnnArbor.com's Community Wall is a spot for local people to post local stories, news and announcements. To post a story, sign in to AnnArbor.com, then go to www.annarbor.com/community and use the Got News? Tell Us function at the top to submit your news. If you have a photo to add, e-mail it to us at community@annarbor.com, and we'll insert it into your story.