Posted on
Fri, Feb 8, 2013 : 1:52 p.m.
EMU President Susan Martin to speak about personal 'trials and triumph' at campus event
By Katrease Stafford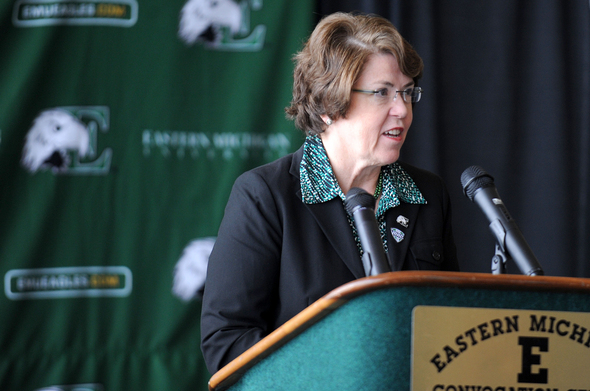 Angela J. Cesere | AnnArbor.com file photo
Editor's note: The story has been updated to include comments from Susan Martin.
Eastern Michigan University President Susan Martin will speak at a March event about trials and triumphs she's experienced in her life and career.
The March event, "Trials and Triumph of an American Woman," is being hosted by the EMU student organization B.L.A.C.K., Black Leaders Aspiring to Critical Knowledge.
B.L.A.C.K. hosted a similar event last year, when former Detroit Mayor Kwame Kilpatrick spoke during its Second Chances and Redemption Series event in 2011.
EMU spokesman Geoff Larcom said the event has been confirmed by the university.
The event follows an incident that occurred last year in which Martin got into an argument with an alumnus after consuming alcohol. The regents reprimanded Martin in a May 17 letter and the board's executive committee threatened to fire Martin if she did not control her drinking.
EMU President Susan Martin told AnnArbor.com she doesn't plan to "focus" on the incident, but will address it if she receives questions about it.
"My board gave me a letter and I respect them and I don't have anything further to say about it," Martin said. "I'm happy at my job... .I won't focus on that."
B.L.A.C.K. Vice President Bernoris Carter said the group met with Martin Thursday to hammer out the details of the event.
"She was openly interested in doing it because it gives her a platform for the campus to know who she is," Carter said.
The March event was slated to be called, Second Chances and Redemption-- Trials and Triumph of an American Woman, but the name was changed as a stipulation of the university, said B.L.A.C.K. President Jovan Kennard.
Kennard said the name "conflicted" a few things, so the group agreed to change it.
"At first I was a little iffy about it, but I talked to some colleagues and since they're only asking for one thing, that's why I agreed to the name change," Kennard said. "People are still going to understand you can make it through anything."
EMU vice president of communications Walter Kraft said the name of the event was discussed and the university is "very comfortable" with it.
Chris Asadian I AnnArbor.com file photo
Martin said the students were interested in her telling her story as Susan Martin and not as the president of the university.
"A lot of the students are interested in that," Martin said. "... I'm going to talk about myself, my career and opportunities, taking risks and facing challenges... I want to tell that part of the story how you really can try to have it all and there will be challenges in doing it. I'm never not president. I'm always on call 24 hours a day."
Martin said she will talk about what it's been like to be the president of the university since she took the helm in 2008 amid issues facing the school.
Martin said when she first took the job, University of Michigan President Mary Sue Coleman said to her : "Nothing prepares you for it does it?"
"It's the most challenging job of my life," Martin said. "...No one can describe the job. It changes every day. It's been the most meaningful and rewarding job. Eastern had a lot of challenges when I came and we've accomplished so much."
Kennard sent a letter to Martin in early December to extend the offer to speak at the event this year.
"Since taking over as president of Eastern in 2008, you have had to rebuild our reputation, restore confidence in us as an institution and even battle your own personal challenges with the board, alumni, the media and members of the local community," Kennard wrote in the letter. "We admire the way you addressed each challenge head-on with courage, dignity and confidence."
In its letter, the Board of Regents said it was worried about Martin's "misuse of alcohol" and "concerned about you as a person," and encouraged her to seek counseling. Kraft previously told AnnArbor.com that Martin received counseling and donated her $8,764 2012 raise to a campus alcohol educational fund.
Kennard said the group is hopeful the event will shed light on who Martin is.
"We wanted to steer the event in a different direction and I knew the approach had to be different," Kennard said. "When (people) see her at games or different venues, they actually don't know who Susan Martin is."
Kennard said the group discussed extensively about potential speakers, but ultimately decided on Martin.
B.L.A.C.K. secretary Antonio Cooper said the group chose Martin because they believe she might connect better with the public who attend the event. Cooper said Kilpatrick was a big name that drew in more than 700 people, but he didn't connect with the students.
"The thing is when we started the series, it was to show that the biggest of names have fallen and just to get their side, their aspect of what is redemption," Cooper said. "With President Martin, we're going to show that even the president of our school has fallen and has had to redeem herself. For a freshman to watch President Martin say, 'hey I messed up and I bounced back,' that would inspire anyone if you ask me."
The group said the event is designed to give individuals an opportunity to share their personal story about life-changing situations, the chances they were given and the choices they made on the road to redeem themselves.
"We are hoping it can inspire most women," Carter said. "As you know, the president is the first woman to be EMU's president and as we talked to her Thursday she explained many things she accomplished. ... She's going to speak about direct trials and testimonials to people that want to learn."
The event is free and open to the campus community and is tentatively scheduled to take place at 7 p.m. Monday, March 11 at Pease Auditorium, at the intersection of College Place and Cross Street. Martin will speak for about 40 minutes before a question-and-answer session.
Kennard said he believes President Martin has done a good job as the university's leader.
"I think she's been great," Kennard said. "She's kept it honest and is really improving this university. ... Just come out and be informed and get to know her as Susan."
Katrease Stafford covers Ypsilanti for AnnArbor.com.Reach her at katreasestafford@annarbor.com or 734-623-2548 and follow her on twitter.