Posted on
Mon, Mar 11, 2013 : 6:08 p.m.
Julia Niswender's mother: Family still hopeful the case will be solved
By Katrease Stafford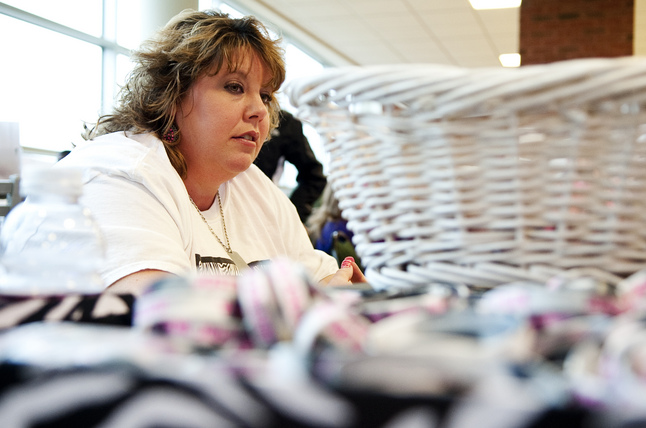 Daniel Brenner | AnnArbor.com
The family of
Julia Niswender
still is searching for answers and urging people to come forward with information, three months after the death of the Eastern Michigan University student.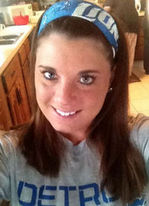 Photo from Facebook
"That's what we want, people to talk," said
Kim Turnquist
, Niswender's mother."As a parent, I don't want her to become another statistic. We'll never be at total peace, but as long as whoever is caught, it'll make it a little easier… .Some days are worse than others, but I made it our promise to find justice for Julia."
Exactly three months ago, 23-year-old Niswender was found dead in her apartment on Dec. 11 in Peninsular Place Apartments, off campus in Ypsilanti. Police ruled the death a homicide in January but have not released details, including how she died.
Turnquist, twin sister Jennifer Niswender and close family friends were on EMU's campus Monday to raise additional funds for the scholarship fund established in Julia's memory.
However, Turnquist said the real reason behind the Monday visit was to ensure that Julia's case remains active and doesn't become a cold case.
Turnquist is urging individuals with information to come forward.
"Our main objective today is to get her face out there so people don't forget," Turnquist said.
Jennifer said the family has started the process of going through Julia's belongings, which has been a struggle for them.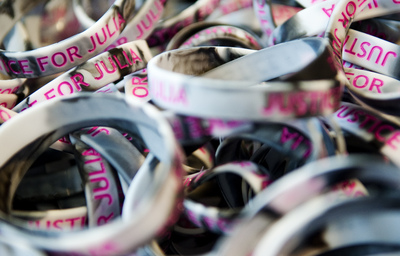 Daniel Brenner| AnnArbor.com
"We take it day by day," Jennifer said. "It's hard to let go... I get really angry because I have a hard time adjusting to being by myself. She was always there."
Turnquist said right now, the family is going through a phase where their feelings range from anger to sadness, all the while holding out hope their questions will be answered soon.
"How could someone do this to another human being," Turnquist said. "I wonder, why Julia? What did she really do to someone to make them do this? My plea is, please come forward. How can you live with that guilt? I don't understand how someone could still be walking around every day."
The last update released by police was in January, and police said they are still continuing to investigate the death.
Turnquist said her family has been in regular contact with the police department and believes investigators are doing all they can to solve the case.
"They are working hard on the case every day and they keep us updated," Turnquist said. "They tell us what they can."
Turnquist said while she understands the public wants more details about what happened and who is responsible, the police department is unable to release every detail right now due to the sensitivity of the case.
"I just want people to understand that the reason a lot of details haven't been realeased is so it doesn't jeopardize the case and that's the last thing anyone wants," Turnquist said. "It's hard, but we understand it and they're doing what they can."
Turnquist said her family isn't just reaching out to local agencies and individuals to keep her daughter's name out there, but the likes of journalist Anderson Cooper, Comedian and TV hostEllen Degeneres, and TV host Nancy Grace.
From Facebook
Friends and family members have sent several messages and posts in an effort to gain Niswender's case national attention, which they hope would bring about answers.
Niswender had the opportunity to meet Cooper on a school trip, nearly a month before her death.
"Julia loved Anderson Cooper," Turnquist said. " We're hoping Anderson will look at it."
The scholarship fund, which has been established in Niswender's name has raised about $8,000 so far, Turnquist said. The fund is just $2,000 short of the $10,000 goal, which would enable it to become endowed.
"Eastern was such a big part of Julia's life and they have been so supportive," Jennifer said. "I don't know how we would be dealing without it."
Turnquist said the support her family continues to receive from EMU, the local community and even individuals from other countries has helped her deal with the loss of her daughter.
"The support we have gotten from people through social media and from all over the world, that's comforting," she said. "Just to see how much others care about human beings, it's overwhelming… Julia is definitely smiling down on us."
Katrease Stafford covers Ypsilanti for AnnArbor.com.Reach her at katreasestafford@annarbor.com or 734-623-2548 and follow her on twitter.