Posted on
Wed, May 4, 2011 : 5:15 p.m.
Obstacles, funding questions plague Ann Arbor-Detroit rail line, but progress is being made, planners say
By Tom Perkins
Planners of a proposed Ann Arbor-to-Detroit rail line are slowly making progress, although the project still faces a list of obstacles and financial uncertainty.
That's the message Carmine Palombo delivered to the Ypsilanti City Council during an update on the effort at council's regular Tuesday night meeting.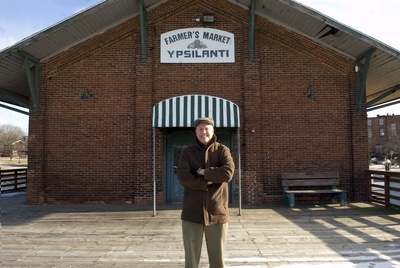 Tom Perkins | For AnnArbor.com
Palombo, director of the
Southeast Michigan Council of Governments,
which is spearheading the effort along with the
Michigan Department of Transportation
, summarized the issues standing in the way of completing the effort.
"Progress is being made," Palombo said. "It's not the kind of progress anyone wants — it's slow and there are lots of hurdles. But the positive thing is we have overcome all the obstacles that have been placed in front of us so far."
Palombo reiterated that the goal is to have four daily roundtrip runs on weekdays with stops scheduled in Ann Arbor, Ypsilanti, at Metro Airport, in Dearborn and at Detroit's New Center area. But he added that goal might be attained incrementally.
He said he hopes a demonstration train might be available later in the year to take riders to a football game in Ann Arbor or Detroit's Thanksgiving Day Parade, for example. But officials had similar hopes last year and Palombo declined to offer any timelines on when demonstration trains or a regular routes might be running.
Chief among the issues is how commuter and passenger trains will share rail lines with the freight train companies that own them.
In some spots along the 38 miles of rail, sidetracks need to be built that would allow trains to pass one another, but the largest obstacle is an intersection of tracks in west Detroit between the Dearborn and downtown Detroit stations.
As the route runs east past Dearborn, it turns north at an intersection that sees heavy freight traffic. In order for a commuter or passenger train to head north there, the trains are required to do a turnaround that significantly slows the route.
MDOT is funding a $12 million to $15 million project to add an extra track that would double the intersection's capacity, alleviate congestion and allow for better flow.
Palombo said the project is funded by federal high speed rail grants, and he hopes it will completed by the end of 2011, though it could run into 2012.
Stations are already built in Detroit, Dearborn and Ann Arbor, and plans call for new platforms with required signs and lights at the Ypsilanti and Metro Airport stops.
Environmental studies are under way throughout the entire corridor, and the impact of the platforms must also be examined. Palombo expects those studies will be completed by the end of summer and said part of the process will include a public hearing at which residents can give their input on the environmental impact or on the project in general.
MDOT has $1 million to install a basic and safe platform, though Ypsilanti could be asked to contribute some money to the project or to enhance the platforms.
Three train cars are renovated, of which one is undergoing minor redesigns for safety issues. Full service would require three locomotives and nine cars, Palombo said, and funds to lease 24 cars are available.
Funding is still needed for an estimated $25 million to $30 million in remaining "smaller" capital improvement projects, such as signs and sidetracks. But complicating the situation are discussions between MDOT and Norfolk-Southern about MODT purchasing the tracks between Dearborn and Kalamazoo. If that sale goes through, some of the planned capital improvement projects might be unnecessary, so officials don't want to start spending unnecessarily.
Question marks also remain over the source of the required $8 million to $10 million in annual operating costs. That money and capital funds could come via $150 million in federal high speed rail grants, which the state must match with at least $37 million of its own money. Palombo said SEMCOG officials have met with Gov. Rick Snyder to discuss the grant, and he is confident the administration is committed to offering matching funds
"He isn't just going to leave $150 million sitting there unused," Palombo said.
Florida recently turned away $400 million in federal funds earmarked for high-speed rail. Michigan was one of the states to apply for that money, but Congress didn't include it in the 2011 budget. Palombo said he hopes those funds might materialize in the next federal budget, as some could be used for improvements that would help the Ann Arbor to Detroit commuter train.
Snyder previously told AnnArbor.com the fact that the state is seeking those funds doesn't mean he supports high speed rail.
The project has received broad regional support, Palombo said, and Ypsilanti Mayor Paul Schreiber noted Ypsilanti residents have also largely been supportive of the effort. Additionally, MDOT recently released statistics indicating rail ridership in Michigan is up overall.
The Amtrak Wolverine line that runs from Pontiac through Detroit to Chicago — with its busiest stop along the way in Ann Arbor — saw a 16.3 percent increase with 243,185 passengers from October through March. Ticket revenues went up 21 percent to $9 million.