Posted on
Wed, Dec 8, 2010 : 12:30 p.m.
Ypsilanti City Council gives final approval to medical marijuana ordinance
By Tom Perkins
Ypsilanti is the latest municipality to approve a zoning ordinance regulating medical marijuana growing and distribution.
Unanimous approval of the ordinance on second reading on Tuesday night followed a City Council debate over the minimum distance that should be allowed between dispensaries and grow operations, which will affect how many of those facilities can exist within the city. The council had earlier approved a first reading of the ordinance.
Council ultimately agreed on a minimum distance of 500 feet, but the number of dispensaries and grow operations could be capped when council votes on a resolution covering licensing at an upcoming meeting. Ann Arbor is also considering capping the number of dispensaries.
Under the new regulations, dispensaries and grow facilities must remain 1,000 feet from schools and 500 feet from other dispensaries and grow facilities. Dispensaries are permitted to operate in central, local and general business districts, and grow operations are allowed in some commercial and manufacturing zones.
Some council and community members were concerned whether 500 feet was enough to prevent the city and downtown from being overrun by medical marijuana facilities. City Planner Teresa Gillotti said the maximum number of dispensaries and grow operations that could exist in the city would be just over 30 —about 15 of each.
She said the maximum number of facilities that could fit downtown is five.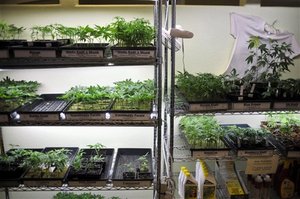 But she said those numbers represented unlikely, high-end scenarios and said that 20 to 25 dispensaries and grow operations in the city and three downtown was a better estimate. Given the location of the
3rd Coast Compassion Center
dispensary and a new dispensary planned at 124 West Michigan Avenue next to
The Rocket
, the 500 foot circles around the two dispensaries preclude more facilities in most of downtown. Gillotti said only one more would likely open up in the downtown area.
If that distance were increased to 1,000 feet, only two facilities could be downtown while 20 to 25 dispensaries could hypothetically fit in the city, though the number that would likely locate there is far less, Gillotti said.
Council Member Mike Bodary suggested an amendment placing a cap of six dispensaries and grow operations in the city. He withdrew that amendment after other council members expressed a desire to consider a cap when they approve a licensing resolution.
Bodary called the possibility of 35 dispensaries and grow operations in Ypsilanti "scary".
"I think we need to set a maximum number that is very small and keep it small until we hear that there are not enough of these places available … 500 feet is not a lot," he said.
Council Member Brian Robb contended that there likely wouldn't be anywhere near 35 facilities and strongly opposed a cap.
"We shouldn't be making policy based on fear — that's not good policy," he said.
Restrictions on signs that would prohibit facilities from using the word marijuana, any slang associated with it or imagery associated with the drug was omitted from the second reading over concerns that such restrictions could violate First Amendment rights.
An amendment to reinstate that language failed by a 4-3 vote, with Bodary, Council Member Dan Vogt and Mayor Pro Tem Lois Richardson voting yes.
Dispensaries and grow facilities must keep a logbook of the amount of marijuana on their premises and the identities of their customers. Both would be subject to inspection by code and law enforcement officials, and both must have proper licensing from the city.
Grow operations and dispensaries will not be allowed in the same building and no one will be allowed to use marijuana on the premises.
Grow facilities can have up to five patients or caregivers who can grow the 72 plants they are each allowed under state law. The ordinance does not limit the physical limitation is put on the size of the facility.
City Council also approved an emergency measure early in the meeting that extended a 90-day moratorium prohibiting any new dispensaries or grow facilities by 60 days. The old moratorium was set to expire on Dec. 15, but the licensing ordinance may not go into affect until Jan. 7. Once that ordinance is approved, council can end the emergency moratorium. Home based care givers are limited to dedicating 25 percent or 300 feet of their home for growing. They can grow in single family homes, but not rental units. Care givers or patients can have 72 plants for up to five patients and themselves, and must obtain a business permit from the city.
Home-based businesses also must: • Obtain permits for any mechanical, electrical or plumbing upgrades to accommodate growing medical marijuana. • Have their homes or grow facilities open to inspection by code officials. • Keep transactions between caregivers and patients limited to appointments instead of on a "walk-in" or retail arrangement. • Provide clarification on where in a home or building a grow operation will be located. • Have only one person growing per parcel.
Council also added an amendment prohibiting home businesses from operating within 1,000 feet of a school. Robb was the lone no vote against that amendment. He said that would prohibit home-based care givers throughout several neighborhoods because so many schools in Ypsilanti are located in residential zones.
A person can still grow and ingest medical marijuana for him or herself within 1,000 feet of a school.
Several Washtenaw County municipalities have been struggling with how to regulate medical marijuana after Michigan voters approved its use in 2008. Among them are Ann Arbor and Dexter. Ypsilanti Township already has an ordinance regulating medical marijuana dispensaries. Saline has banned dispensaries and Chelsea is considering a similar ban.
Dave Heikkinen, owner of Heikk's Decorated Apparel Studio and in Ypsilanti and president of the Downtown Association of Ypsilanti, told council he and other business owners downtown supported the idea of extending the distance between facilities to 750 feet. But he added "most of all we want to see this ordinance passed."
Ed Penet, also a downtown business owner, expressed similar feelings.
"I would like to avoid having any more dispensaries within 1,000 feet of my business," he said.
Adam Tasselmyer plans to open the Herbal Solutions medical marijuana dispensary at 124 West Michigan Ave. He pointed out that his business is 973 feet from the 3rd Coast Compassion Center, and he has already invested significantly in it based on the ordinance passed on first reading. He said he has worked with the city officials on the project.
"I understand there's a reputation with this business, but we're going to be an example of how things should be done correctly within Michigan state law," he said. "We're not selling drugs, we're providing services to patients."
Tom Perkins is a freelance reporter for AnnArbor.com. For more Ypsilanti stories, see our Ypsilanti page.