Posted on
Tue, May 7, 2013 : 5:57 a.m.
Ypsilanti schools superintendent is finalist for St. Johns position
By Danielle Arndt
An Ypsilanti schools superintendent was named one of three finalists for the top leadership position at St. Johns Public Schools.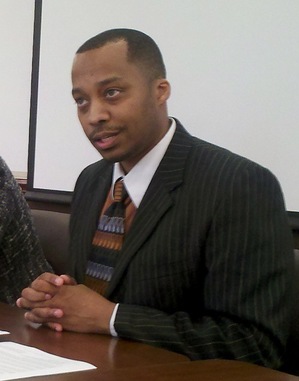 Danielle Arndt | AnnArbor.com file photo
Ypsilanti Public Schools Superintendent
Dedrick Martin
spent May 1 in St. Johns for a site visit and second-round interview with the district, according to a
post
on the St. Johns Public Schools website.
Martin; Daniel Cwayna, superintendent of West Branch Rose City Area Schools; and Ronald Drzewicki, superintendent of White Pigeon Community Schools, all were selected as finalists on April 25. The St. Johns superintendent plans to retire on June 30, the end of the 2012-13 academic year.
St. Johns, which is located about 30 minutes north of Lansing, is a district similarly sized to Ypsilanti. It had a fall enrollment of 3,134 students, while Ypsilanti's enrollment was 3,339.
Martin declined to comment Tuesday on his status as a finalist for the job, stating he wanted to let the process work itself out first.
Martin started with the Ypsilanti district in September 2009. YPS' most recent salary and compensation report, per the state of Michigan's transparency reporting requirement, shows Martin earned a base salary of $140,000 in 2011 and a total compensation of $222,164.
Martin already was offered a job as associate superintendent for the consolidated Ypsilanti Community Schools district. The district will open July 1 and is the product of Ypsilanti Public Schools and Willow Run Community Schools merging.
The retention of Martin was controversial within the Ypsilanti area. He and current Willow Run Superintendent Laura Lisiscki were retained to serve in the consolidated district, essentially creating a three-legged leadership structure, with Washtenaw Intermediate School District Superintendent Scott Menzel at the helm as chief superintendent over Martin and Lisiscki.
With the two districts consolidating, some current staff from both Ypsilanti and Willow Run have lost their jobs.
Decisions on coaches, paraprofessionals, custodian staff, assistant principals, central administration and building secretaries have yet to be made. Teacher notifications were sent out Friday. The notices informed 59 percent of teacher applicants from Willow Run, or 43 individuals, they would be offered a position with the new district, while the rest were given "no" or "maybe" letters. Sixty-nine percent of Ypsilanti teacher applicants, or 126 people, were offered jobs.
Because of the employment uncertainty, staff in both Ypsilanti and Willow Run have been looking for other opportunities. Former Ypsilanti Executive Director of Human Resources Sharon Irvine resigned in March to become assistant superintendent and chief human resource officer for Warren Consolidated Schools.
Another Ypsilanti Public Schools official is a superintendent candidate elsewhere in the state. Scott Snyder, executive director of facilities and operations for Ypsilanti, is one of two finalists for the top leadership spot at Monroe Public Schools, according to a report published Tuesday in the Toledo Blade. Snyder, a former Northville Public Schools elementary principal, was hired by Ypsilanti prior to the 2012-13 academic year.
St. Johns Superintendent Ken Ladouceur announced his retirement in February, after four years as superintendent, according to a report in The Clinton Chronicle.
St. Johns Public Schools is using the consulting firm Ray & Associates to assist with its search, the district's website says. This is the same Iowa-based superintendent search firm the Ann Arbor Public Schools district is using to help replace outgoing superintendent Patricia Green.
The next regular St. Johns Board of Education meeting is May 25. It was unclear as of Tuesday night when the board expects to make its final decision on a superintendent.
Danielle Arndt covers K-12 education for AnnArbor.com. Follow her on Twitter @DanielleArndt or email her at daniellearndt@annarbor.com.