Posted on
Sat, Jan 22, 2011 : 6 a.m.
Ypsilanti Township names 45 Liberty Square owners defendants in lawsuit; seeks demolition of complex
By Tom Perkins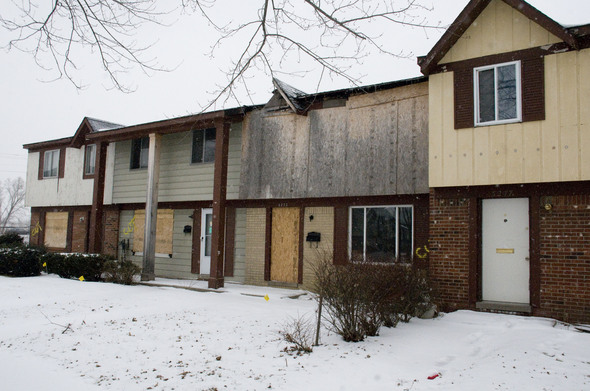 Tom Perkins | For AnnArbor.com
Ypsilanti Township is asking a judge to declare the Liberty Square townhouse complex a public nuisance and order its demolition. The township named all 45 remaining owners as defendants in a verified petition submitted to the Washtenaw County Circuit Court.
The suit follows a year that brought significant changes in the ownership of the 151-unit complex off Grove Road and rapid physical deterioration of the properties, which has led to unsafe conditions. The township is in the process of serving each owner, and the parties are scheduled to meet in court on Jan. 26 for a hearing in the case.
The township states in the petition that Liberty Square's articles of incorporation require each owner's mandatory membership in the complex's homeowners' association. That means each defendant is responsible " for maintenance of the common areas, building exteriors, including roofs of the townhome subdivision and is not only responsible for his/her own individual unit," township attorneys contend.
A lawyer for the homeowners' association and other owners disputes that and said most of the deterioration at the complex is minor.
Each building in Liberty Square has 10 to 12 individually owned townhouses. Approximately 10 percent of the complex is still inhabited by tenants, while roughly 3-percent is owner occupied.
Joe Koenig is the resident agent of Liberty Square's homeowners' association, Grove Park Home Improvement Association. That entity owns 25 of Liberty Square's townhouses. Koenig's wife, Glenda Ault, is the owner of Grove Park Homes LLC, which owns 18 units. Koenig is an employee of that company. Grove Park Homes LLC used to own 81 units until the county foreclosed on them early last year.
The Washtenaw County Treasurer's Office took over the properties and put them up for auction in late 2010, but they never sold. The township has now taken control of those units. Township attorneys state in the verified petition the foreclosure process is beginning for another 34 units. Those properties are also expected to end up in the township's possession.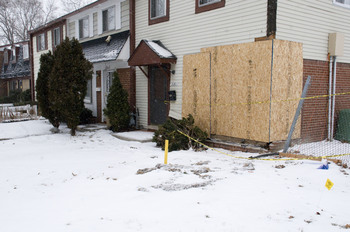 Tom Perkins | For AnnArbor.com
About 40 people own the remaining properties.
Township officials say piles of garbage litter the complex and vacant townhomes they previously boarded up are broken into regularly, costing more money to re-secure.
Township attorneys note that much of the masonry, siding, windows, soffits, trim, exterior stairways, decks, porches, balconies, sidewalks, and roofs are in disrepair.
The petition alleges that the vacant properties "constitute an invitation to criminals, squatters and pose an attractive nuisance to children."
Most of the vacant townhomes have been stripped of all scrap metal. The township also alleges that remaining residents face a number of dangers posed by the vacant units. Among those listed are mold, fire, lack of sewer service, improper electrical wiring and the possibility of squatters living in the abandoned units.
Township Attorney Dennis McClean said Liberty Square has an unusual legal entity governing it and underscored that the township is not condemning the property, but having it declared a public nuisance according to statute.
"This is not the township taking property," he said. "The township doesn't want this property."
He said the township has provided additional due process for owners because of the unique situation. The township's Office of Community Standards provided owners with notice of violations on April 23 and subsequently condemned the buildings. An addendum, which is similar to a second NOV, was provided and posted on the properties in September 2010.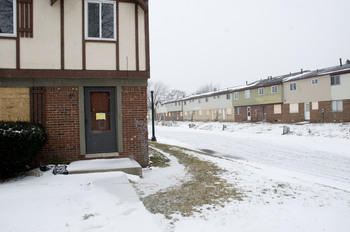 Tom Perkins | For AnnArbor.com
Township attorneys allege the defendants do not have the financial means to bring the complex up to code. A study by the Washtenaw County Office of Community Development estimated rehabilitating the units would cost of $75,000 to $80,000 each. The assessed value of the individual properties ranges from $3,000 to $8,000.
Attorneys are asking Circuit Court Judge Donald Shelton to issue a preliminary injunction prohibiting the occupancy of any units and allowing township officials to enter and inspect each townhome. Attorneys also requested that defendants be ordered to demolish the properties within 30 days and pay any township costs associated with the lawsuit, including attorney fees and abatement expenses.
Don Darnell, a lawyer for the homeowners' association and 10 other owners, said he doesn't believe the township has presented evidence that would justify such action.
"The things that I've seen in the attachment don't rise to the level of public nuisance," he said. "There's very minor stuff that needs repair, one building that looked like a car that hit it but that's it — everything else was very minor."
Darnell doesn't agree with the township's position that all of the owners are "one and the same" because of the ownership arrangement. He said the township is treating the units like condominiums, but they aren't condominiums, he says.
"If you were a member of the YMCA, and the YMCA did something to be sued, if you follow this logic they could sue you, too," Darnell said. "I don't understand their reasoning. It's too big of a leap to state that individual property owners are members of the association and therefore responsible for each other and every defect in every building. I don't see how you get there from that beginning."
Darnell said he will file a counter complaint, and he believes his clients' Fifth and 14th Amendment rights have been violated. He said the April 23 notice of violation was too vague and didn't provide specifics of what improvements individual units needed to make. He said the addendum also didn't go far enough because it named entire blocks of addresses, but not individual properties' issues.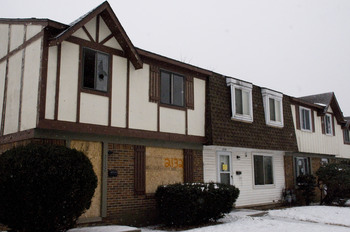 Tom Perkins | For AnnArbor.com
"It's way too little, way too late," he said. "They had already condemned them all ... and some of these folks, within the last five years, spent $10,000 to $20,000 fixing up their unit. With one stroke of the brush that was wiped out."
Carolyn Chadwick, an owner/occupant at one of the townhomes, said she asked the court to postpone the hearing because she was served on Jan. 9 and has 21 days to reply. The court date is scheduled for Jan. 26 .
She said she is also filing a countersuit against the homeowners' association's board and management for breach of their fiduciary duties, which she says is at the root of the problems. She also said the township officials violated her rights by allegedly not providing sufficient notification of its intentions and only telling Koenig, not the individual property owners, of their plans. She added that she and several owners were willing to fix up the units and made some physical improvements, but the township would not work with them.
"My civil rights have been violated on several issues," she said. "And I do not feel I'm in any danger living here whatsoever. We feel safer right now than we have in a long time."

View Liberty Square in a larger map
Tom Perkins is a freelance reporter for AnnArbor.com. For more Ypsilanti stories, visit our Ypsilanti page.