Posted on
Tue, May 8, 2012 : 10:28 a.m.
Confident non-verbal behavior helps you establish yourself as pack leader for your dog
By Julia Levitt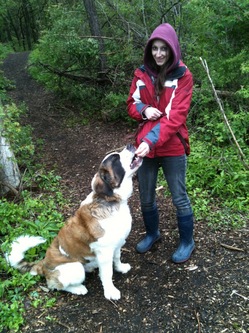 Julia Levitt | Contributor
I saw a client, Michelle, transform in to a pack leader before my eyes: confident calm and assertive.
Michelle and her partner, Christie, had planned for their new St. Bernard puppy for two years. As Christie explains it: "We always loved the giant breeds, but we found with limited space the St. Bernard requires less exercise than a more active breed. This breed fits into our current life style."
When Christie and Michelle made their decision, they weren't disappointed. They got adorable Gibson (named after the guitar). As Michelle explained it, they didn't want Gibson to go from a roly poly irresistible puppy to a huge creature running the show. Michelle was very wise, saying, "Let's start his training now!"
Michelle and Christie could not take Gibson anywhere without people going koo-koo for him. People — mostly women — would bend over the little puppy, ooing and ahhing. This is overwhelming to a puppy, and fortunately Gibson has a wonderful temperament.
The smothering of attention and the high pitched sounds made by the women who squeezed and cuddled Gibson are the sounds one puppy makes to another. This in-your-face attention is not how to introduce a dog to a person. With a shy insecure dog — or an aggressive or fearful dog — many unwanted, not-too-friendly behaviors may result. Remember this is a dog, not a baby.
When greeting a dog for the first time, practice "no touch, no talk, no eye contact."
I have people ask me, "Aren't you going to look at my dog?"
When I suggested in one of my classes to not approach a strange dog and put your hand in its face, the response was, "But I want to."
Many reports say dogs have a sense of smell anywhere between 500 to 2,000 times greater than we do. The dog smells a person at least 20 feet before a person gets close to him. With a feral dog, the distance is greater.
Out of respect and caution, please allow a dog to smell you first. Then, if the owner allows it, you may pet the dog.
We, as humans, greet each other by looking directly at the person we are being introduced to. We smile and begin to converse. Not so with a dog. The preferred method of greeting is not direct eye contact. This direct eye contact can signify a challenge from one dog to another.
Gibson was very appropriate in puppy class. He wanted to play with the other puppies, but when he was tired he went to lay down. No other puppy encouraged him to play. They were reading the signals from Gibson: "I'm done playing now."
How often do I hear the comment "my dog can read my mind"? What your dog is doing is watching your every move. They know what you are going to do before you do it. That is how animals communicate with each other. They don't have the advantage of verbal skills. All of their communication is through body language and energy.

How does this apply to becoming a pack leader to your dog? As in our last blog post, we tried the test of excitedly greeting your dog and calmly greeting your dog. The results are clear.
Michelle and Christie have been working with Gibson for five months now. In one of our lessons, we met a large pet store. Michelle's concern was that Gibson was barking at everyone, dog and human. Gibson was pulling and tugging to be ahead of Michelle and Christie. He was very excited and he was barking.
By non-verbally asking Gibson to stay at my side, we accomplished two things. Gibson stopped struggling, and he lay down. Oh, and yes, he stopped barking. This is the power of leadership.
Christie says, "We have to be very diligent about keeping Gibson well behaved. People look at him fearfully when he barks, and he has a loud bark!"
At our last class, each student was asked to walk into the classroom with the dog walking calmly at the his human's side. It sounds easy, but try it. Walk into the vet clinic with your dog calm and relaxed. I raised the bar too high. Try walking in your front door with the dog calmly at your side.
Gibson had other plans for walking into the class room.
Michelle persevered. At a certain point, Michelle and I stopped. I asked Michelle if she was the team leader at work? When I asked her that, Michelle grew two inches!
The same confident quality which makes her a great team leader instantly applied to Gibson. Issue resolved. Yes is that simple.
Try it; reach into yourself and ask: What situation have I had to step up to that was challenging and made me a leader? Your dog will thank you for it!
Julia Levitt is the founder of In Harmony Dog Training (www.inharmonydogtraining.com) in Ann Arbor. She can be reached at julia@inharmonydogtraining.com or at 734-645-4707. Julia provides individual training for dogs and their owners, and also conducts dog training classes at Ann Arbor Animal Hospital.