Posted on
Thu, Sep 5, 2013 : 5:45 a.m.
Can you 'Beat Pete' with picks for Week 2 of the football season?
By Pete Cunningham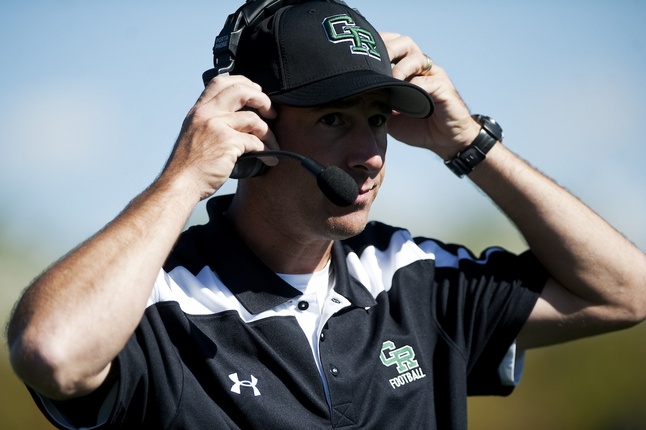 Daniel Brenner | AnnArbor.com file photo
The first week of high school football and in turn the
first week of the "Beat Pete"
reminded us all why everyone is always so excited at the beginning of high school football season.
No matter what happened last year, whether your team was 9-0 or 0-9, there is no telling what the new season will bring. I went 7-4 in my picks, which normally would lead to a list of about 100 people or so that "Beat Pete." But because some of the games I picked wrong seemed like such obvious picks, not that many people were able to capitalize.
It was still quite a few, but not what you would expect from such a below average performance
WEEK 1 BEAT PETE WINNERS
Frank Rozsa
Bekah Ward
Mark Musolf
Gene Smith
Randy Dunny
K King
Tim Baker
Jim Preston
Daniel Madigan
Matt Genyk
Josh McCaman
Al Bates
Mark Hugger
Kyle Austin
Lorie Kitchen
Matt Durr
Aaron Campbell
Reed Swanson
Lucas Foster
Jeremiah Juncker
Larry Doele
Randall Surque
Rich Retyi
Darren Schumacher
Chuck White
John Alford
Jaavaid Love
Tom Weeks
Daniel Sibert
Luai Alzoubi
Dave Moorhead
Willy Clark
Hal Dotson
John Johnson
Nick Darlington
Brad Kokmeyer
Jason Idalski
Kendall Westfield
Tonya Ireland
Joel Dreffs
Ezra Dreffs
Norm Hansen
Rick Radloff
Jim Pryce
Forty-four people had at least eight picks correct (listed on the right), but only two people had 10 and no one was perfect. Of the 44 winners, Mark Musolf of Chelsea was selected at random as the grand prize winner. Mark, you have a T-shirt coming your way. I'll be in touch.
Now that the business is taken care of, back to the business of some of the standout performances of the opening week. Skyline beating Hartland and Ypsilanti coming within a touchdown of Milan stick out, but the most eye-opening Week 1 openers was Whitmore Lake's 32-22 win over Stockbridge, a team it lost to 67-20 last year.
First-year Whitmore Lake head coach Todd Pennycuff called the win, "one of the proudest moments I've had coaching at the high school level."
The only person close to as proud was Brian Lemons, the head coach at Father Gabriel Richard, Whitmore Lake's Week 2 opponent. Lemons is a teacher at Whitmore Lake High School and also the coach of the varsity powerlifting and baseball teams.
"It was a big win," said Lemons. "Most of my baseball players are on the football team and I have pretty close relationships with most of the football players from teaching them, so it was great to see them have success."
Lemons said there was a palpable positive atmosphere on the first day of school as a direct result of the Trojans' win.
"I could see the confidence inside them and it was great to see because they've been through so many struggles," Lemons said.
Gabriel Richard and Whitmore Lake played last year, but the game was before school started. With class beginning on Tuesday, Lemons started the year with some friendly back and forth.
"I have almost all football players in my first hour class. At first there was this awkward silence so I broke the ice," Lemons said with a laugh. "I think Saturday is going to be pretty sweet."
As a coach of the powerlifting team and the teacher of the strength training and personal fitness classes at the high school, Lemons has essentially been training his opponent to beat him for years. He's more than happy to oblige.
"That's the real cool thing about coach Pennycuff, we have a lot of the same training philosophies and he respects my opinion in how to train them and vice versa. He respects the experience I have training athletes and the fact that I'm a football coach makes it even better," Lemons said. "I'm fortunate to be able to work with two groups of kids and the fortunate thing about Saturday is I actually get to see my Whitmore Lake kids play.

"I never get to see them play, so I'm excited about that." Make no mistake about Lemons' intentions when facing his students, though. He roots for Whitmore Lake to win eight weeks out of the season, but he has a job to do on Saturday. "It's like playing basketball with your son in the driveway," Lemons said. "You want them to do well, but at the end of the day, you gotta beat 'em." Saturday's 1 p.m. matchup between the Trojans and Fighting Irish leads off this week's "Beat Pete" picks. Every other game is at 7 p.m. on Friday. Log on to AnnArbor.com to make your picks.
People who have "Beat Pete" so far: 44
Pete's overall picks record: 7-4 (.636); Last week: 7-4 (.636).
Pete Cunningham covers sports for AnnArbor.com. He can be reached at petercunningham@annarbor.com. Follow him Twitter @petcunningham.