Posted on
Tue, Dec 11, 2012 : 5:55 a.m.
Ann Arbor schools will hire new football coaches before planning community service for Huron and Pioneer teams
By Pete Cunningham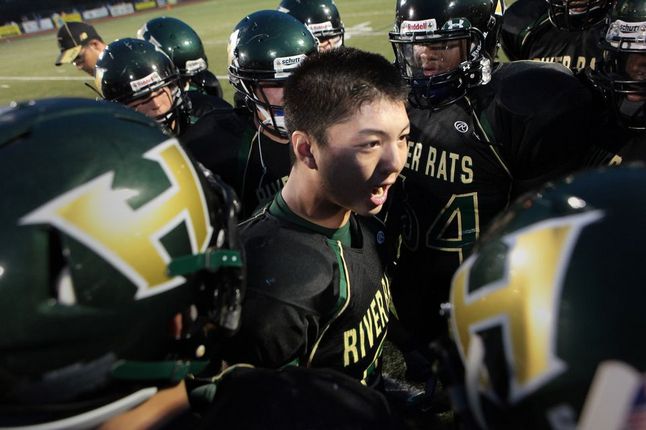 Chris Asadian for AnnArbor.com
Editor's note: The article originally stated that former Pioneer assistant coach Vincent Wortmann "tackled" former Huron coach Cory Gildersleeve. The language has been changed to more accurately reflect what reports have described.
The Pioneer and Huron high school football teams have committed to performing joint community service projects following their on-field brawl in October, their captains told AnnArbor.com, but district officials now say that won't take place until each program is under new direction.
According to the follow up incident report included in Ann Arbor Public Schools' investigation into the matter, Huron athletic director Dottie Davis Pioneer athletic director Eve Claar, former Pioneer coach Paul Test, and former Huron coach Cory Gildersleeve and captains from both teams met on October 16.
According to the report, the group discussed possible community service projects, such as working at the Salvation Army soup kitchen, Alpha House homeless shelter, clean ups on the campuses of both schools and working youth football clinics together.
Both Test and Gildersleeve have since resigned from their coaching positions.
On Monday, district director of communications Liz Margolis said neither team has performed any community service together to date. However, both Davis and Claar will plan it once new coaches are hired.
Pioneer captain Aedan York and Huron captain Kevin Yang issued a joint statement in response to the fallout from the brawl between the teams following their game on October 12.
The entire statement reads:
To the Ann Arbor community,
Our names are Kevin Yang and Aedan York, and we are the captains for the Huron and Pioneer high school football teams, respectively. As captains of the two teams, we felt a compelling need to speak up and have the player's voice be heard. The unfortunate incident on the night of the 12th of October, 2012, is not one that will be forgotten easily. Many people have been hurt by this incident, but in the weeks that have ensued, apologies have been issued, and discipline has been served. Our programs are in the process of healing, and we are ready to take the next step in recovery. However, each time we are about to land, our progress is pushed back by the continued berating of our coaches, teammates, and schools. Together, we would like to ask the community and AnnArbor.com to join us in our recovery, by focusing on our positive future. This single event has overshadowed so many other positive activities taking place within our schools. However, we look ahead to our joint community service projects, in solidifying the strengthening relationship between our two programs. We thank you wholeheartedly for your support.
Sincerely,
Kevin Yang, Huron Football Captain
Aedan York, Pioneer Football Captain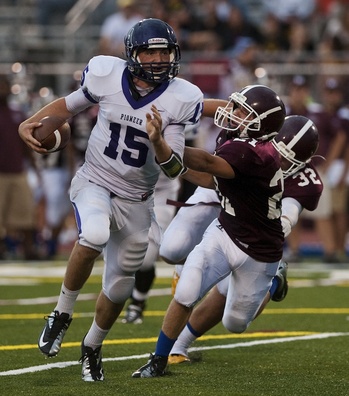 AnnArbor.com file photo
Yang, a junior running back/defensive back, and York, a senior quarterback, are not believed to have participated in the brawl. York had his arm in a sling and was on the sideline and Yang participated in Huron's season finale against Westland John Glenn the week after the brawl.
Both declined to be interviewed to discuss specifics from the brawl or plans for joint community service projects.
As a result of the brawl, several players from both teams were suspended for one game. Gildersleeve and Test were suspended for two games and Pioneer assistant coach Vincent Wortmann was fired for his use of force to separate Gildersleeve from Test.
The brawl began when Wortmann ran over and shoved Gildersleeve after Gildersleeve was allegedly pushing Test during the postgame handshake. Gildersleeve has denied pushing Test, which is in conflict with the official referee's report from the incident. The Washtenaw County prosecutor's office decided not to press charges against Wortmann after determining that there was "insufficient evidence to prove beyond a reasonable doubt (Wortmann) did not act in lawful defense of Pioneer Head Coach Paul Test."
Both coaches resigned at their respective postseason team banquets. Neither job has been posted on the district's job board.
One Pioneer player who was academically ineligible to play in the game versus Huron but participated in the brawl was kicked off the team. Also kicked off the team was injured running back Bashir Garain, accused of swinging a crutch and hitting a Huron player.
Garain, 18, has been charged with two counts of assault with a dangerous weapon, which are felonies, and two counts of assault and battery, which are misdemeanors, for his alleged actions. Garain pleaded not guilty to the charges on Thursday.
Two more Pioneer players are expected to be charged as juveniles in the matter.
Pete Cunningham covers sports for AnnArbor.com. He can be reached at petercunningham@annarbor.com. Follow him on Twitter @petcunningham.