Posted on
Tue, Dec 11, 2012 : 4:44 p.m.
Whitmore Lake football coach Barry Pierson steps down, creating fifth vacancy in Washtenaw County
By Kyle Austin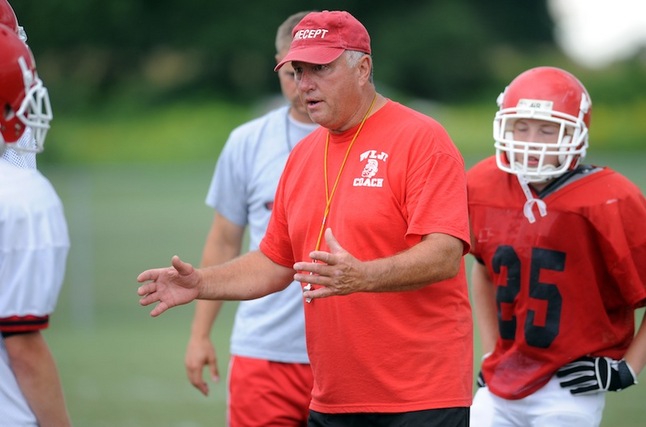 AnnArbor.com file
Barry Pierson resigned as Whitmore Lake's head football coach after the season, saying he could no longer afford to coach the struggling program after three years.
Pierson, who isn't employed with the district and said he could no longer afford to rent an apartment nearby and continue as coach without a full-time job.
"I wasn't making any money and paying to live there, and no money was being made on the side," Pierson said. "I lose money on the year and I couldn't afford to do it anymore."
With Pierson stepping down, five Washtenaw County's 12 head football coaching jobs are now available.
The Pioneer and Huron jobs both opened after Huron's Cory Gildersleeve resigned in early November and Paul Test stepped down last week.
The Dexter job is also vacant, after Brian Baird resigned early in the season and Ryan Fisher coached on an interim basis the rest of the season
The new merged Ypsilanti-Willow Run school district will also be hiring a coach for its first season as a combined program in 2013, although current coaches Ra-mon Watkins at Ypsilanti and Rufus Pipkins at Willow Run are both expected to be in the running.
Pierson, 65, stepped down after his second straight 2-7 season. In his three years at the helm, Whitmore Lake went 4-23, including an 0-9 campaign in 2010.
"The program's got a long ways to go," Pierson said.
But Pierson said his decision to step down had less to do with performance and more to do with finances.
Pierson said the district originally planned to give him additional compensation, including having him do landscaping duties, but those opportunities never materialized. He estimates he lost $30,000 during his three years coaching.
Whitmore Lake athletic director Denise Kerrigan didn't return a call seeking comment.
Throughout his three years, Pierson's teams struggled with participation numbers. Last year, 33 players in grades 9-12 came out Whitmore Lake was only able to play one JV game as a result, playing the rest of the season solely as a varsity program.
Pierson said Whitmore Lake could have a hard time fielding a team next year.
"Our numbers are down, the willingness to participate just doesn't seem to be there," Pierson said. "I think everybody's running into it."
Pierson was a member of Michigan's football team from 1967-69. His most famous moment came on Nov. 22, 1969, as Pierson intercepted three passes and returned a punt to set up a touchdown, helping the Wolverines beat top-ranked Ohio State.
Pierson said he will return to St. Ignace, his hometown. His wife owns multiple businesses on nearby Mackinac Island.
He said he didn't rule out returning to coaching in some capacity.
Kyle Austin covers sports for AnnArbor.com. He can be reached at kyleaustin@annarbor.com or 734-623-2535. Follow him on Twitter @KAustin_AA.