Posted on
Tue, Jan 1, 2013 : 5:59 a.m.
Michigan athletic director David Brandon aims to make department ideal destination for talent in 2013 and beyond
By Pete Cunningham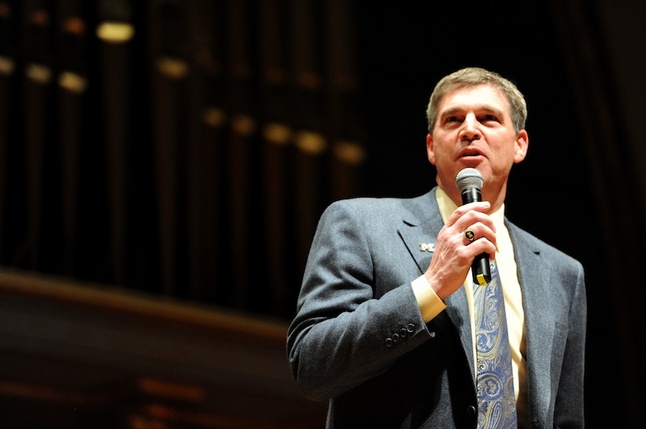 AnnArbor.com file photo
Driving north on Main Street into downtown Ann Arbor, it is nearly impossible to miss Michigan Stadium and the iconic block 'M' on the back of the southern scoreboard. Just as the stadium that packs more than 110,000 fans on fall Saturdays is impossible to avoid, so too is the Michigan athletic department's influence on the university and the Ann Arbor community.
Michigan athletic director Dave Brandon is the man in charge of the department and its $133 million budget. Since taking over for Bill Martin in March of 2010, the only constant within the athletic department has been change. From coaches, football uniforms and game times, administrative staff, facilities and everything in between, nothing is sacred and a "good enough" status quo never seems to be an option for the former Domino's CEO.
With a department with such a heavy influence on the area and a leader noted for shaking things up, it should come as no surprise that Brandon is one of AnnArbor.com's "Ones to watch" in 2013.
To understand where Brandon hopes the athletic department will go in 2013, it's important to first look back at 2012, which began with the football team winning the Sugar Bowl, its first win in a BCS bowl since 2000. Other performances of note include the men's basketball team's first share of a Big Ten title since 1986 and making the NCAA tournament along with the women's team, and the three NCAA titles won by Michigan athletes, to name a few.
Ones to Watch 2013
"I would describe 2012 as a year of good progress," Brandon said in a phone interview. "Many (long-term) goals yet to achieve, but good. All in all it's been a successful year for Michigan athletics."
Brandon points to the NACDA Director's Cup standings as a measure of Michigan's on-field improvement in his tenure as athletic director. The standings award points for performance of 10 men's and 10 women's sports. Michigan finished in 10th place for the 2011-12 academic year and is currently in first place after the completion of seven fall sports championships for the current year.
Michigan finished 25th in the standings in the 2009-10 academic year and has improved gradually since Brandon took over.
"The Director's Cup is an initiative, something that we believe is a way to measure the depth of our performance," Brandon said. "We actually think that we have a really good chance of achieving our goal of being in the top five at the end of the (2012-13) season."
AnnArbor.com file photo
Brandon believes a team's head coach is the most vital cog to success. This is evidenced by the fact that of Michigan's 29 varsity teams, 11 are led by coaches hired since Brandon started. He's not afraid to change things if he thinks it's necessary — as evidenced by 78 of the 275 people employed by the athletic department when he started either leaving voluntarily or being fired. Thirty-three new positions were added as well.
"The key to success in the game of college athletics is to have great head coaches who are able to get great players. And it doesn't matter what sport, great coaches are greatest when they have great players and we're blessed to be in a position to where I'm really very excited about the coaching talent that we have across the board," Brandon said. "Once you have the coaches, you're going to have young people who are going to want to take advantage of those coaches."
Another important aspect of attracting great coaches who can in turn attract great talent is having top-notch facilities.
In 2012 the athletic department completed major renovations at Crisler Center and Yost Ice Arena. In 2013 and beyond, Brandon said facility improvements will continue to be a priority with the expansion and upgrading of Schembechler Hall, a $6 million paint job to Michigan Stadium scheduled and upgrades to the softball complex.
While ground may not be broken anytime soon, Brandon also said moving forward aggressively with facility upgrades for the lacrosse and field hockey programs is a priority.
"They need all the basic infrastructural elements that they currently don't have. Everything's very temporary, so I have a high degree of urgency to get the home of Michigan lacrosse built," Brandon said. "The field hockey program — which is a nationally ranked program and does a great job of winning championships at the conference level and is always competitive nationally — have some very aggressive and ambitious plans for a new facility or renovation and expansion of their facility."
Brandon said track and swimming facility upgrades are further down the line, but still very much on his radar.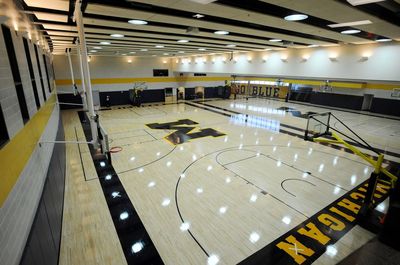 AnnArbor.com file photo
While the track and natatorium may be woefully overdue for upgrades, they produced most of the 22 athletes and coaches with current of former
Michigan ties that competed in the London Olympics
over the summer.
"It was a source of pride," Brandon said. "The real benefit from my perspective was not only pride that we felt to be able to display the amazing talent, but it also brings a lot of energy around the importance of Olympic sports to Michigan…the Olympics and the showing that we had as a university will hopefully energize our donor base and keep us focused on the importance of Olympic sports."
Brandon is constantly saying that he aims to create "wow" experiences for Michigan fans, and another one of those will come this year when the football team concludes its Notre Dame series with its second-ever home night game.
"We've got a big challenge ahead because we have to make it even bigger and better than the last one, and the last one was pretty special," Brandon said.
The facility upgrades make Michigan more able to present such events across multiple platforms and attractive to organizations who want to use Michigan's facilities for marquee events, such as the NHL Winter Classic.
"We want to put ourselves in a position where we can host important competitions," Brandon said. "The fans should expect that we're going to host events in Ann Arbor that will draw the attention of the nation, that will be fun to visit that showcase exceptional talent and that create those wow experiences and will be memorable for the people that are there, whether it's at Michigan Stadium or Crisler Center or Yost Ice Arena or whether it's in any one of our other venues, we plan on creating big events and things that draw a lot of attention to Ann Arbor and a lot of attention to the University of Michigan.
"We're going to continue those kind of things because it's good for everybody. It's good for our department because in many cases we can raise some incremental revenue that help support the investment plan that I've outlined, but most importantly it's special to the community."
Pete Cunningham covers sports for AnnArbor.com. He can be reached at petercunningham@annarbor.com. Follow him on Twitter @petcunningham.