Posted on
Thu, Oct 6, 2011 : 10:26 a.m.
The Big Ten needs Ohio State back on its feet and more notes
By Nick Baumgardner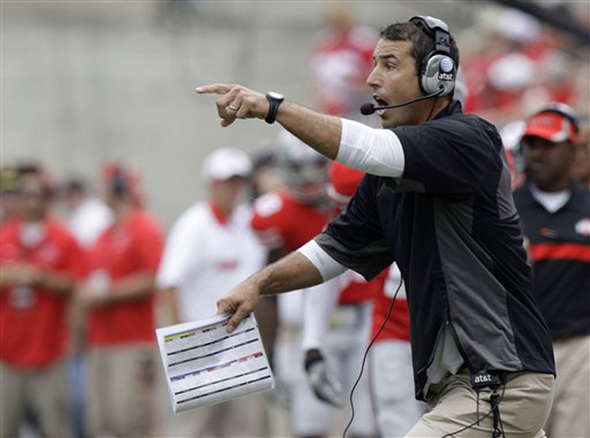 Associated Press
So, Ohio State athletic director Gene Smith says the school doesn't have a systemic problem with its football program.
The program itself is fine, Smith says. It's just a few individuals causing a stir.
Terrelle Pryor, Mike Adams, Daniel Herron, DeVier Posey, Solomon Thomas, Jim Tressel, Marcus Hall, Marvin Fellows, Etienne Sabino, Jordan Hall, Travis Howard, Corey "Pittsburgh" Brown, Edward Rife and Bobby DiGeronimo. Just a few individuals. In no way a systemic issue.
I'm not sure where Smith bought his dictionary, but a refund may be in order.
The Buckeyes will be without starters Herron, Posey and Hall again this weekend when they travel to Nebraska.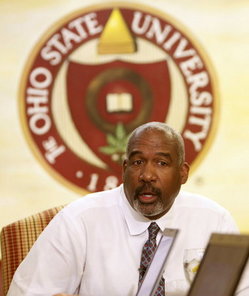 Associated Press
Meanwhile, coach
Luke Fickell
continues to walk a gauntlet with half of a team, the student-athletes at Ohio State that kept their noses clean are taking a beating by association and Smith seems to be putting all his eggs in the "head-in-sand" basket.
Dumpster fire, anyone?
It's no secret that there are more than just a few Buckeye haters out there. But before you start your "Ohio State #fail" firework show, remember that the Big Ten Conference (and the fabric of college football, for that matter) is suffering here, too.
Like it or not, the Big Ten (yes, even Michigan) needs a healthy Ohio State. The Buckeyes have been the flag bearer in a league that hasn't exactly sparkled nationally during the Bowl Championship Series era.
A rising tide lifts all boats. And currently, the Big Ten's boat isn't stocked with elite teams.
Wisconsin's the real deal. But beyond that? Nebraska looked like a junior varsity squad against the Badgers last week, Michigan says itself that it's overrated, Illinois is unbeaten (barely), Michigan State slugged through a slop fest to topple struggling Ohio State and shot its own foot off in a loss to Notre Dame, Penn State nearly lost to Temple and Iowa has a non-league loss against Iowa State.
The Big Ten needs Ohio State to fix this, one way or another.
And in order for that to happen, Smith needs to figure out the proper definition of "systemic."
Or resign.
Whichever comes first.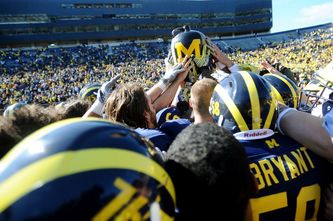 Melanie Maxwell | AnnArbor.com
Sky high:
Michigan (5-0)



Brady Hoke thinks his team's overrated, Ryan Van Bergen says a top 25 ranking is a curse and somewhere Rich Rodriguez is conjuring up feelings of deja vu.

But does it matter?

Michigan is undefeated, the Wolverines are tied for second overall nationally in scoring defense, Denard Robinson is still really fast, Devin Gardner is getting on the field and Hoke seems to have Ann Arbor in the palm of his hand.

There's no telling where Michigan goes from here, and Wisconsin seems to be the unquestioned powerhouse in the league. On top of that, the possibility exists that the Wolverines' wheels could rattle off into another late-season implosion.

But, for now, Michigan fans seem to be confidently smiling for the first time in a long time. And there's little reason to find fault in that.


Rock bottom: Minnesota (1-4)


Atrocious? Horrendous? Abominable? Embarrassing? Take your pick, they all pretty much sum up the Golden Gophers' showing last week in the pillow fight for the Little Brown Jug.

Now, to be fair, coach Jerry Kill has had a rough season off the field, and is dealing with health issues. And he team was without its top offensive weapon in MarQueis Gray due to a toe injury.

But are those reasons enough to overlook a 58-0 dump-trucking? I think not.

The Golden Gophers are last in the Big Ten in scoring offense, scoring defense, total defense, pass efficiency, pass defense efficiency, third down offense and defense, sacks by and turnover margin.

When will the Gophers next win a game? They've got Purdue at home this week.

From there? Well, let's just say they'd better focus in on Purdue.


Last week's heavy lifter:
WR A.J. Jenkins, Illinois


Jenkins did his best Plaxico Burress vs. Michigan impression in Illinois' 38-35 win over Northwestern on Saturday.

The senior from Jacksonville hauled in 12 catches for 268 yards and three touchdowns as the Illini stayed perfect on the year.

Jenkins' big performance pushed him in front of Michigan State's B.J. Cunningham on the stat list, as he now leads the league in catches (40) and yards (633).


Standout stats:


51


Points allowed, through five games, by Michigan State, Wisconsin and Michigan. The Spartans, Badgers and Wolverines are all tied for the No. 2 spot in the country in scoring defense with 10.2 points allowed per contest.




14


Total touchdowns scored by Wisconsin junior running back Montee Ball this season. He has rushed for 13 touchdowns (a national best) and caught one scoring pass. If you're a college fantasy football fanatic (if such a thing exists), I'd suggest putting Ball in your lineup this week.




1


Knee to the groin against Northwestern that earned Illinois linebacker Jonathan Brown a public reprimand by the Big Ten and a one-game suspension from the Illini.




0.89


Yards per rush by Ohio State in a 10-7 loss to Michigan State last week. The Buckeyes technically carried the ball 39 times for 35 yards. Most of that stat can be attributed to the Spartans' pass rush, as MSU sacked quarterbacks Braxton Miller and Joe Bauserman nine times.


Set your DVR for: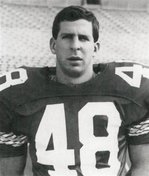 Associated Press
Ohio State at No. 14 Nebraska
(8 p.m., ABC)
Subplot city.
The Cornhuskers continue their Big Ten welcome tour with a home date against the conference's flag bearer over the past few seasons.
The Buckeyes are struggling (on and off the field) right now, but that doesn't take any luster off this one, especially considering Nebraska coach Bo Pelini played at Ohio State from 1987-90, has been mentioned as an eventual candidate for the head job at OSU once the year ends, and will likely continue to be a part of that rumor mill whether he wants to or not.
Chance Pelini snaps at a reporter at some point this week for asking if he's considered the possibility of coaching at his alma mater? On a scale of calm to conniption? I'll go with controlled rage.

Quotable

"I didn't watch every play in that Wisconsin game, it's tough for me to stay awake that late on a Saturday night." — Penn State head coach Joe Paterno on how he felt the primetime game between Wisconsin and Nebraska went last weekend.

Off the cuff

Purdue coach Danny Hope was asked earlier this week to explain his thoughts on speculation that he's on the hot seat after an embarrassing home loss to Notre Dame last week.
Hope's reply: "What do you mean by that?"
Well, Danny, the term hot seat has little to do with any unseasonably warm West Lafayette weather and everything to do with the fact that you're 11-17 in your third year with the program.
How hot is Hope's seat, exactly? According to the folks at www.coacheshotseat.com, his chair is warmer than anyone's in the Big Ten. The site (which ranks all 120 FBS coaches, 1 being the hottest, 120 being the safest) ranks Hope's seat as the 17th hottest in the country. That's three spots above Ohio State's Luke Fickell.
The safest Big Ten coach? Wisconsin's Bret Bielema (No. 116). Michigan's Brady Hoke comes in at No. 104.
Nick Baumgardner covers Michigan sports for AnnArbor.com. He can be reached at 734-623-2514, by email at nickbaumgardner@annarbor.com and followed on Twitter @nickbaumgardner.