Posted on
Sat, Jan 7, 2012 : 5:59 a.m.
4 things to watch for in the Wisconsin at Michigan basketball game
By Nick Baumgardner
The Michigan basketball team will face its first of many quick Big Ten-turnarounds on Sunday.
It will also be looking for its first win against a ranked opponent since beating Memphis in November.
No. 16 Michigan (12-3, 2-1 Big Ten) will look to get back on track following a narrow loss at Indiana when it welcomes No. 18 Wisconsin (12-4, 1-2 Big Ten) on Sunday (1:30 p.m., CBS).
Both clubs enter the game on the heels of a loss, as Wisconsin is coming off a pair of home setbacks to Iowa and Michigan State.
The Wolverines are planning a dedication ceremony for the newly finished Player Development Center during the game. Several former alums are expected to be on hand, including Cazzie Russell and Rudy Tomjanovich.
Here are four things to watch for Sunday: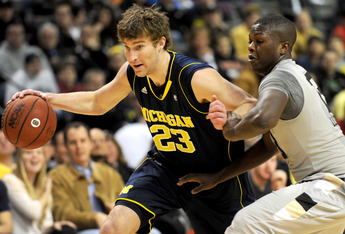 Angela J. Cesere | AnnArbor.com
1. More from Smotrycz
Evan Smotrycz posted three straight double-doubles last month, against Alabama A&M, Bradley and Penn State.
Against Minnesota and Indiana, though, the 6-foot-9 big man has been relatively quiet.
He grabbed nine boards against the Golden Gophers, but scored just two points. Against Indiana, he finished with eight points, but took just six shots and contributed two rebounds in 25 minutes.
Smotrycz was one of Michigan's most-improved players during the non-conference schedule, but early on in Big Ten play, he struggled to keep up that consistency.
Wisconsin is in no way imposing physically inside, and there's no excuse for Smotrycz not to bounce back.

2. Get Hardaway back toward the hoop

Tim Hardaway Jr. finished with 19 points against Indiana, but he started floating again.
Hardaway was 0-for-7 from 3-point range, dropping his season percentage from long range to 27.1.
It's been proven several times this season that Hardaway's an extremely tough check when he's charging toward the basket. It was evident in his 26-point effort against Penn State, and proven again during his highlight-reel jam against Indiana on Thursday.
He knows how to shoot, no question. But he's also a rhythm player offensively. Meaning, if he gets himself a few easy buckets, everything else seems to fall in line.
Get him toward the rim early, get him some confidence and allow his outside shot to follow.

3. Value possessions

This is one of those no-brainer items against Wisconsin, but it's always incredibly true. You can't turn the ball over, because Wisconsin won't return the favor (the Badgers cough it up just 8.4 times per game).
You can't take ill-advised shots, because Wisconsin's already tough enough to score on (opponents are shooting 34.9 percent vs. the Badgers this season).
This will be a 60-possession or fewer game, no doubt about it. Every trip down the floor will matter.

4. Start fast

This is a given at home every game, but against a team with the current mental state of Wisconsin's, it becomes even more important.
The Badgers have dropped two straight games at home, something that almost never happens.
Wisconsin is likely frustrated, angry and desperate to make any type of statement. Michigan has to match that intensity early, and if possible, top it. The Wolverines are also coming off a loss, and should also be fired up.
The Badgers have been rattled, and not allowing them to gain any early confidence could go a long way in securing a home win, and Michigan's first victory over a Top 25 opponent this season.
Nick Baumgardner covers Michigan basketball for AnnArbor.com. He can be reached at 734-623-2514, by email at nickbaumgardner@annarbor.com and followed on Twitter @nickbaumgardner.
Want to stay connected to Wolverine basketball in your Facebook newsfeed? "Like" AnnArbor.com's Michigan Basketball News & Views.