Posted on
Sun, Mar 25, 2012 : 5:59 a.m.
Grading the 2011-12 Michigan basketball seniors: Zack Novak, Stu Douglass, Corey Person
By Nick Baumgardner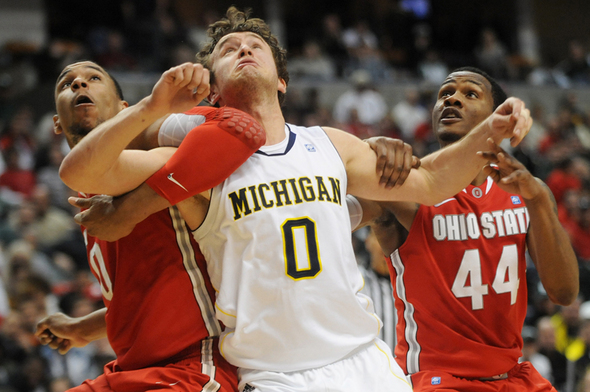 Melanie Maxwell | AnnArbor.com
As a class, they won 81 games, advanced to three NCAA Tournaments and earned the program's first Big Ten championship banner in 26 years.
Not a bad resume.
Their careers ended bitterly earlier this month when the Michigan basketball team fell to Ohio in the second round of the NCAA Tournament, but seniors Zack Novak, Stu Douglass and Corey Person left behind quite a legacy.
As did former player Ben Cronin, who entered the program with the current Wolverine seniors in 2008-09, but eventually had to call it a career because of injury. He did, however, remain in close contact with the club and was even honored on senior night.
The final grades for Michigan's 2011-12 seniors.
MICHIGAN BASKETBALL GRADES
This is the first of a four-part season-review series of each Michigan basketball player in 2011-12, looking at what they did well, where they struggled and what's next.
Today: Seniors

Monday: Juniors

Tuesday: Sophomores

Wednesday: Freshmen

Zack Novak

Final numbers:
9.2 ppg, 4.5 rpg, 33.7 minutes per game, 47.6 FG %, 40.9 3FG %.
High points: Novak showed everyone who was paying attention that he was a changed player this season in terms of skill level when he began to connect on his mid-range jumper during the Maui Invitational.
Novak had 11 points and five rebounds in a narrow loss to Duke and then showed off the full array of offensive improvement a day later, dropping in 22 points on 7-for-8 shooting in a rout of UCLA.
The senior guard was a consistent four to five rebounds each night again this season, but also showed an ability to distribute (eight assists vs. Oakland) and score from various angles (breakaway dunk vs. Northwestern).
When other shooters were going through funks in January, Novak seemed to be the one player who consistently kept Michigan afloat. He was the only player to show a pulse in a loss at Iowa, had 17 points in a narrow defeat at Arkansas and then had a stretch of four double-digit scoring efforts against Indiana, Michigan State, Nebraska and Illinois.
But in the end, his most valuable contribution to the club was his leadership.
Novak served as a team captain for a third straight season. His willingness to lead, switch positions, guard bigger players and dive on the floor is what made his season positive.
Low points: Novak's worst outing of the season probably was his last, when he went 1-for-6 with two points and four fouls in a season-ending NCAA Tournament loss at Ohio.
It wasn't the first time he forced himself into foul trouble as he had the same issues earlier in the year during a scoreless performance at Ohio State.
Novak's shots weren't falling in Nashville, and his ability to create anything for himself off the dribble was seemingly gone. He had a similar outing a week earlier against Minnesota in the Big Ten Tournament, but was able to salvage that showing by hitting some clutch shots late.
There were no clutch shots against Ohio, and Novak ended his career with perhaps the worst game of his season.
Future: Novak finished his career as a 1,000-point scorer and is just one of 28 Wolverines to have 1,000 points and 500 rebounds.
His legacy, though, always will be tied to his three-year captaincy, his tenacity, passion and ability to lead Michigan to three NCAA Tournaments in four seasons.
Novak, who will graduate from Michigan's Stephen M. Ross School of Business, said earlier in the year he plans on pursuing a professional basketball career overseas before settling in for a business career.
Final grade: A-
Stu Douglass
Stu Douglass
Final numbers: 7.5 ppg, 2.6 rpg, 2.3 assists per game, 40.6 FG%, 33.8 3FG%.
High points: Douglass came up big during his final regular-season game in the state of Indiana, putting up 12 points and grabbing five rebounds to help the Wolverines grab their first road win of the Big Ten season at Purdue.
He also was clutch a month later at Northwestern, going 4-for-7 from 3-point range in a 12-point, five-assist effort in Michigan's second overtime win over the Wildcats.
Douglass' shot wasn't always on the mark this season, but he did an underrated job of being a second ball-handler behind freshman point guard Trey Burke.
The senior guard had back-to-back five-assist efforts against Northwestern and Purdue late in the year and then had a six-assist night in the regular-season finale at Penn State.
A team captain alongside Novak again this season, Douglass' biggest contribution was his willingness to stand aside and allow Burke to take over the controls at point. As a senior, Douglass could have been selfish and made things difficult on Burke.
But he didn't. And Michigan was far better off because of it.
Low points: Much like Novak, Douglass wasn't exactly at his best down the stretch.
He struggled against Minnesota in the Big Ten Tournament, going scoreless in regulation. He was 2-for-5 from the floor in 33 minutes against Ohio State the next night, and looked uncomfortable at times during the Buckeyes' big first-half run.
And against Ohio in the NCAA Tournament, he also went out with a fizzle. He was 2-for-7 from the floor, scored just five points and handed out only one assist. Not his best night.
It was an interesting sandwich-type season for Douglass, who went through serious shooting struggles for most of November and December, eventually worked his way back into the starting lineup in January before eventually running out of gas in March.
He was better, at times, with his shot selection this season, but did have fits with that aspect of his game from time to time.
He worked extremely hard to get his shooting numbers up, and was successful in doing so, but still finished at just 33.8 percent from long range. Not great for a player who took more than 140 3-point attempts.
Future: Douglass ended his career as Michigan's iron man, never missing a game during his surprising four-year career and finishing as the school's all-time leader in games played.
Like Novak, Douglass says he'll actively pursue a pro contract overseas and hopes to play as long as he possibly can.
Asked if he'd ever consider coaching? Douglass replied firmly that no, he would not.
Final grade: B+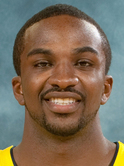 Corey Person
Final numbers: 1.1 ppg, 0.2 rpg, 11 games played.
High points: Michigan's walk-on leader wasted absolutely no time getting down to business during late-game efforts against Purdue and Ohio State at the end of the season.
Against Purdue, Person had four points in 1 minute. Against Ohio State, the senior from Kalamazoo racked up seven points in just 3 minutes.
Not a bad ratio there.
Person's biggest role, though, came during practice and inside the locker room. He routinely mimicked the opposition's best player during scout drills and served as a true no-nonsense, noncomplaining walk-on.
He didn't play often, but he didn't care — as evidenced by the fact that he stuck it out for four years as a nonscholarship player. Only those who have gone through that before know how truly difficult a feat that is.
Low points: Person was a team guy, so when Michigan bowed out to Ohio in the NCAA Tournament, he took it rather hard.
The senior spent most of the entire 20-minute media session with his head in his hands and his back to the room, too crushed to respond to any final queries.
Personally, he had no low moments. He went as the team went.
Future: Person's basketball career is over, but his legacy moves forward as a program-first person who helped continue to John Beilein's growing tradition of valuable walk-ons.
Not every program in the country has strong walk-on support year in and year out, but in players such as Person and former guards C.J. Lee and David Merritt, Michigan has started to find them.
Grade: A
Nick Baumgardner covers Michigan basketball for AnnArbor.com. He can be reached at 734-623-2514, by email at nickbaumgardner@annarbor.com and followed on Twitter @nickbaumgardner.
Want to stay connected to Wolverine basketball in your Facebook newsfeed? "Like" AnnArbor.com's Michigan Basketball News & Views.