Posted on
Mon, Jan 9, 2012 : 5:59 a.m.
Michigan basketball captains Novak and Douglass will team to streak-snapping win over Wisconsin
By Nick Baumgardner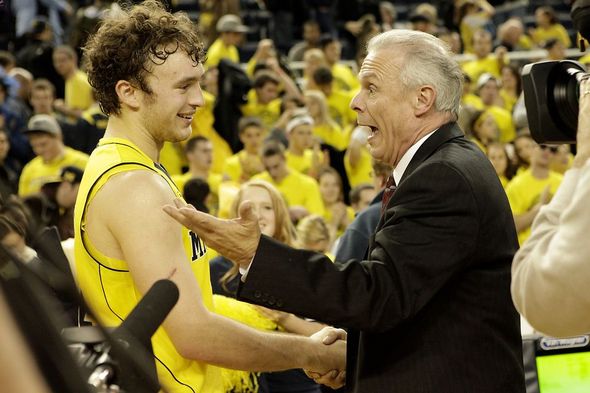 Chris Asadian | AnnArbor.com
Michigan wasn't losing to Wisconsin again.
Not at home. Not with Cazzie Russell in the house. Not for an 11th straight time.
And not on the combined watches of Zack Novak and Stu Douglass.
"I told (Michigan freshman Trey Burke) before the game that I had never beaten them," Novak said afterward. "And that was something I wanted to do."
In one instant Sunday, Douglass and Novak proved why they're co-captains of the Michigan basketball team.
The game was part of a special dedication weekend for the Michigan basketball program's new Player Development Center.
Leading 47-33 with a little more than six minutes left Sunday, the duo proved just how badly they wanted a win over the Badgers.
After Douglass poked a ball from the grip of Wisconsin forward Mike Bruesewitz, the 6-foot-3 senior guard sprinted and dove on the free possession as if his life depended on it.
And when he got there, he found his partner in crime over the past four years -- Novak -- on the ground waiting for him.
Bruesewitz never stood a chance.
Douglass pushed the ball into the general direction of Novak, who -- from his back-side -- tossed a pass behind his ear into the hands of Burke, who raced the other way for an easy layup.
Game over.
Ten-game Wisconsin losing streak over.
"Leading by example is something Zack and I have to do," Douglass said. "I'm not (always) going to go out there and score 20 points or come off every ball screen. There's different roles we all have to play.
"If I don't (dive on the floor), who knows, maybe there's a big swing in the game and something bad happens. You have to leave everything out on the court."
Odds are, Douglass and Novak could've saved themselves the floor burns. Michigan likely had enough of a comfortable margin to beat Wisconsin anyway. The eventually wrapped up a 59-41 win.
Chris Asadian | AnnArbor.com
But together, the duo had no interest in leaving things to chance.
As freshmen, the pair lost their first-ever Big Ten home game to the Badgers before falling again later that season at the Kohl Center. A year later, the two were part of another road loss at Wisconsin, and an embarrassing 18-point home setback.
And then last season, after getting blown out in Madison, the Novak and Douglass had front row seats for the biggest Wisconsin horror story to date, as Badger guard Josh Gasser banked in a desperation 3-pointer at the buzzer to stun the Wolverines by one point at Crisler Arena.
So, while a 14-point lead with six minutes to play may have seemed safe Sunday, Novak and Douglass weren't buying it.
And, according to Michigan coach John Beilein, Novak and Douglass' understanding of what it takes to win in the Big Ten should pay big dividends for the Wolverines moving forward.
"That's how every coach dreams his team will play," Beilein said. "There's not a coach in the country that doesn't love (seeing) that. It's come natural for Zack, but Stu's gotten to that point right now that all he cares about is winning.
"If (they've) got to dive on the floor and never give in to fatigue, (they're) going to do it. Those two want to win."
Behind the example set from their captains, the Wolverines successfully washed away a bitter 73-71 loss at Indiana earlier in the week. A loss Douglass said would have Michigan kicking itself once it realized how many mistakes eventually led to a two-point defeat.
Michigan spent Friday kicking itself, but managed to get back to work a day later. And by realizing and correcting the faults learned just three nights earlier, a team with just two scholarship seniors on its roster showed it may be living well beyond its age.
"(We told them), 'you needed that (Indiana) loss to beat Wisconsin,' " Beilein said afterward. "We had to drive home that these little parts of a game really matter in order to win. If you're not diving on the floor, taking quality shots, making foul shots, (a win) would've been fool's gold."
Michigan needed a loss to exorcise a demon against Wisconsin.
And with that out of the way, Novak and Douglass -- two players building a legacy synonymous with resurrecting the Michigan basketball program -- now have at least one win over every Big Ten opponent they've played.
"It was a big one," Novak said. "We got it done, it was good."
Nick Baumgardner covers Michigan basketball for AnnArbor.com. He can be reached at 734-623-2514, by email at nickbaumgardner@annarbor.com and followed on Twitter @nickbaumgardner.
Want to stay connected to Wolverine basketball in your Facebook newsfeed? "Like" AnnArbor.com's Michigan Basketball News & Views.