Posted on
Mon, Apr 8, 2013 : 2:59 p.m.
Michigan vs. Louisville: A guide to the 2013 NCAA Men's Basketball National Championship
By Pete Cunningham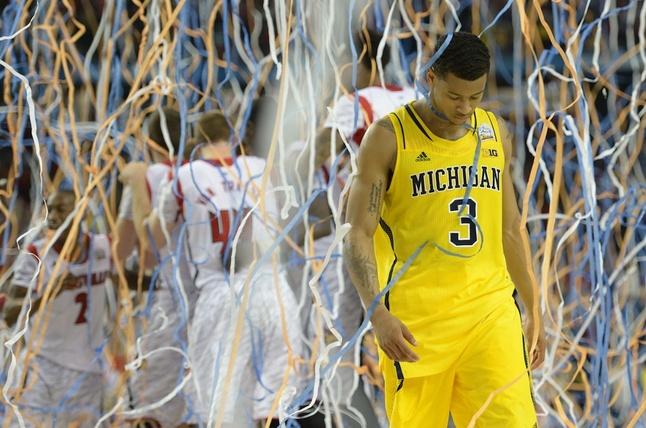 Melanie Maxwell | AnnArbor.com
Postgame coverage:
:
LIVE COVERAGE: Join Michigan beat writers Nick Baumgardner and Kyle Meinke from our Live Chat on the Michigan Basketball homepage for their take of the action as it happens. You can also follow them on Twitter @nickbaumgardner and @kmeinke.
WHO: No. 4 Michigan (31-7, 12-6 Big Ten) vs. No. 1 Louisville (34-5, 14-4).
WHERE: Georgia Dome, Atlanta, Ga.
WHEN: Monday, 9:23 p.m.
ODDS: Louisville is favored by 3.5 points according to Sportsbook.com.
SERIES RECORD: Michigan is 0-2 all-time against Louisville.
LAST MEETING: Michigan lost, 86-84, on Dec. 6, 1978 in Louisville, Ky.
BROADCAST INFORMATION: TV: CBS; Radio: Detroit: WWJ (950 AM), Ann Arbor: WWWW (102.9 FM).
Coverage: A Monday hasn't been looked forward to in Ann Arbor for quite some time. Not since 1989 to be exact. The Michigan men's basketball team will take on Louisville in the Georgia Dome on Monday for the 2013 NCAA Men's Basketball National Championship. There are enough intriguing storylines coming out of the game to make your head spin, especially with the quick turnaround from Saturday's semifinal win over Syracuse. Don't worry, we've put them all in one easy to read package to keep you entertained until the 9:23 p.m. package: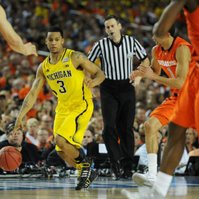 Analysis: Breaking down Michigan-Louisville for the national title (with predictions)
Michigan and Louisville don't talk trash. They don't boast. They don't brag. They know they're good. You know they're good. So, let's just do this already. Michigan is looking for its first (and second ever) national championship since 1989, while Louisville is searching for its third title -- first since 1986. Who cuts down the nets?
Will Monday be Trey Burke's swan song at Michigan? Either way, his legacy is secure
Trey Burke's first pre-season game in a Michigan uniform was, frankly, a dud. People were already questioning whether or not the Wolverines would be able to put together a decent season with an untested, undersized, unheralded freshman point guard running the team. And then, on the day of his first regular-season game, Burke was late to the shoot-around and benched. The consensus national player of the year has come a long way since then.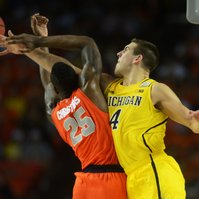 Mitch McGary vs. Gorgui Dieng, and other Michigan-Louisville matchups for national title
Michigan is a slim underdog against Louisville for Monday night's national championship game at the Georgia Dome. But it certainly doesn't have a matchup disadvantage at every position. In fact, the Wolverines seem to stack up nicely against Louisville. Here's a look at the matchups.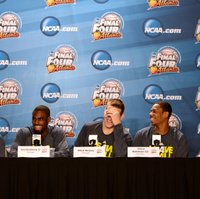 A look at how Michigan recruited a starting five that will play for a national title
Look up at Michigan's starting five seated at a news conference podium Sunday, and it's obvious why they are in Atlanta preparing to face Louisville on Monday night in the national championship game. Seated next to Beilein was Trey Burke, Tim Hardaway Jr., Mitch McGary, Glenn Robinson III and Nik Stauskas, all highly sought after recruits.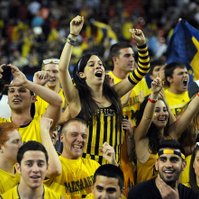 Who's picking Michigan to beat Louisville? Not many national writers, actually
Trey Burke is the consensus national player of the year. There isn't quite a consensus when it comes to predictions regarding Michigan's game tonight against Louisville for the national championship, but it's close...and it's not looking good for the Wolverines.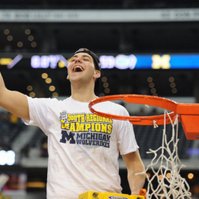 Looking back: Michigan's tournament road to the national championship game against Louisville
Michigan, the youngest team in the tournament, has shown great fortitude during its run to Monday night's matchup against Louisville in the national championship game. As the Wolverines (31-7) stare down the possibility of capturing their first title since 1989, let's take a look back at how they got here: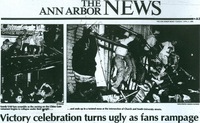 Looking back: Arrests, injuries and $84,000 in damage followed Michigan's 1989 national title
The last time Michigan won a men's basketball national championship, the situation in Ann Arbor turned ugly fast to the tune of windows, damaging cars and businesses and caused multiple injuries according to Ann Arbor News archives. Police estimated the total damage at $84,000.
Michigan believes VCU rout helps with prep for press-heavy Louisville in NCAA finals
Michigan's third-round game against VCU was expected to be one of the more intriguing matchups of the opening weekend of the NCAA tournament, but turned into a 78-53 laugher. Now here they are, preparing to play in the national championship game Monday night (9:23 p.m. CBS) against a Louisville team that also likes to press and feasts off turnovers.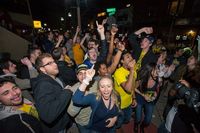 Ann Arbor bleeds maize and blue as fans prepare for University of Michigan basketball's big moment
Watch your language around University of Michigan basketball fans as they prepare Monday for the first national championship game in about 20 years. It's not "if" they win. It's "when." Maize and blue and the block "M" were abundant on the streets of Ann Arbor Monday morning.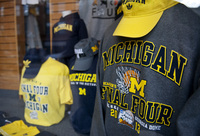 Ann Arbor T-shirt shops prepare for mad rush as Wolverines shoot for NCAA title
The orders are in, presses are on standby, and shirts, hats and hoodies wait to be printed. If the Wolverines cut down the nets Monday night in Atlanta, T-shirts and other championship gear will be flying off the shelves in Ann Arbor and shops around town are preparing for the best.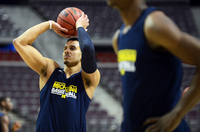 Jordan Morgan's high school coach at Detroit U-D Jesuit says redshirt junior is always 'team first'
When Jordan Morgan drew what can possibly be regarded as the most important charge in Michigan basketball history late in Saturday's win over Syracuse, it certainly was a redeeming moment for the redshirt junior that has seen his Big Ten all-defensive team season dwindle to a limited bench role. His former Detroit coach said Morgan's always been a team-first guy.
This and That
Who ya Got?
Pete Cunningham covers sports for AnnArbor.com. He can be reached at petercunningham@annarbor.com. Follow him on Twitter @petcunningham.