Posted on
Mon, Mar 19, 2012 : 5:59 a.m.
The Michigan basketball team re-wrote history this season, but ended with a dud
By Nick Baumgardner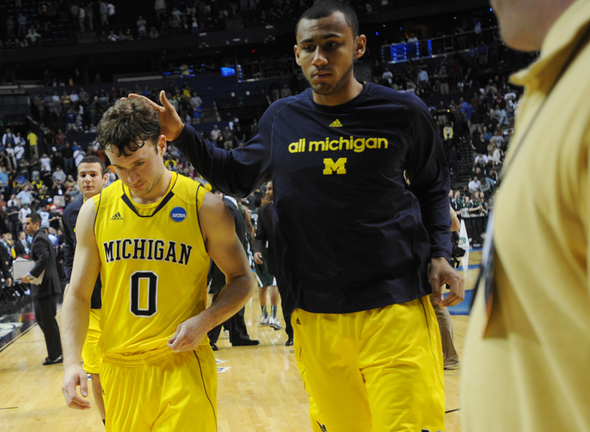 Melanie Maxwell | AnnArbor.com
All season, it was one achievement after another.
Most weeks ranked inside the top 25 in more than a decade, best start to a conference season since the mid-2000s, most assists by a freshman — ever, highest RPI in recent memory and the first Big Ten championship since 1986.
Everything about the Michigan basketball team in 2011-12 appeared to be building toward one final crescendo of re-written program milestones.
And, in the end, it did. Worst NCAA Tournament upset loss in school history.
Not exactly how you draw it up, if you're the Wolverines.
"We thought we could play for a while," Michigan coach John Beilein said after the team's 65-60 NCAA Tournament loss to 13th-seeded Ohio on Friday. "We knew we were going to have to play a really good game today.
"We didn't play as well as we had played earlier in the year."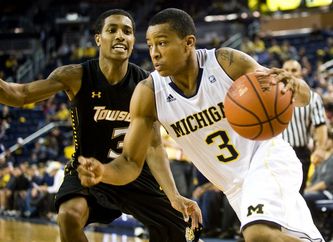 Joseph Tobianski | AnnArbor.com
Earlier in the season, the Wolverines had the look of a club built to surprise, sustain and achieve.
Michigan entered the year without a point guard, but quickly found one in freshman Trey Burke.
The rookie from Columbus, Ohio, had one early hiccup, arriving late to a team shootaround before the regular-season opener against Ferris State.
From there, it was smooth sailing.
Burke burst onto the scene during Michigan's Maui Invitational appearance, outplaying Memphis point guard Joe Jackson and hanging tough with Duke freshman Austin Rivers as the Wolverines left paradise with a more-than-respectable 2-1 mark and a firm spot inside the national rankings.
Outside of a road bump at Virginia, the Wolverines then cruised through the home portion of their non-league schedule and started 4-1 in Big Ten play before entering a road date with Iowa.
Disaster struck in Iowa City, though, as Burke got into foul trouble and the Wolverines were embarrassed by double-digits. But the sour feeling didn't last long, as Michigan immediately bounced back with a home win over Michigan State, its third straight in the series, and fourth straight victory immediately after a loss.
From there, the Wolverines went back and forth — dropping tough road games at MSU, at Arkansas and at Ohio State, but responding to each defeat with an instant win.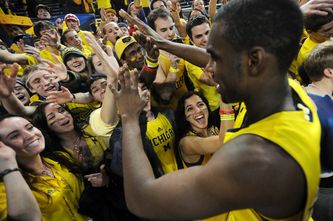 Melanie Maxwell | AnnArbor.com
Michigan wasn't perfect, but it kept hanging around. The Wolverines knocked off Ohio State at home in front of perhaps the most raucous Crisler Center crowd of the 2000s, and won six of their last seven to keep hope alive for that first Big Ten title in almost three decades.
Then, fate called. Ohio State stunned Michigan State in the final seconds of the regular season, and the Wolverines — who had just gotten off an airplane after winning at Penn State — erupted into a conference championship celebration.
They were entering postseason play with a ring in hand, with Burke receiving accolades by the day, with Tim Hardaway Jr. fixing his shooting woes and senior guards Zack Novak and Stu Douglass focused on one final March run.
"A year ago, Darius (Morris) left, and everyone said we were screwed," Novak said. "We proved a lot of people wrong.
"We won the best conference in the country."
Michigan had its banner, and seemed destined for more. But there was nothing left but heartbreak.
The Wolverines needed a heroic performance from Burke to survive an otherwise ugly performance against Minnesota in the Big Ten tournament quarterfinals, and were then pasted by the Buckeyes in the semis by 22 points, Michigan's worst margin of defeat all year.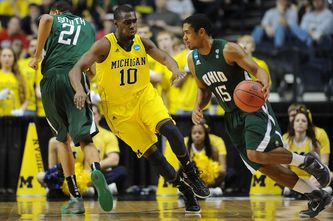 Melanie Maxwell | AnnArbor.com
Suddenly, Novak and Douglass weren't shooting, Burke was struggling to find room and the defense was lapsing everywhere.
Things got no easier when Michigan drew a confident Ohio squad, but the Wolverines were confident that a week off would help cure its ailments.
It didn't.
Once the game with the Bobcats tipped, all the same issues floated back to the surface. Michigan couldn't rotate properly on defense, Burke looked suffocated, Novak and Douglass' shots kept falling short and the team continually seemed one step off.
The Wolverines made runs, but nowhere near enough. In the end, the season that began with so much promise and so much progress ended with a punch to the stomach.
"We wanted to win the whole thing," Burke said. "That was the goal.
"We just feel shocked."
Maybe this just wasn't Michigan's time. Maybe the Wolverines achieved too much too quickly. Maybe this was just a lesson along the way for a program that's on the rise, but just not there yet.
Michigan will have to find a way to replace the leadership of Novak and Douglass, two of the finest captains the program has ever known. Leadership and cohesion are two of the most underrated and difficult components to master in college basketball, and Beilein will have his hands full figuring out how to do so next season.
However, the cupboard will be far from bare. Michigan will bring in a top 10 recruiting class, Burke and Hardaway say they'll be back and four of the team's top six scorers will return on a team that will have just two scholarship seniors — Matt Vogrich and Blake McLimans.
With incoming freshmen Mitch McGary, Glenn Robinson III and Nik Stauskas, combined with the returning ability, the 2012-13 Wolverines might be the most physically gifted club Beilen has ever coached.
But they'll have to learn to play together, and they'll have to figure out a way to wash out the taste the Bobcats shoved in their mouths this weekend in Nashville.
When next season begins, the Michigan basketball program will raise a Big Ten championship banner.
It won't say tri-champs, and it won't make mention of the team's early NCAA Tournament exit.
In 10 years, if the program continues to track on its current progress rate, Ohio should be a distant memory.
But in 2012-13, it'd better not be. That wound needs to stay open.
"Hard work, that's all we can do," Burke said. "This has to motivate us."
Nick Baumgardner covers Michigan basketball for AnnArbor.com. He can be reached at 734-623-2514, by email at nickbaumgardner@annarbor.com and followed on Twitter @nickbaumgardner.
Want to stay connected to Wolverine basketball in your Facebook newsfeed? "Like" AnnArbor.com's Michigan Basketball News & Views.