Posted on
Sun, Aug 29, 2010 : 6:02 a.m.
Bowl game? Breakthrough victories? Here's what needs to happen for Rich Rodriguez and the Michigan football team
By Pete Bigelow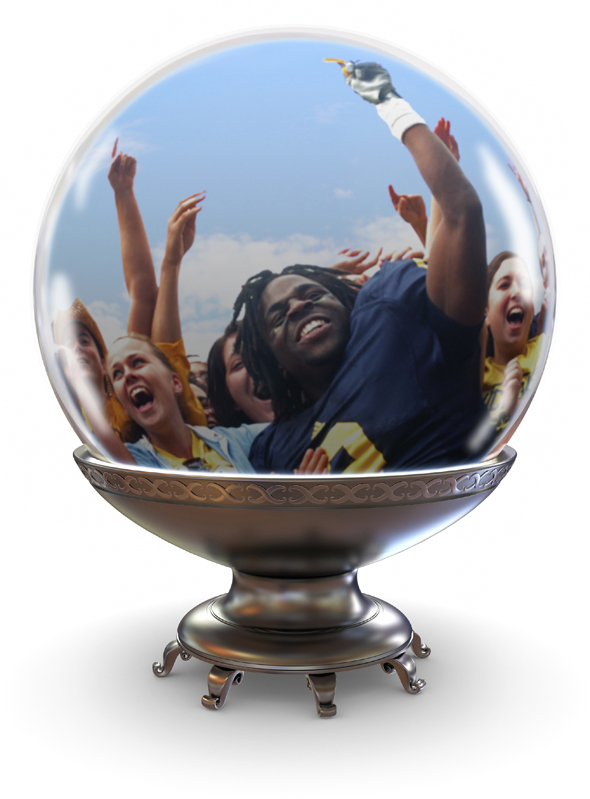 Illustration by Rich Rezler
Fast forward a few months on the calendar and, for a moment, suspend the cynicism that hardened over the past few football seasons. It's Jan. 1, 2011. Rich Rodriguez and members of the Michigan football team are in Jacksonville, Fla. They're leaving their hotel, boarding buses bound for the Gator Bowl, in which they'll face Les Miles and LSU later in the day.
More on Michigan football
No matter the outcome of the game, the Wolverines' 2010 season has been an unqualified success. The team finished with an 8-4 overall record and 4-4 in Big Ten play. The Gator Bowl, which holds the fourth selection in the conference's bowl hierarchy, likes Michigan. Likes its bowl-thirsty fan base. Likes the largest alumni network of any university in the country and the feel-good story the Wolverines have become. Such a scenario doesn't come easy for the Wolverines.
They start the season under the scrutiny of the NCAA. Rodriguez starts it on the hot seat entering the third year of his Michigan tenure. The team starts with questions at quarterback, running back and all over its defense. Should such an optimistic future materialize - and we're not going out on that limb and saying it will - here's how Michigan's best-case scenario will need to transpire: Quick start to the season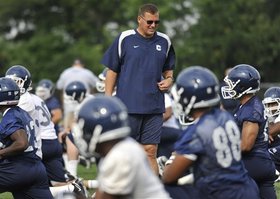 Associated Press
Two weeks from today, the Wolverines make-or-break season already will have been made or broken.
Connecticut
and
Notre Dame
, Michigan's first two opponents, are hovering on the outskirts of the Top 25. They're the bellwethers on the Michigan schedule.
Beat them, and these Wolverines might climb toward the Top 25 themselves, especially with a win in South Bend, and the easy few weeks that follow.
NCAA issues mild conclusions Michigan has already issued self-imposed sanctions for violating four major NCAA rules. A fifth potential violation remains in question. It would be nearly unprecedented for college sport's governing body to reverse its initial allegations on the fifth rule. But a realistic hope for Michigan would be the NCAA agrees with Michigan's own sanctions and issues no further punishment. An added bonus: The NCAA releases its findings either the week before the UMass game or during U-M's bye week, helping to keep what Rodriguez refers to as "drama" and associated distractions to a minimum.
Break even in the conference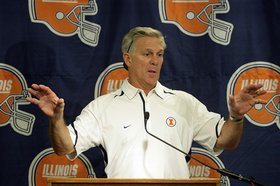 Associated Press
In 2008, the Wolverines finished 2-6 in the Big Ten. In 2009, they went 1-7 in the conference. Not exactly finishes befitting a program that once belonged to the Big Two. Michigan won't compete for the conference title this year. The Wolverines aren't quite ready to play with the
Ohio States
,
Iowas
and
Penn States
on a consistent basis just yet. But after a two-year lull, they are capable of knocking off
Illinois
and
Purdue
again. A .500 record in the conference is realistic, and that would make the Wolverines contenders again.
Win more rivalry games So far, Rich Rodriguez is 1-5 in the games that matter most around Ann Arbor, losing twice to Michigan State and Ohio State, and splitting with Notre Dame, thanks to an epic Tate Forcier-driven comeback.
Rodriguez will get two good chances to improve on that record this year, starting with the Sept. 11 game at Notre Dame and first-year coach Brian Kelly, then again when Michigan hosts an OK Michigan State team at the Big House.
If he can't win at least one of those, Rodriguez might start reminding a lot of people of John Cooper, the largely successful Ohio State coach fired after compiling a 2-10-1 record against Michigan.
Freshmen to the rescue Depth in the secondary was a concern entering summer camp, and that was before seasoned cornerback Troy Woolfolk was lost with a serious ankle injury and Justin Turner left. To help replace them, at least one of the true freshmen group of Cullen Christian, Courtney Avery, Terrence Talbott need to step in and play adequately. Maybe even fellow true freshmen safety Carvin Johnson. It's a long shot, but remember that the Big Ten selected Charles Woodson as its Freshman of the Year in 1995. Michigan needs a freshman to emerge like that now.
On the mark
Melanie Maxwell | AnnArbor.com
Inevitably, a game or two will come down to a field-goal attempt in the final seconds. In the past two seasons, Michigan has been fortunate to have the reliable
K.C. Lopata
and
Jason Olesnavage
lined up.
Seth Broekhuizen
and
Brendan Gibbons
are competing to take their place this year. Early in camp, the position concerned Rodriguez. In the past week, special teams coordinator
Tony Gibson
said Gibbons had strung together several strong practices. After all the practice, planning and execution that goes into a college football season, no one likes to thing the whole operation hinges on a few feet on either side of an upright. In Michigan's case, it just might be the difference between a bowl-game return and a third straight disappointing season.
Have a question about Michigan football? Email Pete Bigelow at petebigelow@annarbor.com or join him on Twitter @PeterCBigelow.