Posted on
Sat, Apr 16, 2011 : 3:55 p.m.
Brady Hoke's off-field moves just as important to Michigan football program as spring practice
By Pete Bigelow
On the day he fired Rich Rodriguez, athletic director Dave Brandon delivered a candid assessment of one of the major cracks in the once-proud Michigan football program. "We have been divided to a large extent, and we continue to be divided," Brandon said. That's all gone now. If Brady Hoke has accomplished anything in his first three months on the job, it's that he has eliminated that fracture.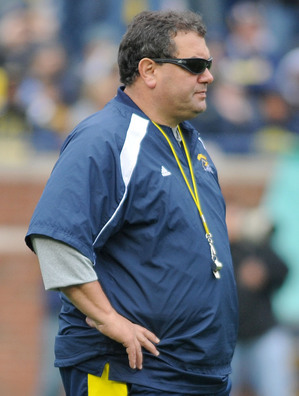 Angela J. Cesere | AnnArbor.com
And if there's any off-the-field development as important as one that occurs on the field this off-season, it's that one. On the day before Michigan's spring football game, Hoke gathered a group of former players that numbered approximately 250 at the Al Glick Field House and delivered a passionate speech. There was no asking for permission to be a Michigan man. There was no Josh Groban soundtrack. "I told them they will not always agree with what we do, and that's OK," Hoke said of the Friday gathering. "I really don't care." It was exactly what the group wanted to hear. From eras as diverse as the 1950s to recent graduates, they all wanted to feel good about the person in charge of Michigan football again. "It was electric," said Lasker Smith, a defensive back who graduated in 1992. "And it was emotional. … I feel real good for this coming season, and I think he's the right guy for the job." The idea that Rodriguez never comprehended what tradition meant at Michigan was always a dopey one - he grasped the concept of the Ohio State-Michigan rivalry just fine. Regardless of which side of the Rodriguez infighting you fell on, it was obvious the very public family feud had become a distraction and sideshow, and obvious that dynamic had to change. Hoke resonates more because he has personal connections. He can talk about Bo Schembechler because he knew the man. He can talk about national championships here because he was here for one. And that matters, especially at a place where the past outweighs the present.
In addition to politely putting the alumni base in its place, Hoke spoke passionately for more than 30 minutes about the traditions and legacy of Michigan football. Sure, that sort of nostalgic enthusiasm was chum for an audience eager to reconnect to the past. But it soothed a lot of hurt feelings. "I think he brings back the tradition that kind of lost its way," former running back Mike Hart said. "He really values the traditions, and the guys before him, whereas under Coach Rod, I don't think he valued the tradition as much." Tradition won't win football games. Memorizing every note of "The Victors" isn't the same as memorizing the playbook. There were signs of that on-field progress Saturday. A defense punished worse than the housing market for three straight years showed flickers of resurgence during the spring game. Carvin Johnson intercepted two passes and sacked Denard Robinson. Jake Ryan ran an interception back for a touchdown and appeared in the offensive backfield all afternoon. Ryan, it's worth adding, has moved to the SAM linebacker position coached personally by Hoke. It's premature to declare the Wolverines' defensive struggles a thing of the past. But it's not too early to say that Hoke has rallied the former players since his first day on the job. And after an encouraging weekend overall for Michigan football, their loyalty may be one factor he no longer has to worry about. Pete Bigelow covers Michigan football for AnnArbor.com. He can be reached at (734) 623-2556, via email at petebigelow@annarbor.com and followed on Twitter @PeterCBigelow.