Posted on
Sat, Apr 16, 2011 : 3:28 p.m.
Highlight plays lacking as Denard Robinson works in new pro-style offense
By Rich Rezler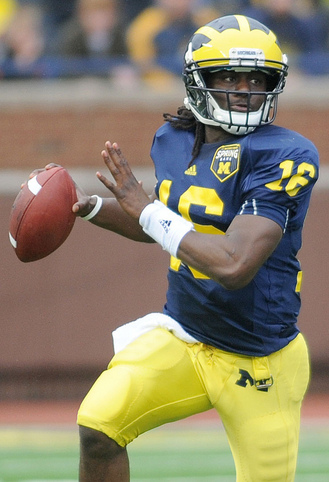 Angela J. Cesere | AnnArbor.com
Denard Robinson took the shotgun snap, headed left, cut back to the right around midfield and bulleted past defenders in white jerseys.
The first play of the 2011 Michigan football spring game was a flashback to last season, when Robinson fascinated the college football world and became the first player in NCAA history to pass for 2,500 yards and rush for 1,500 yards in a single season.
But after that 55-yard run brought the roughly 25,000 fans at Michigan Stadium to their feet, the next 24 offensive snaps that the junior-to-be took looked nothing like that.
Robinson completed 5 of 14 passes for 68 yards and gained one more rushing yard on five carries.
At least two passes were dropped, but more were overthrown. He also had one badly overthrown interception negated by a penalty.
"I think I did all right," he said after the game. "I think I had a couple mistakes and some things I have to work on, but for the most part I think I did all right."
Robinson's drives ended in two missed field goals, two punts and a turnover on downs. The only points his team scored in a 14-7 loss came when redshirt freshman linebacker Jake Ryan returned a Devin Gardner interception for a touchdown.
Afterward, Robinson nor his coaches were overly concerned with the performance. It was just the spring game, after all. A glorified practice.
But remember it was just 364 days ago that fans filed out of Michigan Stadium buzzing about his performance. It began Robinson's ascension from a run-only sideshow to the Big Ten Player of the Year and early-season Heisman Trophy contender.
He turned heads in the 2010 spring game, leading the offense to touchdowns on five of the six possessions he played while showing off much-improved passing skills to go with his electric running ability after a year of learning Rich Rodriguez's spread-option attack.
That was the day it became clear that Robinson was on his way to taking the reins from incumbent Tate Forcier, who had started every game their freshmen seasons.
On Saturday, it became clear that there's a lot of learning left before Robinson feels completely comfortable in offensive coordinator Al Borges' pro-style offense.
He says the footwork required of the drop-back passing game is what he's most focused on improving, and he's still working on changing his mentality from run-first to pass-first.
Borges said after that first play, a designed quarterback run, his play-calling focused more on the new aspects of the offense - and it's not necessarily the the plays fans will see when Western Michigan comes to Michigan Stadium for the Sept. 3 season opener.
Borges said "in the real world, he'll probably run more than you saw today." Essentially, he said, why practice what you know already works?
"I wanted to kind of get him in the flow a little bit, so we called a quarterback run the first play and you see what he can do. That's no secret. Everybody knows he can do that," Borges said.
"We can facilitate that within our offense, we have to try to develop the other phases of our offense that are going to make us a better football team. One of them is power running and there was an emphasis on that today."
Robinson said he was OK with the play-calling focusing on area's of improvement rather than highlighting his abilities.
"I like when (Borges) does stuff like that," he said. "He put a little challenge on me, make me want to play better and make me want to do better. That's the biggest thing."
Quarterbacks also were off-limits to defenders Saturday. Robinson was "sacked" twice when surrounded by defenders, scenarios he's proven he can escape.
"Sometimes I was like, 'C'mon, let's play live,'" he said. "But they do it for the safety of the quarterback."
Defensive coordinator Greg Mattison agreed there was probably a quick whistle or two that benefited his unit.
"I would not want to bet on us getting him down on a lot of those times," Mattison said. "He's a special football player. As a defensive coordinator, what do you call in a passing situation? If you pressure him and you don't get him down right there, you're asking for a really big one.
"I'm glad we don't play against him let's just say that."
Rich Rezler covers sports for AnnArbor.com. Contact him at richrezler@annarbor.com or 734-623-2553.