Posted on
Sat, Apr 16, 2011 : 3:32 p.m.
Greg Mattison hesitant to praise Carvin Johnson and other spring game notes
By AnnArbor.com Staff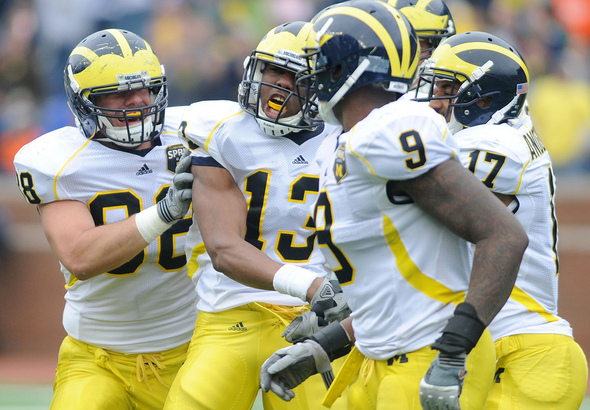 Angela J. Cesere | AnnArbor.com
Safety Carvin Johnson had a pair of interceptions on Saturday in the Michigan football team's spring game at Michigan Stadium, but defensive coordinator Greg Mattison wants to review the film before saying the sophomore had a big day.
"I know he got two picks. He's done that throughout camp. That's one thing he's showed is he's the kind of guy who always shows up where the ball is," Mattison said. "On a couple of those big (offensive) plays, I don't know if he was responsible for that. I'm not sure. That safety has got to be the guy to get him down.
"I'm going to say there was a play or two there that the safety wasn't where he was supposed to be."
Jake Ryan impressive at linebacker A new name to watch on the defensive side of the ball was redshirt freshman Jake Ryan. Ryan intercepted a Devin Gardner pass and returned it for a touchdown, and flushed the sophomore quarterback from the pocket a number of times.
Mattison complimented Ryan's ability to learn the strongside linebacker position this spring and said he "shows tremendous energy and speed off the edge, which is something we need in our package."
"It was tough, but it just kind of came," Ryan said of the spring transition. And on his performance Saturday: "I was in the right place at a right time."
Right time for Greg Brown True freshman cornerback Greg Brown, the only class of 2011 recruit to enroll early and participate in spring drills, saw significant playing time with J.T. Floyd and Troy Woolfolk still limited by injuries.
"Sometimes when there's an opportunity and a guy comes in there and competes, he might just win it," Michigan coach Brady Hoke said.
Hoke liked the weather While brightly colored rain gear dotted the smaller-than-expected crowd at Michigan Stadium, Hoke had no problem with the overcast and somewhat chilly conditions.
"It was good to be out in some adversity as far as weather. I would have liked for it to rain for a while … it was kind of like a fall day," he said.
Brandon's playing days are over Close to 400 former Michigan football players gathered at Al Glick Field House on Friday night. Hoke addressed the former Wolverines about the direction of the program.
Many of the former players in attendance at the alumni flag football game on Saturday called the speech inspiring.
Count athletic director Dave Brandon - who played for Michigan from 1970-'73 - as one of those inspired. Brandon, however, was not inspired enough to participate in the flag football game.
Asked why he didn't play, Brandon laughed and said, "Because I'm smart. My job is so demanding I can't afford to have two pulled hamstrings and a broken nose."
Compiled by AnnArbor.com reporters Pete Bigelow, Rich Rezler and Pete Cunningham.