Posted on
Sat, Apr 16, 2011 : 10:09 a.m.
Thousands of Michigan fans watch spring football game
By Jim Knight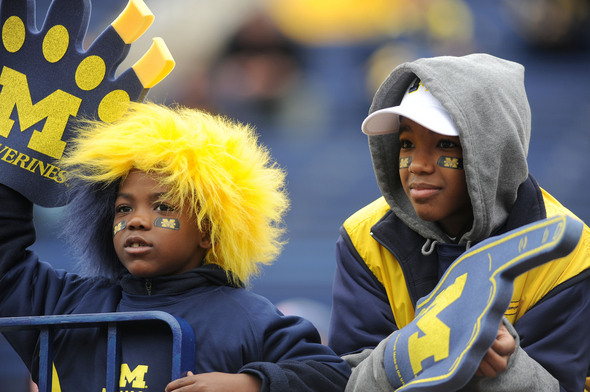 Angela J. Cesere | AnnArbor.com
Fans filled the lower rows and mostly filled the seats between the 30-yard lines of Michigan Stadium as the Michigan football team conducted its annual spring football game Saturday on a dark and windy day.
The No. 2 offense/No. 1 defense, led mostly by Devin Gardner, earned 14-7 victory over the No. 1 offense/No. 2 defense in a game dominated by the defenses. The winners will eat steak tonight. The losers will eat hot dogs and beans.
Some notes from the spring game and the annual alumni flag football game follow.
That looks familiar Quarterback Denard Robinson, the Big Ten's defending offensive player of the year, opened the spring game in a shotgun formation and took off on a winding, 55-yard run. Robinson, playing for the No. 1 offense/No. 2 defense team, missed on a third-down pass in the end zone, and Seth Broekhuizen missed a 28-yard field goal low and left.
Cox scores Michael Cox scored on a 68-yard run up the middle on the second series of the spring game, with the No. 2 offense facing the No. 2 defense. The No. 2 offense/No. 1 defense team leads, 7-0.
Under center Denard Robinson worked under center in his second series of the spring game. On a third-and-one play, Stephen Hopkins ran up the middle for a first down.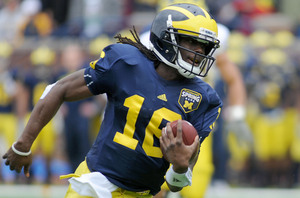 Angela J. Cesere | AnnArbor.com
A bit high Robinson's third-and-18 pass was too high for Drew Dileo on his second series. Brendon Gibbons' attempt at a 48-yard field goal hit the left upright.
The Big Chill, part II Several members of the Michigan hockey team were introduced at the spring game, drawing cheers for their recent appearance in the NCAA championship final.
A new face Steve Wilson took some snaps at quarterback in the second portion of the spring game. Wilson, a redshirt junior, is from White Lake.
Different looks Shotgun, pro-style under center, three- and four-receiver sets at times, multiple running backs and more. Michigan showed fans several offensive formations.
Nice day for Jake Ryan Redshirt freshman linebacker Jake Ryan intercepted a Devin Gardner pass and returned it for a touchdown. It's a 7-7 game, if anybody's really keeping score. Ryan also has broken through the line several times to force Gardner out of the pocket. Sophomore safety Carvin Johnson intercepted a Gardner pass one play later, as Gardner stayed on the field for more work.
Touchdown play Devin Gardner, looking deep on back-to-back plays, found Je'Ron Stokes in the end zone on about a 25-yard pass. Broekhuizen hit the extra point for as the No. 2 offense/No. 1 defense has a 14-7 lead four minutes left in the spring game.
THE ALUMNI GAME
Below are notes and updates from the annual alumni flag football game. The Blue team beat the Maize team, 38-30.
Last year What should fans expect at the the spring alumni flag football game? Check out this video Pete Cunningham compiled from last year's game.
Players from the 1960s (Billy Taylor, David Glinka, Billy Laskey) to more recent players (John Navarre, Jerome Jackson) are expected to participate today in the alumni game. Taylor didn't show up until the second half, but no word if he was fined.
A big trophy The alumni game includes a 10-foot tall trophy for the most valuable player.
"That's so nobody tries to take it home," former Michigan quarterback John Navarre said. "I want to win it, but it's staying here."
Navarre quarterbacked the Maize team today. Spencer Britton and B.J. Dickey took turns quarterbacking the Blue team.
David Glinka, who played quarterback from 1960-1962, took over for a series for Maize late in the alumni game and completed a few passes. "I haven't thrown a ball in 40 years," he said.
A pregame exchange Former Michigan assistant coach Jerry Hanlon was talking before the alumni game: "I'll take the Maize team and 10 points."
Former Michigan assistant coach Bobby Morrison: "Aren't you coaching the Blue team?"
Hanlon: "I don't know."
A winning strategy? Navarre on the Maize team: "We have a heck of an offense going right now. Everybody's just running to the end zone."
A good view The scoreboards at Michigan Stadium are gone, removed recently to be replaced the bigger, higher-definition models. From the suites and press box, the view of Ann Arbor and the Michigan Golf Course is expansive.
Kicking cancer Former kicker Phil Brabbs, who is battling multiple myeloma, is part of the maize team today.
But it looks good on you Former tight end Andy Mignery (1999-2003) could earn the "goofiest hat" award, one reporter noted.
Halftime The alumni game is tied 18-18 at halftime. Former wide receiver Gilvanni Johnson scored a couple of times for the Blue team. "A little winded, but I'm feeling good," Johnson said.
A lot of laughs The alumni game is as casual as any pick-up flag football game. Most players are in shorts and T-shirts. Former cornerback Zia Combs may be having the most fun and he's constantly smiling.
Support for Brady Hoke Jerry Leith was a halfback on the 1959 Michigan team. His impression of new Michigan football coach Brady Hoke, who replaced Rich Rodriguez earlier this year: "Hoke is going to kick some serious ass. Rod was a nice guy, but wasn't a big-picture guy."
Bradley leads Blue team to victory The Blue team won the alumni game, 38-30, with several touchdowns from MVP Alijah Bradley. Upon receiving the 10-foot-tall trophy, he said, "I don't know what I'm going to do with this, man." Later, he said, "Look at me compared to this trophy."
Leftover item from Friday night Vernon Gholston, teammate of Braylon Edwards with the New York Jets, was among the athletes participating in Friday night's charity basketball game at Pioneer High School. The former Ohio State Buckeye took a lot of good-natured grief from the Ann Arbor crowd - he won a trophy for wearing the "ugliest uniform."