Posted on
Wed, Nov 2, 2011 : 6:48 p.m.
Denard Robinson says it's better to pass than receive; Michigan has "hope" for a healthy Kovacs and Lewan
By Nick Baumgardner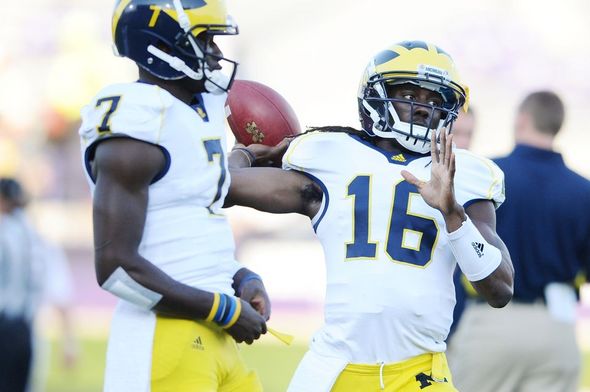 Melanie Maxwell | AnnArbor.com
With all the experimenting offensive coordinator
Al Borges
has done with with his
deuce formation
,
Michigan football
fans have a natural question: When will backup quarterback
Devin Gardner
throw a pass to starting QB
Denard Robinson
?
Borges was adamant Tuesday in his refusal to answer any questions regarding the possibility of Robinson catching a bubble screen at some point this season.
Robinson went one step further Wednesday, saying he's never caught a pass in a game and, frankly, doesn't know if he could.
"I'm going to tell you this, I never caught a ball before. I've always been behind the center," Robinson said. "I never caught a ball during a game."
But wait. Didn't former quarterback Tate Forcier throw a pass to you in 2009, Denard?
"I didn't catch it," he laughed. "I've never caught one in a game. I've always been behind the center."

Hoke has hope for a healthy Kovacs, Lewan

Coach Brady Hoke says he doesn't deal in percentages, so he won't put a number on the chances of junior safety Jordan Kovacs and sophomore tackle Taylor Lewan being available Saturday against Iowa.
"I hope he (plays)," Hoke said of Kovacs on Wednesday. "And Taylor, I would hope he would play, too."
Kovacs had his streak of 28 straight games started snapped last weekend when he missed Michigan's 36-14 win over Purdue with a knee injury.
On Monday, Hoke labeled the junior strong safety as "day to day." Kovacs was at practice Tuesday, Hoke said, and "did a lot" during the team's workout.
Lewan was in action Saturday against Purdue, but continued to favor an injured leg.
One player who doesn't have as optimistic an outlook for Saturday is guard Ricky Barnum. Barnum returned to the lineup for the first time in three games last weekend, but promptly left with a new ankle injury.
The 6-foot-3, 292-pound junior is now dealing with two ankle injuries, and Hoke isn't sure on his status.
"Barnum's probably a guy who's the furthest away," Hoke said. "I hate to say (he's week-to-week), because he's got such a great work-ethic with everything he does to get ready.
"I would still say he's day-to-day. There are some guys that have that mentality and toughness that can push through more, and I see that more in (Barnum) than I have other guys in the past."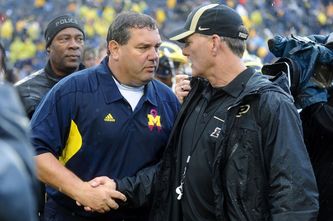 Melanie Maxwell | AnnArbor.com
Hoke says short sleeves about comfort
Hoke said he's not attempting to make any type of toughness statement by refusing to wear long sleeves or a jacket on the sidelines as the temperature continues to dip.
Earlier in the week, players remarked that Hoke's refusal to put on long sleeves is a sign of his toughness.
On Wednesday, Hoke said it's more about comfort.
"I'm comfortable, it's about comfort," Hoke said. "If I could wear shorts, I'd wear shorts.
"I don't think anybody, when I was here before, (on the offensive and defensive lines) wore sleeves."

Time to make the donuts

When Michigan kicks off at Iowa on Saturday, it'll be doing so at 11 a.m. CT (noon ET).
It's another early start for the Wolverines and, according to Hoke, it's the way it should be.
"It's like when you played pee-wee football or Pop Warner," Hoke said. "You got up in the morning, went by the donut shop, got a donut, rode your bike to the game, your helmet was on and then you went and played.
"I think it's great, that's the way football should be."
Hoke said his donut of choice as a youngster was glazed, and prior to Michigan's early kickoffs, he makes glazed donuts available for any Wolverines who want one.
Does Hoke still have a donut before each game?
No. He doesn't eat on game day.

Odds and ends

Robinson was asked Wednesday if he plans on running indoor track at Michigan following the football season. "We'll see," Robinson said. "The track coach and all the track teammates are always talking to me. I miss it because I'll always have that love for track, but football's my first love." Robinson has competed for Michigan's indoor track team in the past, but says he hasn't brought up the topic with Hoke yet, and won't until after the season. ... Asked if he remembered playing in the final drive of Michigan's loss at Iowa in 2009, a possession that ended with an interception, Robinson said yes. He also said it was the most nervous he's ever been during a game.
Nick Baumgardner covers Michigan sports for AnnArbor.com. He can be reached at 734-623-2514, by email at nickbaumgardner@annarbor.com and followed on Twitter @nickbaumgardner.