Posted on
Mon, May 21, 2012 : 5:59 a.m.
Brady Hoke trying to solve Michigan football team's road woes
By Kyle Meinke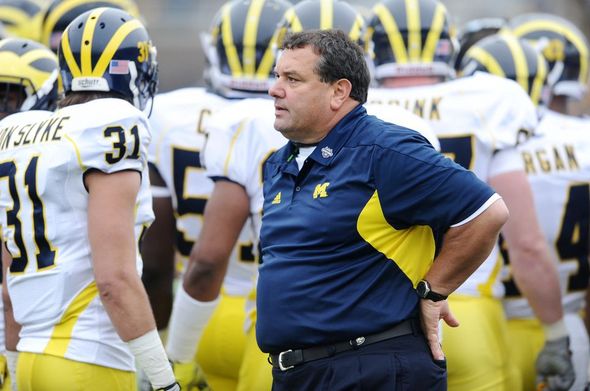 Melanie Maxwell I AnnArbor.com
So what does Michigan football coach Brady Hoke do with his time, now that he's precluded from working out with players and has entered a dark period for in-person recruiting?
He sits down, looks at his notes and reflects on what worked last year -- and what didn't.
One thing he wishes to do differently this fall camp is better prepare his team for the road, after it struggled away from Ann Arbor last season.
"You start with a big template of what you did a year ago," Hoke said Sunday morning before a fundraiser for the C.S. Mott Children's Hospital at the university's golf course. "Then, there's always changes during the course of that year.
"You go back, you write everything down, you look at and see, 'Did it help you win, or did it help develop your team, or it didn't?' We're always looking for new ideas."
The Wolverines went 11-2, including wins against Ohio State and in the Sugar Bowl against Virginia Tech -- a successful season by most measures.
But Hoke laments not winning the Big Ten title, and and his team's road performance.
The two are not mutually exclusive, either.
The Wolverines' first loss of the season came at Michigan State, where players said they were "out-toughed" by the Spartans. Two games later, they fell at Iowa.
Michigan went on to finish one game behind the Spartans in the division. The road, then, was the difference in the league race.
"We lost two road games," Hoke said. "So, is there anything different you can do through the course of fall camp, that when it becomes time to go play, maybe we play a little better on the road?"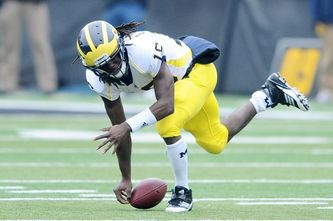 Melanie Maxwell | AnnArbor.com
The Wolverines finished 3-2 away from home last year, but struggled even in victory.
They faced a double-digit deficit at Northwestern, before staging a second-half comeback. In the Sugar Bowl, they lost nearly every significant statistic to Virgina Tech, including managing only 184 yards of offense.
The only real exception to the road woes was the Illinois game, when Michigan rolled to a 31-14 victory. And even in that one, the offense ebbed.
In fact, four of quarterback Denard Robinson's worst games last year were against Michigan State, Iowa, Illinois and Virginia Tech -- each of which were played away from the Big House.
He finished 58-of-118 passing (49.2 percent) for seven touchdowns and seven interceptions away from Ann Arbor last year.
The net effect, for a team that relies so much on Robinson's play: Michigan averaged 38.4 points per game at home last year, and 25.2 on the road.
That is concerning, especially considering the Wolverines' road slate stiffens considerably next year. They play six games away from Ann Arbor, including high-profile matchups against Alabama (in Dallas), Notre Dame, Nebraska and Ohio State.
"I don't know if you can pinpoint anything (that went wrong)," Hoke said. "You're focused on Sept. 1, obviously, because of playing in that arena and on that stage. But at the same time, you're looking at what you can do to get your players in the mind-set so they don't have the distractions and those things."
The consolation to Michigan's road struggles last year was it always had an answer the following week. It hammered Purdue and handled Illinois after the two losses.
Hoke was vague on the specifics of what he would like to change in next year's road prep template, only noting he will lean heavily on the senior class for leadership.
Kyle Meinke covers Michigan football for AnnArbor.com. He can be reached at 734-623-2588, by email at kylemeinke@annarbor.com and followed on Twitter @kmeinke.