Posted on
Thu, Apr 26, 2012 : 5:59 a.m.
With 1st round drought expected to continue, here are Michigan's most likely NFL draft choices
By Kyle Meinke
It has been four years since Jake Long became the second No. 1 overall NFL draft pick in Michigan football history.
Since then, the Wolverines have landed only one player, Brandon Graham, in the opening round -- and that rut will not end Thursday night, when this year's draft kicks off with first-round selections.
Associated Press
Defensive tackle Mike Martin is Michigan's top pro prospect, but isn't projected to be taken until the second or third rounds. Those air Friday, with the fourth through seventh rounds scheduled for Saturday.
The Wolverines have several strong draft candidates, a class headed by Martin. Center David Molk and receiver Junior Hemingway are pegged for the middle rounds, with tight end Kevin Koger a possible late-round selection.
As the pageantry of the draft gets under way Thursday in New York City, Michigan, once a leviathan in this event, will be noticeably absent from the opening round for the third time in four years.
That hasn't happened in 22 years, when quarterback Jim Harbaugh was the lone first-rounder from 1987-90.
This class of Michigan draftees finished their careers with a flourish. They went from posting the worst season in school history as freshmen to going 11-2 and winning the Sugar Bowl in their final acts as collegians.
But their pro stock is hurt by an inch here, or a second there, in the fiercely competitive NFL Draft pool.
A look at where these players are expected to go, and why:
---
MIKE MARTIN
Projection: Second to third round
Martin is known for his power, after he posted 36 repetitions in the bench press at the combine, second among defensive tackles. That week, Iowa offensive lineman Adam Gettis called him the strongest player in the Big Ten.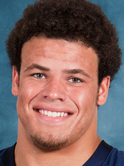 He's also known for his relentless motor, which, paired with his strength, allows him to fight consistently through double teams. That led ESPN's Todd McShay to nickname him "Grunt" and refer to him as "arguably my favorite player in the draft." NFL teams see the same thing.
Where Martin has really improved his stock in the past year is his technique, after working with defensive coordinator Greg Mattison for a full year. Mattison has an expertise coaching defensive line, and disciplined Martin's game after his arrival last year.
So, considering all that, why are there seven to nine tackles projected to be taken ahead of Martin? Because at 6-foot-1, he is one of the shortest players at his position in this draft (he was fifth-shortest at the combine). But his flawless technique, high motor and wrestling background allows him to make the most of his compact frame.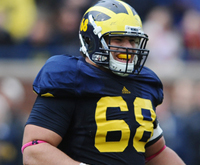 After 3 years on 'supplemental' defense, Martin's stock rose thanks to Greg Mattison
Under defensive coordinator Greg Mattison and head coach Brady Hoke, emphasis returned to defense at Michigan. Mike Martin went from having no coaches with defensive line expertise to three, including position coach Jerry Montgomery. For Martin, a player with all the tools but lacking in direction, that proved to be the impetus for lifting his game to the next level.



Michigan's Mike Martin ranks among top 4 defensive tackles in every combine event
Mike Martin entered the NFL Scouting Combine in Indianapolis touting his bench press, but it was his overall performance in the field drills that left the greatest impression. He finished among the top four defensive tackles in every event, a display of power and speed. "The feedback from coaches was very positive, and that's all I can really ask for," he said.



---
JUNIOR HEMINGWAY
Projection: Fourth to fifth round
Hemingway is a big-bodied receiver at 6-1, 225 pounds, and is entering the league at a time when big receivers are trending among NFL teams.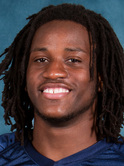 He showed in his final year at Michigan that he knows how to use it as well. He became a virtuoso on jump balls, showcasing an uncanny ability to win one-on-one matchups.
There are two things holding back his stock. First, his production at Michigan was limited due to a litany of factors, including illness, injury, scheme and quarterback play. He finished with 88 catches for 1,638 yards and 11 touchdowns. For comparison, Iowa's Marvin McNutt is another big receiver who is competing directly with Hemingway for draft footing, and he finished with 170 catches for 2,861 yards and 28 touchdowns.
Hemingway's second weakness is his speed. Scouts have noted he is not explosive, which could prevent him from gaining separation on the short to intermediate routes at the next level.
However, Hemingway ran a 4.53-second 40-yard dash at the combine, and finished in the top two participants in each of the change-of-direction drills. That helped to move him from a fringe pick to a solid middle-round candidate.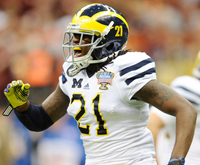 Junior Hemingway overcomes low production to rise into middle-round projections
Junior Hemingway entered the offseason as a castaway on most draft boards, but bolstered his standing after a strong showing at the NFL combine and at Michigan's pro day. His first four seasons out of Conway, S.C., were littered with injury and illness, which shredded any chance for him to put up big-time numbers. He also played in three offensive systems. He says he prefers to look at that as a positive, though.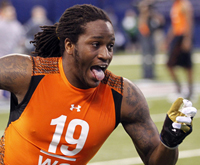 Junior Hemingway boosts draft case with strong all-around combine performance
Junior Hemingway's name started getting around after he impressed NFL personnel by standing out in several speed drills. He was focused mostly on the 40-yard dash, in which he finished 19th among 40 receivers with a time of 4.53 seconds. He's a big wideout (6-foot-1, 225 pounds) and not a burner, so he didn't need to crack the event's upper echelon. He just needed to show adequate speed, and he did that. In the other events, Hemingway really stood out.


---
DAVID MOLK
Projection: Fourth to sixth round
Molk accomplished everything a center can in a college career. He was a four-year starter, reliable, consistent, menacing in the middle and was the quarterback of the offensive line. He was smart, and his quickness allowed him to get in front of most plays.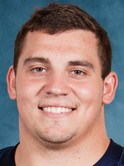 His play was validated before the Sugar Bowl, when he was named the Rimington Award winner as the nation's best center, and during it, when a foot injury precluded him from starting and Michigan struggled without him. He went on to play anyway, clearly the Wolverines' best option even on one foot.
Molk, for these reasons, believes he is the top center prospect in this draft. However, he is ranked anywhere from third to fifth at the position because of his height. At 6-foot-1, he will be among the six or seven shortest players at the position in the NFL.
The thing Molk has going for him is if there is one place where an offensive lineman can get away with being short, it's center. Three NFL starters last year were 6-1. However, history shows short centers, even if they can play, are punished in the draft. Molk could suffer a similar fate this weekend.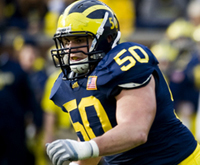 David Molk trying to buck trend of small centers slipping in NFL Draft
After capping a four-year career with a Rimington Award as the nation's best center, David Molk is projected as a mid- to late-round pick in the NFL Draft. Why? "It's because of one reason, and one reason only," Molk said. "I'm short." Although Molk's weight is up to 298 pounds thanks to a rigorous offseason training program, he stands 6-foot-1. Only six of the NFL's 61 centers last season were that short.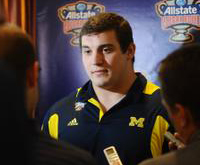 David Molk believes he is draft's top center, blasts critics who say otherwise
Most analysts rank David Molk somewhere between No. 3 and No. 5 player at his position. ESPN's Mel Kiper Jr. ranks him as high as No. 2 and CBS Sports pegs him as low as No. 6. Molk is of a different opinion. "The fact they could consider any center better than me is pretty stupid," he said.





---
KEVIN KOGER
Projection: Seventh round to undrafted
Kevin Koger was expected to be taken in the middle to late rounds, and noted ESPN analyst Mel Kiper Jr. stated last week that Koger would end up on a roster in the fall.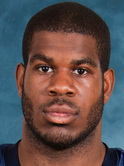 However, the tight end's case now is muddied by the revelation that he partially tore his left Achilles tendon last month and will be sidelined for six-to-eight months.
That vanquishes any chance he had of easing into the pros in rookie camp. Instead, he will have to rehab extensively, then hope to catch up to speed in September or October -- after the season already has started. It's unlikely he will be drafted, considering the timing and extent of the injury.
That erases a lot of good will he built for his game while at Michigan, where he was a three-year starter and became a face of the Wolverines. Although his stats suffered because of the instability in the Wolverines' passing game, he had sure hands and superior athleticism.
With draft looming, injury sidelines Kevin Koger for 6 to 8 months
Kevin Koger's chances of being selected in the NFL Draft took a hit when he partially tore his left Achilles tendon during a low-intensity training exercise at BarwisMethods. He has trained with former Michigan strength coach Mike Barwis since the conclusion of the season. Koger's agent, Chicago-based Rick Smith of Priority Sports, said he had surgery March 27.



---
Best of the rest
After a highly productive career at Michigan, defensive lineman Ryan Van Bergen has drawn considerable interest after a terrific pro day and is likely to sign as an undrafted free agent.
Tight end Steve Watson also could sign as a free agent, after a strong pro day. His father, Steve Watson Sr., also played in the NFL for eight years and coached with the Denver Broncos, connections that could help Watson at least land in a camp.
Right tackle Mark Huyge, who started 29 times for the Wolverines, has worked out in the offseason with ex-Michigan strength coach Mike Barwis and has put on almost 20 pounds. He's up to about 6-foot-6, 311 pounds, good enough size to perhaps get him into a camp.
Kyle Meinke covers Michigan football for AnnArbor.com. He can be reached at 734-623-2588, by email at kylemeinke@annarbor.com and followed on Twitter @kmeinke.