Posted on
Thu, Dec 29, 2011 : 11:11 p.m.
Michigan football team has 'sluggish' start to practice, but Michael Schofield impresses
By Kyle Meinke
NEW ORLEANS -- Michigan football coach Brady Hoke said Michael Schofield "obviously" is the starter at left guard.
The sophomore officially has beaten out oft-injured Ricky Barnum for the team's Sugar Bowl matchup on Tuesday against Virginia Tech (8:30 p.m., ESPN).
Barnum was listed on the depth chart as the starter for every game this year, including for the bowl game, but Schofield started nine times because of Barnum's one-game suspension and ongoing ankle problems.
"I think Schofield, right now, is obviously the starter there, but it's nice to have some (depth)," Hoke said Thursday shortly after the team's workout at Tulane University. "You can play Ricky and both guards, if you have to. He can play center. He takes a lot of snaps."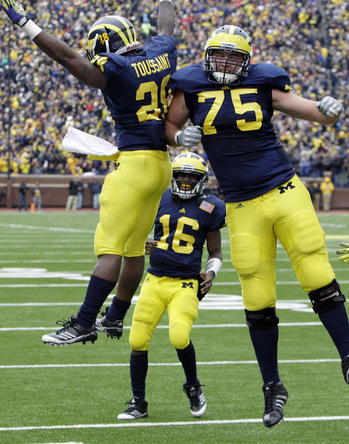 AP Photo
Hoke said Barnum is healthy after battling a series of ankle injuries that limited him for most of the Big Ten schedule. The junior has started only three games.
Right tackle Mark Huyge said Schofield has been impressive in workouts and that the sophomore has a high ceiling.
"He's very fast, especially when he's pulling and getting out in front and leading the running back," Huyge said. "He has great athleticism.
"I know he's got the frame to put on weight and play tackle or guard."
Hoke said he was happy with the way the team shook off the rust Wednesday after a four-day break for Christmas, but that the team was sluggish to begin Thursday's workout.
The intensity picked up toward the end of the practice, and Hoke thinks the team will respond well against the Hokies.
"I'm not that concerned about (the layoff), to be honest with you," Hoke said. "We'll find out on the third, obviously, but i think we've managed it well, managed their bodies well, managed their minds well."
Hoke said there still is competition for starting spots at free safety between senior Troy Woolfolk and sophomore Thomas Gordon, and at punter between incumbent Will Hagerup and challenger Matt Wile.
There also is uncertainty on the defensive line, where reserve Nathan Brink has been ruled out and starter Will Heininger has not practiced due to a right foot sprain. His status is questionable.
Hoke said the rest of the team is healthy, though, and that he'll try to keep practices as normal as possible leading up to the game.
That means Michigan will be in full pads for its workout today at Tulane.

Dileo feeling at home

Sophomore receiver Drew Dileo, who grew up about 85 miles northwest of New Orleans in Greenwell Springs, La., said he's been hammered by calls and text messages asking him what to do while in the Big Easy.
Dileo said he now expects more than 50 friends and family to attend the Sugar Bowl, up from a prior estimate of 40. Among that group will be his four grandparents, only one of whom has seen him play at Michigan.
"It's incredible," Dileo said. "It's something I really could only dream about, and now it's actually coming true. ... Seeing the Allstate Sugar Bowl banner was kind of surreal."
Ironically, Dileo, who was an elite baseball prospect in high school, once was heavily recruited by Tulane to play that sport.
The Green Wave's diamond is located adjacent to their football practice facility, where Michigan will have all but two of its practices for the Sugar Bowl. The other two will be at the Superdome.

Roh returns to N'awlins

Aside from Dileo, perhaps nobody better understands this city than junior Craig Roh.
After all, he spent a week in New Orleans in the spring of 2010 helping to rebuild areas that were decimated by Hurricane Katrina.
"I worked at an art museum right across the street," Roh said shortly after practice. "I think I might go with some D-lineman."

Huyge eyes NFL

Huyge, who is a marine architecture and marine engineering major who has aspirations of designing yachts, said he will put that future on hold while trying to forge an NFL career. He said he will wait until after the bowl game to schedule workouts.

Odds and ends
Hoke said little-used tailbacks Jihad Rasheed and Michael Cox are simulating Virginia Tech junior running back David Wilson, who was named the ACC Player of the Year and is projected to be an early-round NFL draft choice, if he decides to go pro. ... Hoke said players will continue to lift weights on their normal schedules at Tulane.
Kyle Meinke covers Michigan football for AnnArbor.com. He can be reached at 734-623-2588, by email at kylemeinke@annarbor.com and followed on Twitter @kmeinke.