Posted on
Wed, Nov 23, 2011 : 5:59 a.m.
Michigan football team trying to temper emotions heading into Ohio State game
By Kyle Meinke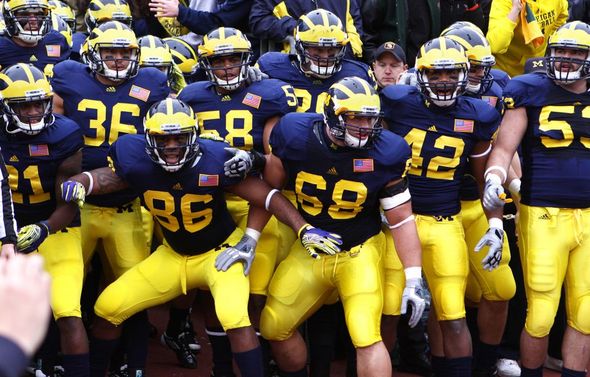 Jeff Sainlar | AnnArbor.com
Brady Hoke calls this "the greatest rivalry in sport."
The first-year Michigan football coach pounded a podium upon his hire in January, declaring this game to be the Most. (Pound.) Important. (Pound.) Game. (Pound.) On. (Pound.) That. (Pound.) Schedule.
And, now that the Ohio State game finally has arrived, Hoke says the Michigan football team must treat this week just like any other.
Good luck.
"I know one thing from being here before, for eight years: You didn't have to do a whole lot of coaching this week," Hoke said. "You didn't have to do a bunch of butt chewing, and getting a guy to run to the ball, getting a guy to take on a block. Not this week.
"(You have to) be consistent with how you've coached all year long. I may look at this different, but this is fun. Are you kidding me? This is going to be fun. It's hard work, but it should be. Nothing you do comes easy. It's fun."
The Wolverines' recent struggles against Ohio State are well-documented. They have lost seven in a row to the rival Buckeyes, and have been outscored 218-108 during that streak. They lost 37-7 last season (a win Ohio State has since vacated).
The current group of players have never led against Ohio State -- but will have a very good chance of changing that this year when No. 17 Michigan faces the Buckeyes at noon Saturday on ABC.
Senior tight end Kevin Koger, who is 0-3 against Ohio State, said one thing he's learned in this game is the importance of players pacing themselves during the week; otherwise, they risk peaking too early.
That underscores Hoke's point about trying to retain an element of normalcy in a week that is anything but normal.
"Typically, with this game, guys get really emotional early in the week," Koger said. "We have to calm that down. I always say, 'You don't want to play the game before you get to the game.'
"You don't want to get too high — then you're drained when you do get to the game. We just have to calm everybody down while keeping the (normal) intensity. We do have to come out with intensity, we just can't be over-the-top."
So far, they've done that admirably. The Wolverines are 9-2, with a shot to get to 10 or 11 wins for the first time since 2006. They also could land in a BCS game for the first time in five years.
That is a lot of external pressure on an already-frenetic matchup for Michigan. But, it also shows it has done something right to get to this point.
So, Hoke is trying to take some of that pressure off his players by emphasizing they carry on this week as they always do. Coming off a 45-17 rout of then-No. 17 Nebraska, their best performance of the year, it appears whatever they have been doing is working.
"It seems like we're a pretty grounded team right now," Hoke said. "And hopefully, we'll do a pretty good job as coaches of making sure that our guys worry about the things that matter — that's how you line up and compete on every play and how you execute on every play."
Yet, no matter how much Hoke tries to treat this week like any other, it can't help but be different, if for no other reason than it takes effort to make it not different.
There are the small things, such as Hoke restricting the players' tweeting this week, or not making players available to talk to the media after Monday. Practice on Thursday also was moved to the morning, to accommodate a 500-person Thanksgiving dinner with friends and families.
And then there are larger differences, such as the intensity of practices.
First-year offensive coordinator coordinator Al Borges, who coached in a big-time game in Auburn-Alabama but has never been a part of The Game, said he noticed a difference even during the team's short Sunday routine.
"It was off the charts," he said. "You can tell that there's a little more pep in the step"
Kyle Meinke covers Michigan football for AnnArbor.com. He can be reached at 734-623-2588, by email at kylemeinke@annarbor.com and followed on Twitter @kmeinke.