Posted on
Sun, Oct 16, 2011 : 10:16 p.m.
Denard Robinson's struggles in loss to MSU start with poor play of Michigan's offensive line
By Kyle Meinke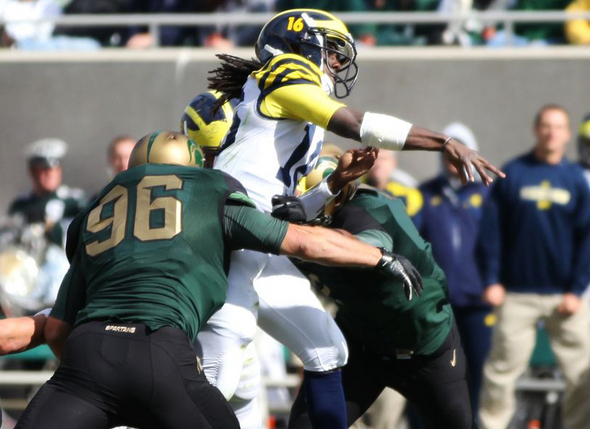 Jeff Sainlar I AnnArbor.com
EAST LANSING --
Denard Robinson
will be the face of this loss -- and, if Saturday is any indication, that face will be driven deep into the Spartan Stadium turf.
Yet, the Michigan football team's 28-14 loss to rival Michigan State rests not only on his shoulders, but the six or so men charged with blocking for him.
The Wolverines were outplayed in nearly every way against a superior and more physical Michigan State team. That much was obvious as the Spartans were putting the finishing touches on their fourth consecutive win in the series.
The Wolverines looked even worse on tape, especially up front.
Robinson was flushed and flustered for much of the game as Michigan State's No. 1-ranked defense bullied a Wolverines offensive line that, more or less, had held its own this year.
The pressure started in the middle with MSU defensive tackle Jerel Worthy, a future first-round pick who dominated Michigan center David Molk. That's not so much an indictment of Molk, one of the country's premier centers, as it is the Wolverines' front as a whole.
Michigan needed to support Molk from either or both guard positions; rather, Patrick Omameh and Michael Schofield had their hands full trying to slow the rest of the Spartans' front. In the end, Michigan State's Kevin Pickelman, Marcus Rush and William Gholston each applied their own pressure.
Molk had perhaps the worst day of his career.
Michigan right tackle Mark Hugye also struggled significantly to hold off the MSU surge, consistently allowing his man to penetrate on pass rush and make plays against the run.
Left tackle Taylor Lewan was better, but was physically battered throughout the game. He left for multiple plays during the first series due to injury, later came up limping after Robinson rolled into the back of his legs and was engaged in various extracurriculars with various players.
He also was punched in the throat by Gholston after he had pushed the MSU sophomore to the ground by his helmet.
What did all this mean?
It meant there were few rushing lanes, and Michigan's running attack, ranked seventh in the country coming into the game, posted a season-low 82 yards. Robinson rushed for just 42, a career low among games he's started.
"To get it out of our running back group, we have to get (more) out of our front first," Michigan coach Brady Hoke said. "I think there's some opportunities we missed a little bit, but at the same time, I don't know how much movement we got consistently at the line of scrimmage."
Robinson also struggled in the passing game, where he completed 9 of 24 attempts for 123 yards, one touchdown and one interception. At one point, he missed on eight consecutive passes and 11 of 12. His 37.5 passing percentage is the worst of his career among games he's started.
He looked skittish, even gun-shy, because of all the hits, late hits, sacks and blitzes. The junior has been inconsistent this season, but tends to be at his worst when he doesn't have time to set his feet and square his hips.
Against Michigan State, that occurred on most plays.
"They always want to try and protect their prized possession and, (Saturday), they really didn't do a good job of it," said Worthy, who added that MSU's strategy going into the game was to strike fear into Robinson.
And, of course, there were sacks. Seven, to be exact, after Michigan allowed only two all season.
So, what's the problem with the offensive line?
Against the Spartans, Michigan was disadvantaged because it was tipping its hand in the snap count. Michigan State safety Trenton Robinson acknowledged to The Wolverine they knew from film that Molk would snap the ball after lowering his head, then picking it back up.
This wasn't an issue as much in the first half, when hard counts drew multiple offsides calls from the Spartans' defensive front. In the second half, though, MSU appeared to be jumping the snap, a huge edge. Trenton Robinson's admission would explain why.
Still, Michigan has more of a systemic problem than that specific disadvantage in this specific game: Its linemen were recruited to zone block in the spread-option, which favored smaller, shiftier linemen. That, in the end, was part of the reason the spread slowed down during Big Ten play the past two years.
It also was part of the reason Michigan was so consistently blown off the line of scrimmage Saturday, and it became obvious the Wolverines remain limited in physicality and toughness in the offensive trenches.
They'll handle inferior opponents, such as in two weeks against Purdue, but could struggle against bigger lines, such as that of Nebraska.
What can they do to compensate?
There's at least one thing: Emphasize shorter passes, screens and bubble screens (the latter of which were not used at all against Michigan State). That would take some of the onus of the offensive line, and also would provide easier passes for Robinson.
He's certainly not handling the tougher ones well right now.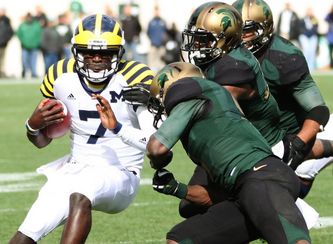 Jeff Sainlar I AnnArbor.com
Gardner's role in offense
Even before Robinson was knocked out in the fourth quarter, his struggles precipitated more snaps for backup
Devin Gardner
— and not just in the two-quarterback formations featured the previous two weeks.
Gardner took about 16 snaps against the Spartans, some of which came with Robinson hurt, but others when he was not. It seems Hoke made that call because he has more confidence in Gardner's arm than Robinson's right now.
"Part of what pushed (Gardner's snap count) over a little more was the wind," Hoke said. "It was a windy day. I think Devin, at times, can throw the ball a little more accurately."
Hoke added this during a halftime interview with ESPN: "Devin's throwing the ball pretty good for us. ... There's a lot of wind, so we need to do what's best for Michigan."
Robinson, without question, remains Michigan's quarterback of the present and future, but that was the first public acknowledgment by the coaching staff that Gardner is passing better than Robinson.
What that means is Gardner likely will continue to play a considerable role in the offense, with or without Robinson on the field.

To eject, or to not eject?
I wrote about Michigan State's litany of personal fouls after the game Saturday, and quoted Worthy as saying the Spartans played dirty and were targeting Robinson.
Upon further review, those penalties looked even more egregious -- especially the two on Gholston. He was whistled for jumping on an already-down Robinson and violently twisting his facemask, then again for punching Lewan in the throat. He was not ejected.
Both plays occurred in the third quarter, and many thought Gholston should have been ejected. Mike Pereira, a former vice president of officiating for the NFL who is a rules analyst for FOX, was one of them.
"i wud've ejected him," he tweeted to his nearly 20,000 followers after Gholston threw his punch.
He agreed with the personal foul on the late hit against Robinson.
"That is BS grabbing the facemask and twisting it like that," he tweeted. "Great job of officiating that."
Gholston said after the game he simply was playing with "reckless abandonment," which was his team's game plan, and did not think he played dirty.
Michigan State coach Mark Dantonio also said he thought his team did not play dirty, and was seen yelling at officials after Gholston's late hit against Robinson.

Offensive line depth
When Lewan left the game, Michigan shifted Huyge to left tackle -- where he began last season as the starter before being supplanted by Lewan -- and Elliott Mealer filled Huyge's void at right tackle. Lewan re-entered the game later in the series.
Two takeways:
Starting left guard Ricky Barnum is not in the picture right now. The junior has not played since twisting his ankle against San Diego State, despite dressing and traveling for the Michigan State game. If he did not play with Lewan sidelined, and the game so physical in the trenches, he's not close to getting back on the field.

Michigan's depth is extremely limited up front, especially with Schofield, the primary offensive line reserve, already playing for Barnum at left guard. Mealer is the end of the line in terms of guys with any kind of experience.

Countess' stock rising, Woolfolk's falling Troy Woolfolk is not playing like a starting cornerback. Although the senior may continue to start games, as he has all year, it's clear true freshman Blake Countess is playing better right now.
At this point, Countess is the best option to play alongside junior
J.T. Floyd
.
Woolfolk's day started poorly on Michigan State's first drive, as he was badly beaten on a stop-and-go, and was bailed out only because receiver Keyshawn Martin dropped the ball in the end zone.
He also took bad angles on two outside rushes by MSU tailback Edwin Baker during that opening drive. After the second, he was replaced by Countess, and the freshman played the rest of the way. Even in nickel situations, it was sophomore Courtney Avery, not Woolfolk, who entered the game.
Hoke has considerable deference for his seniors, so it seems unlikely he would start a true freshman over Woolfolk, a senior revered by his teammates. But, it's likely Countess will continue to see his playing time increase at the expense of Woolfolk.

Another fast start
Lost among its myriad problems was Michigan's continued success on first drives.
Since being held scoreless in the first quarter of the season's first three games, the Wolverines have scored opening-drive touchdowns in each of their past four, even as their competition has increased.
Michigan opened against the nation's top-ranked defense Saturday with a 10-play, 80-yard touchdown drive. It gained just 58 yards the rest of the half, though.

Lost second-half edge
Michigan began the weekend outscoring opponents 114-21 in the second half, making it the country's second-best second-half team. However, the adjustments (especially on defense) that made the Wolverines so tough in previous weeks did not pan out against the Spartans.
Michigan's running game continued to sputter after halftime, and Michigan State actually was more successful on offense than it was in the first half. It was the first time all season the Wolverines allowed more points in the second half than the first.
Part of that can be ascribed to several missed tackles.
The first play of the second half included a missed tackle by Countess and linebacker Jake Ryan. Later on the drive, sure-tackling safety Thomas Gordon missed Baker, who broke free for a 25-yard run that put the Spartans on Michigan's 7-yard line. Then, on third-and-goal, Floyd whiffed trying to grab Martin, who leaned in for the touchdown.
That's the first time this season the Wolverines have really struggled with missed tackles, but they cost Michigan on two second-half scores by MSU.

Pick-six shouldn't have counted
There's no question Isaiah Lewis' interception return for a touchdown that gave Michigan State a 28-14 lead with 4:31 left should have been nullified due to the new taunting rule this year.
Officials now can negate scoring plays on which a player taunts the other team. The rule was employed for the first time last week when LSU punter Brad Wing sprinted for a 50-yard touchdown that was disallowed because he extended the football to taunt Florida players.
That is precisely what Lewis did, to Robinson, except more egregiously.
As the MSU sophomore safety approached the goal line, he held the ball out toward Robinson and bobbed his head. How is that not taunting, especially in comparison to the LSU play? It was explicit and exceptional.
After the game, Lewis acknowledged this, although he also apologized.
"I thought maybe I shouldn't have did it," Lewis told The New York Times. "I was hoping they didn't throw a flag on it. I didn't mean anything bad. I was just celebrating."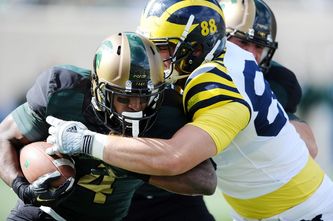 Defense continues to shine
In a game that raised several red flags regarding the previously unbeaten Wolverines, the defense certainly validated its resurgence this year. It's for real.
Michigan allowed only 21 points to the Spartans' offense, despite not being able to sustain drives of its own, especially in the second half. It wasn't as dominating as it was against Minnesota or in the second half against Northwestern, but went back to the bend-but-don't-break style that worked against San Diego State.
The Wolverines also forced two more fumbles, both of which came on strips from behind, a staple of Greg Mattison's defensive approach. Floyd forced one, and Gordon the other.
Gordon has been strong all season in forcing and recovering turnovers, and has come to embody Mattison's opportunistic approach. The sophomore is one of Michigan's most pleasant surprises this season after unexpectedly earning a starting spot in fall camp.
Michigan is ninth in turnover margin (plus-seven) and fifth in total takeaways (19). It leads the Big Ten in both categories. The Wolverines were an NCAA-worst minus-32 in turnover margin the previous three seasons. In regards to forcing turnovers, the difference between this year and the past three couldn't be more stark.

Third down, third rate
Many things went wrong for Michigan in this game. Its lack of execution on third down was among the most surprising.
The Wolverines entered the game converting 58.1 percent of their third downs, third in the country. Against Michigan State, they were a paltry 20 percent (3-of-15), a precipitous dip due mostly to the Spartans controlling the line of scrimmage and partly to a greater number of long conversions required.
And then there was the play calling.
Offensive coordinator Al Borges has drawn some fire for his calls against Michigan State, most prominently a fourth-down play-action pass while trailing by seven points in the fourth quarter. The play resulted in a sack.
This is a classic example of overthinking. Borges probably thought he'd catch MSU off guard by going over the top on that final fourth down -- but why risk it, considering the gusting winds, Robinson's accuracy issues and the Spartans' consistent defensive penetration?
Kyle Meinke covers Michigan football for AnnArbor.com. He can be reached at 734-623-2588, by email at kylemeinke@annarbor.com and followed on Twitter @kmeinke.