Posted on
Thu, Jun 2, 2011 : 5:59 a.m.
Most major figures in the Michigan football NCAA investigation are no longer with the university
By Michael Rothstein
Six-plus months after the University of Michigan finished dealing with an NCAA investigation into its football program, six of the seven employees who received letters of reprimand are no longer with the university.
When Michigan senior associate athletic director Joe Parker left last month for a job at Texas Tech, that left Ann Vollano, the assistant athletic director for compliance, as the lone remaining reprimanded employee.
All of the others were either fired or left Michigan for another job.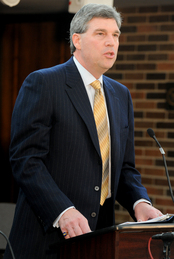 Michigan admitted to four major NCAA violations when the letters of reprimand were handed down in May 2010, including wrongdoing for extra practice hours and staffing mistakes. It also said it failed to "properly monitor" its football program and that former aide Alex Herron lied to investigators.
The Wolverines docked themselves 130 hours of practice time, two-thirds of which has been completed, according to Michigan athletic director Dave Brandon.
The Michigan athletic director, who took over in March 2010 as the investigation was under way, said last week he felt the Michigan brand was "tainted" by the investigation.
"I don't believe it was damaged. I believe it was tainted by our association with wrongdoing," Brandon said during a sit-down interview with AnnArbor.com. "When you go through a period of time where words like violations and allegations and investigations are being connected with your brand and your institution, it definitely has a negative impact on your brand image. It just does.
"By the time we got to the end of that and all the facts came out and there was clarity around what we did and what we didn't do, I don't believe it was the kind of thing that is going to have a long-lasting negative impact on the Michigan brand. But it certainly didn't help."
Now the university has mostly moved on from the investigation, but those intimately involved — where did they go?
Rich Rodriguez: The former Michigan football coach was fired on Jan. 5 after going 7-6 in his third season as the Wolverines' coach. In his three years at Michigan, he was 15-22 overall and 6-18 in the Big Ten. He was replaced by Brady Hoke and is doing television work for CBS College Sports.
Mike Barwis: The Michigan strength and conditioning coach was let go soon after the school hired Hoke. Barwis stayed in the area and opened BarwisMethods, a sports training consulting business.
Judy Van Horn: The former Michigan compliance director left her job in Ann Arbor in November 2010, for a similar job in the South Carolina athletic department. At South Carolina, she is the senior associate director of athletics/senior woman administrator in its department of athletics. She spent nine years at Michigan before the move and, coincidentally, was given the Frank Kara Leadership Award in 2010 for leadership and efforts to promote compliance programs. It is the highest honor given by the National Association for Athletics Compliance.
Scott Draper: One of the key parties named in the investigation for failing to do his job correctly, Draper left his job as Michigan's assistant athletic director of football operations in January after almost 20 years with the athletic department. Draper is with Albion College as the director of development for the school.
Brad Labadie: Along with Draper, most of the blame in the investigation fell on Labadie, Michigan's director of football operations. He resigned in July after 10 years working with Michigan football. Brandon, when discussing the move in July, cited "family reasons" as the cause of Labadie's departure. According to Labadie's LinkedIn page, he works at Kapnick Insurance as a client executive.
Joe Parker: Michigan's senior associate athletic director for development and corporate relations took a job in April as the deputy athletics director at Texas Tech after eight years at Michigan, his alma mater. Parker was a big asset in the fundraising for the Michigan Stadium renovation.
Ann Vollano: Vollano remains at Michigan. She was the one who continually tried to receive information from Draper and Labadie during the investigation. Vollano is an assistant athletic director for compliance in the athletic department.
Alex Herron: Herron, who did not receive a letter of reprimand, was accused of lying to NCAA investigators during the initial investigation and was fired by Michigan. He appeared at the NCAA Committee on Infractions hearing in Seattle in August 2010. His current whereabouts are unknown.
Michael Rothstein covers University of Michigan basketball for AnnArbor.com. He can be reached at (734) 623-2558, by email at michaelrothstein@annarbor.com or follow along on Twitter @mikerothstein