Posted on
Sun, Mar 7, 2010 : 6:02 a.m.
New Michigan athletic director Dave Brandon sees challenges, opportunities ahead
By Dave Birkett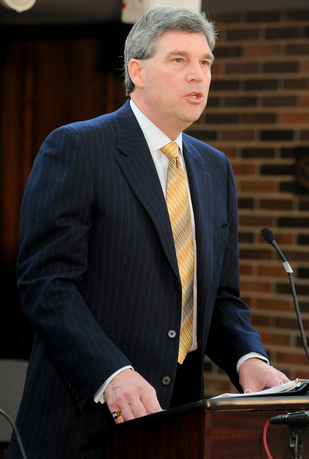 Ten years ago,
Bill Martin
walked into his job as Michigan athletic director and found a department hemorrhaging money, in need of facility upgrades and stained by the soot of an NCAA investigation.
On Monday, he'll hand the reigns of a much more stable department, albeit one under new NCAA scrutiny, to his successor Dave Brandon.
"There's nothing on fire," Brandon said last month in an interview with AnnArbor.com. "I think I said that the day I was announced. There's no crisis, there's nothing that's in a situation where I've got to drop everything I'm doing. There's lots of challenges and lots of opportunities, but no crisis. It's good."
The NCAA charged Michigan's storied football program with five major rules violations days after Brandon's interview, but he reiterated his point by e-mail this week.
Thanks to one of the most prominent brands in college sports, a massive infrastructure upgrade in the last decade and robust revenue streams from Michigan Stadium, the money-generating Big Ten Network and long-term contracts with adidas and IMG, Brandon is inheriting one of the strongest athletic departments in the country.
Michigan made almost $14 million in 2008, the last year figures are available and most in the Big Ten according to
ESPN.com
.
Brandon said his biggest challenge as athletic director is continuing to fund the school's $100-million-and-growing athletic budget.
"The business is not getting cheaper," he said. "There is tremendous pressure, financial pressure, on these athletic programs, and in response to that you've got to figure out a way to leverage your assets, get as many revenue streams established as you can, sustain them and perpetuate them as best you can, and put yourself in a position where you can continue to cover your cost. That says easy, but in some instances that does hard."
The outgoing CEO of Domino's Pizza, Brandon's success in the business world is a big reason Michigan president Mary Sue Coleman chose him to replace Martin, another businessman-turned-AD.
Coleman has declined repeated interview requests in recent months, but she told The New York Times "business experience is almost essential" for the position.
"It's hard for me to imagine a successful athletic director these days that doesn't have a deep understanding and skills for the financial side of an athletic department," she said.
Saddle up Martin said his experience as a real-estate developer helped him transition to athletic administration, a move he's walking Brandon through now.
The two have met occasionally for lunch and regularly on weekends since Brandon was introduced by teleconference as Michigan's next athletic director Jan. 5.
Brandon said the sessions have been invaluable in helping him get acquainted with coaches, administrative personnel and the inner workings of the department.
"My objective is to kind of start March 8 with my feet moving a little bit because I'll know the people there and I'll have a sense for some of the issues and I'll be pretty well oriented," he said. "But nothing's like getting in the saddle. March 8 will be my first day, and then I'll be able to really roll up my sleeves and spend a lot of quality time with a lot of people I need to get better acquainted with."
Already, Brandon has begun that process, meeting individually with a handful of coaches and spending time with most others at a department-wide reception.
It was there that Brandon, a former university regent who played football under Bo Schembechler, gave a heartfelt speech about what Michigan means to him.
"I've heard Dave give two speeches to our staff and I've been excited and invigorated after hearing both of them," executive associate athletic director Mike Stevenson said. "He's passionate, he's clearly got wonderful leadership skills and he loves Michigan."
Brandon's love for his alma matter is unmistakable.
He still has his old Michigan football jerseys, his office at Domino's headquarters was adorned with Michigan memorabilia, and he recounts with vigor the time he "was walking down the street in Taipei, Taiwan, and this kid goes zooming by me on a bicycle with a University of Michigan football jersey on."
"Sometimes we underestimate the reach this brand has," Brandon said.
While he won't share his plan to maximizing Michigan's brand as athletic director, Brandon said it starts with providing student-athletes experiences like the ones he enjoyed as a football player.
Michigan won three Big Ten titles and played in one Rose Bowl during Brandon's career, and Brandon developed a life-long friendship with Schembechler, who helped him get his first job at Procter & Gamble and set him on the path to today.
"You go over there and you see these reunions and you see these people coming back and you see how they stay connected to their coaches and the program, it's rather magical and it's really important," Brandon said. "It's what this is all about.
"So if you're all about the student-athlete then you want to make sure you got great coaches who are teaching them and developing them and giving them those opportunities to compete for championships because that's why they come to Michigan."
Martin, who's staying at the university as an advisor to Coleman through Sept. 4, said he's "disappointed" Michigan hasn't been more competitive this year. The Wolverines tied for last in the Big Ten in football, the men's basketball team is below .500, and hockey has fallen from its normal perch atop the CCHA.
Those three sports generate much of the revenue that keeps Michigan's athletic department afloat, and any sustained drop in performance threatens the bottom line.
"The biggest and most important (revenue stream) is through our football program," Brandon said. "We need to have a stadium full of screaming fans loving what's going on down on the field, we need to have great excitement around our football program, we need that gameday experience to continue to be one that people want to come to and enjoy and invest in."
Front and center Dave Brandon, whose five-year contract is worth about $625,000 annually, will no doubt take the lead on other issues that shape the future of Michigan's athletic department.
He was front and center at the press conference last month to announce the allegations of NCAA wrongdoing, even though he wasn't yet on the job.
He'll set the course for Michigan's next round of facility upgrades. A Crisler Arena renovation project and basketball player development center are in the works, but Michigan still wants to add an indoor rowing tank, golf practice facility and upgrade its indoor track building.
And at some point in his tenure, Brandon may have to confront questions about Big Ten expansion (he's all for it, though he's against a college football playoff), advertising in Michigan Stadium (don't expect any as long as fans are so vehemently opposed) and eliminating sports programs.
Stevenson, who's in his 40th year with the athletic department, said he envisions a smaller athletic department 10 years from now. Michigan currently sponsors 25 varsity sports, among the most in the NCAA.
"To sustain the economic model that we have, we're probably going to have to be smaller, which doesn't mean that we'd have to drop sports necessarily, but it may mean that you can't afford to give the maximum NCAA scholarships in every sport," Stephenson said. "I think that's going to be the one thing that's a huge issue all across the country."
Brandon said there are no plans to eliminate any programs and he likes that the university offers so many sports.
"There are a number of universities that are cutting sports as a way to make their numbers work," Brandon said. "Right now there isn't any indication that that is necessary or a strategy that we need to embrace."
As for his 10-year outlook, Brandon said only, "it'll look a lot different than it does today."
"I've never been one who's been really big on 10-year planning because the world tends to change a little faster than that," he said. "But I definitely am one of those guys that always kind of is looking out three to five years, trying to do the best I can of seeing what's the road going to be like and trying to get there first
"That's how I think about it. But before I start giving my view of the future, I kind of want to get my arms around the present."
Dave Birkett covers University of Michigan football for AnnArbor.com. He can be reached by phone at 734-623-2552 or by e-mail at davidbirkett@annarbor.com. Follow him on Twitter @davebirkett.