Posted on
Sat, Nov 24, 2012 : 7:32 p.m.
Ohio State 26, Michigan 21: A comprehensive guide to our coverage of 'The Game'
By Pete Cunningham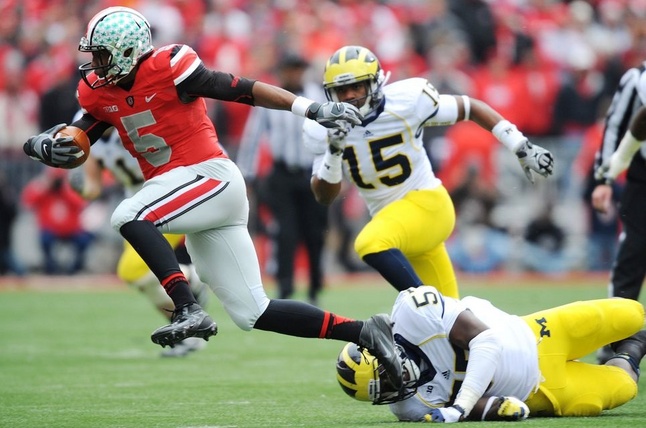 Melanie Maxwell | AnnArbor.com
Michigan had a chance, put up a fight, but in the end second half turnovers and a stagnant offense proved the difference in a 26-21 Ohio State win.
The win puts Ohio State at a perfect 12-0 on the season and still alive in the hunt for an Associated Press national title.
But that's not what Saturday was about. It was about just how close the Wolverines came to being the only blemish on the Buckeyes' record as they have been so many times in the past.
But it would not be. A 67 yard touchdown run before halftime made Denard Robinson the all-time leader in touchdowns scored for the Wolverines and put them ahead 21-17 at the time, but it would be the last points Michigan scored all day.
A field goal before the end of the half, and two more in the second was all the scoring the Buckeyes would get, but it was more than enough as Michigan shot itself in the foot time and time again in the final two quarters.
Post-Game Coverage





Melanie Maxwell | AnnArbor.com








Should undefeated Ohio State be eligible for an Associated Press national championship?

In-Game coverage

Pre-Game Coverage

More Scores
Pete Cunningham covers sports for AnnArbor.com. He can be reached at petercunningham@annarbor.com. Follow him on Twitter @petcunningham.