Posted on
Tue, Oct 19, 2010 : 1:15 p.m.
Top 5 moments of the first half of the season for Michigan football team
By Pete Bigelow
Seven games down, five remain.
The Michigan football team (5-2, 1-2 Big Ten) is just past the halfway point on the 2010 regular-season schedule. With a bye on Saturday, it's the perfect time to catch our breath and look in the rear-view mirror.
Here's the top five moments from the first half of the football season. On Wednesday, we'll take a look at the bottom five.
5. Tate Forcier's great return
Teammates criticized him. Coaches stripped wings from his helmets. Big Ten Network reporters (erroneously) reported his transfer was imminent.
Not exactly the best start to 2010 for Tate Forcier.
But the Big House crowd greeted Forcier with a loud round of applause when the sophomore quarterback finally got his chance against Bowling Green and the energy he brought to the huddle was palpable.
In that game, he completed 12 of 12 passes, setting a school record for accuracy. Afterward, Forcier's emotions were raw.
"A lot of people have been saying I'm not staying here, but I'm here," he said. "I love Michigan. I love everything about it. I'm not going to leave. Not a chance. I love Coach Rod. I love these fans. I love Michigan football."
4. Junior Hemmingway saves the day
Twenty-seven seconds remained on the clock, with Michigan and Indiana tied at 35. Denard Robinson slings a high rainbow pass a nanosecond before Larry Black Jr., brother of Michigan's Jibreel Black, crushes him.
Receiver Junior Hemingway adjusts to the deep pass, slightly underthrown, and wrestles a must-have reception from Indiana defensive back Richard Council.
The 42-yard pickup sets up Robinson's game-winning score on the next play. The Wolverines escape Bloomington with a 42-35 win. 3. Fans save the rivalry
In the end, they got it right.
For weeks, Big Ten officials braced fans for the news that Michigan and Ohio State might not play each other in the regular-season finale like they have every year since 1935 because of a new divisional format.
An outpouring of outrage helped steer the rivalry back to its traditional place on college football's calendar.
Not only was the Michigan-Ohio State rivalry saved in the new format, but the Wolverines emerged from the divisional shakeout better positioned than any team in the conference.
They preserved their Buckeye rivalry in the cross-over game, kept an annual meeting with Michigan State on the schedule, saved the Brown Jug rivalry with Minnesota and added an annual game with Nebraska, game sure to generate revenue.
It doesn't get better than that.
2. The wink
The Heisman Trophy hype started in full force when Denard Robinson concluded his brilliant 502-yard performance against Notre Dame with a game-winning drive.
But nothing was certain on that upfield march until receiver Roy Roundtree flashed a wink at a quarterback starting his second collegiate game before a crucial third-and-five play from the Notre Dame 17.
"Man, he gave me a wink before the play," Robinson said. "He winked at me. I knew I could go to him. I knew I could count on him. And it was time."
Moments later, Robinson whipped a 15-yard pass in Roundtree's direction on a crossing route that took Michigan to the 2-yard line in the game's waning seconds.
On the next play, Robinson scored the game-winning TD. Michigan 28, Notre Dame 24. The game was won, and Robinson launched into college football's stratosphere.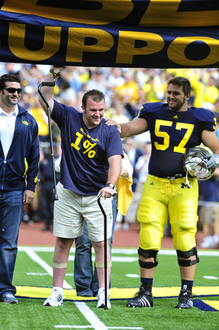 1. Brock Mealer's walk
Forget about football.
Regardless of what happens throughout the rest of the season, there was no better moment for the Wolverines this year than watching Brock Mealer walk out of the Michigan Stadium tunnel and touch the banner prior to the season opener against UConn.
Doctors told Mealer he would never walk against after a car accident on Dec. 24, 2007. He didn't listen, instead rehabbing with the Michigan football team's training staff.
His recovery culminated with a walk onto the stadium turf that more than 113,000 people in attendance that day will never forget.
Pete Bigelow can be reached at (734) 623-2556 or e-mailed at petebigelow@annarbor.com. Follow him on Twitter @PeterCBigelow.