Posted on
Sat, Nov 17, 2012 : 5:59 a.m.
Your mega guide to No. 23 Michigan vs. Iowa, senior day at Michigan Stadium
By Pete Cunningham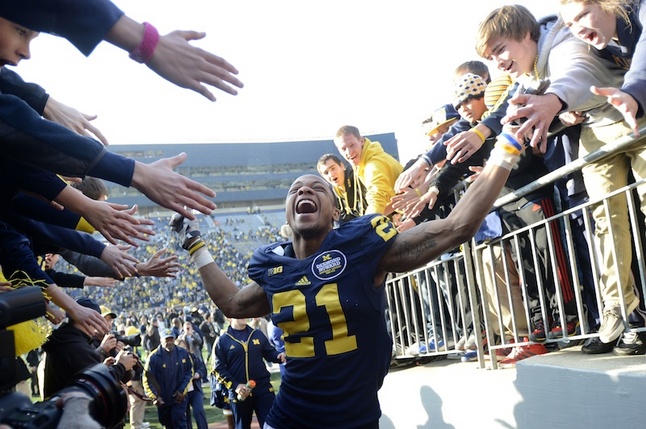 Melanie Maxwell | AnnArbor.com
GAME STORY: Denard Robinson returns, Devin Gardner explodes and Michigan pummels Iowa, 42-17
POLL QUESTION: Should Devin Gardner start at QB the rest of the way, regardless of Denard Robinson's health?
INSTANT ANALYSIS: Denard Robinson, Devin Gardner power dynamic Michigan offense to rout
PHOTO GALLERY: Images from Michigan's 42-17 Senior Day win over Iowa
LIVE COVERAGE: Follow the game action as it happens from Nick Baumgardner's live blog. Also, be sure to follow Kyle Meinke (@kmeinke) and Nick Baumgardner (@nickbaumgardner) on Twitter.
WHO: Iowa (4-6, 2-4 Big Ten) at Michigan (7-3, 5-1 Big Ten).
WHERE: Ann Arbor.
WHEN: 12:00 p.m.
ODDS: Michigan is favored by 17 points, according to sportsbook.com.
SERIES RECORD: Michigan leads (40-13-4).
LAST MEETING: Saturday, Nov. 5, 2011. Michigan lost to Iowa 24-16.
WEATHER: Mostly sunny. Winds blowing from the Southeast at 0-10 m.p.h. Game-time temperature: Around 45.
BROADCAST INFORMATION: TV: ESPN; Radio: Michigan Sports Network (local affiliates).
AnnArbor.com coverage: The Michigan football team hasn't beaten Iowa since the 2006 season. That means none of Michigan's 23 seniors have ever beaten the Hawkeyes. Include senior quarterback Denard Robinson on that list, though he might not be able to have a say how Saturday turns out due to the injury to his trowing elbow. Check out or coverage leading up to the game in one easy to read package: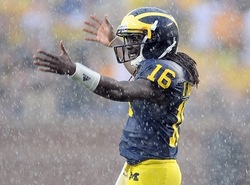 A Michigan senior day without Denard Robinson just wouldn't feel right
No matter what Brady Hoke tries to tell us, we know the truth: No player has meant more to the Michigan program over the past three years than Denard Robinson. It looks like Robinson's injured elbow may keep the face of the program from playing on Saturday, and there's no other way to put it: that's a bummer.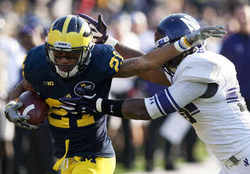 5 keys to victory: Michigan's receivers catching on just in time (with prediction)
Roy Roundtree had a huge game in Michigan's win over Northwestern, and so did Jeremy Gallon and Devin Funchess for that matter. Could Michigan's receiving corps be the key to victory for the Wolverines on Saturday?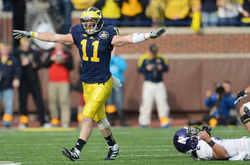 A tale of perseverance: Michigan seniors finishing off roller-coaster ride
Denard Robinson isn't the only senior who will play his last game at Michigan Stadium on Saturday and as unique a player as he is so to has been the journey for him and the 22 others who will be honored on Saturday. From coaching changes and NCAA investigations to a BCS bowl and everything in between, it's been a wild ride.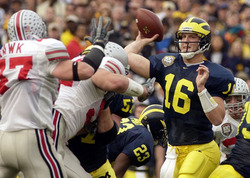 Denard Robinson may not play, but here's how 6 previous Michigan senior QBs fared on senior day
It's been a while since a senior starting quarterback didn't end his career at Michigan Stadium with a game against Ohio State. Care to guess who the last one was? See how that mystery QB and five others fared in their final games at the Big House.
New Michigan QB Devin Gardner making it look easy, even if it isn't
It's looking like Devin Gardner may be the starting quarterback for the Wolverines for the remainder of the season. He's certainly looked good in his first two outings and at times made it look easy. Well...it isn't. Easy, that is.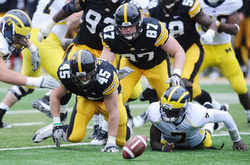 Seniors look to bow out of Michigan Stadium with 1st win against Iowa
Extended losing streaks to Michigan's two biggest rivals, Michigan State and Ohio State, have been snapped over the past two seasons, but a win over Iowa still eludes this group of seniors. The last time Michigan beat Iowa was Oct. 21, 2006, before any of the current seniors arrived at Michigan. Will that streak end on Saturday?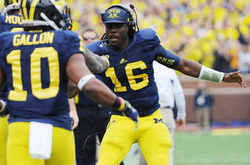 Denard Robinson at another position? Brady Hoke's not touching that one either
Mel Kiper Jr. thinks if we ever see Denard Robinson in the NFL, it will be as a punt returner or wide receiver. Well guess what: this isn't the NFL. If the senior play on Saturday, it's not likely to be any place other than what's been his primary position during his career.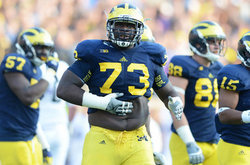 Michigan's Will Campbell wrapping up vexing career by playing his best football
Michigan defensive tackle Will Campbell came into Michigan with all of the hype in the world behind him as a five-star recruit out of Detroit. His career, however, has been anything but stellar, but he's playing the best football of his career right now. Can Campbell continue to make up for lost time?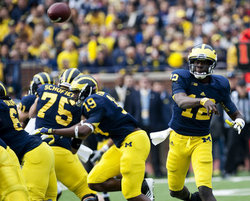 Michigan shifts from run-first to pass-first with Devin Gardner under center
Denard Robinson is a run-first quarterback and as a result, when he's under center, Michigan is a run-first offense. The opposite has been true in backup Devin Gardner has been at quarterback for Michigan. Expect more of the same on Saturday if Robinson can't go again.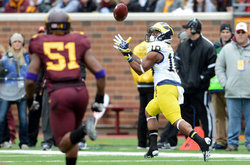 Injury roundup: Dennis Norfleet starts at punt returner while Jeremy Gallon heals ankle
Jeremy Gallon didn't look like a receiver who was nursing an injured ankle last week, what with his career-high seven catches for 94 yards last Saturday and all. But the truth of the matter is that the bum wheel is still ailing Gallon and so Dennis Norfleet will take on his punt return duties agai.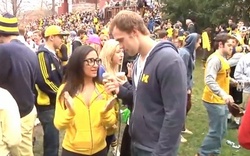 WITH VIDEO: A new Michigan football tradition, 'Pre-Gaming with Pat,' ending Saturday
Saturday won't just mark the end of the home football season for Michigan, it will mark the end of the web series of young aspiring comedian Pat Stansik, "Pre-Gaming with Pat," in which Stansik interviewers student tailgaters before the game. Stansik said the game with the Hawkeyes is likely his swan song.

Who ya Got?
Will the Wolverines win on Saturday, and if so, will they cover the 17-point spread?

This and That
Associated Press Preview:
WHAT'S AT STAKE
The Wolverines need a win to keep their fading chances alive of winning their first Big Ten title since 2004. To get into the conference championship game, Michigan needs to avoid an upset at home against the Hawkeyes, to win at Ohio State next week and has to hope Nebraska loses a game. The Hawkeyes have to win their next two games — after losing four straight — to earn a bowl bid.
KEY MATCHUP
Iowa RB Damon Bullock against Michigan's front seven. With RB Mark Weisman likely out because of a leg injury, the Hawkeyes need Bullock to run as he did against Northwestern — with 107 yards on 22 carries — not like he did last week with just 43 yards rushing on 23 attempts against Purdue.
PLAYERS TO WATCH
MICHIGAN: QB Devin Gardner. In two straight starts in place of injured Denard Robinson (right elbow), Gardner has connected on 28 of 47 passes for 520 yards with four TDs and two interceptions. The junior has also run for 68 yards and three scores. Gardner has helped Michigan out a lot this season and added optimism for next season with him getting experience under center.
IOWA: QB James Vandenberg. The senior has fewer touchdown passes (five) than interceptions (six) and hasn't thrown for more than one score despite averaging nearly 34 passing attempts. If the Hawkeyes are going to pull off an upset, Vandenberg has to make plays through the air as he did last year with 25 TD passes and seven interceptions.
FACTS & FIGURES
The Wolverines, who have 23 seniors, are playing their home finale before wrapping up the regular season against on the road against the rival Buckeyes. ... Iowa has lost four straight for the first time since 2007 — the last season the proud program failed to qualify for a bowl. ... Michigan coach Brady Hoke will only say Robinson is "day to day," because of nerve damage in his right elbow. ... The Hawkeyes will play against a ranked opponent for the first time this season on Saturday. ... The Wolverines have lost three straight to Iowa — their longest skid in a series that dates to 1900 — and five of the last eight matchups.

Around the Big Ten...and Ypsilanti
Pete Cunningham covers sports for AnnArbor.com. He can be reached at petercunningham@annarbor.com. Follow him on Twitter @petcunningham.