Posted on
Tue, Mar 8, 2011 : 9:52 a.m.
Checklist for a daily column
By Edward Vielmetti
I write a Links column for AnnArbor.com every day, and sometimes when it gets close to deadline and I don't have any ideas I fall back on some techniques that seem to work every time.
In the interests of documenting the process, here's a short checklist for how to do this task; if I'm ever unavailable, you can follow a simple five step process and come up with something approximately equivalent to something I've put together.
Ann Arbor
Put the word Ann Arbor into the lead paragraph. Most of the time that's easy, because the story is about Ann Arbor, but sometimes you mention a town or place that's not Ann Arbor, and when you do you have to describe where that place is relative to Ann Arbor.
For example, this year's Paczki Day links refers to Hamtramck, "located about 45 minutes east of Ann Arbor in an enclave of Detroit". Similarly, in a Farmers Market roundup from last spring, a mushroom farm is described as "in Alpena, about five hours north of Ann Arbor along Lake Huron".
Everything is relative, and if it's not here, then it's some distance from here; spell out the distance with some precision.
Include a map, whenever possible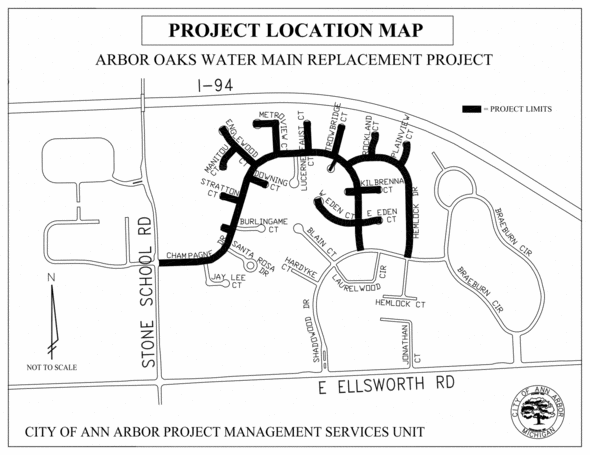 City of Ann Arbor
It's always possible to add a map to a story, no matter what the story. Always add a map in whenever there's time to do it.
Weather stories have an infinite set of maps to go with them, from snow depth to ice forecasts to lightning maps.
Arborwiki has a maps category into which all manner of maps or map fragments have been collected, current and historical.
Quote a weblog or local web site that no one has heard of
People who write local weblogs appreciate the attention that you give when you link to them, and they are usually astounded when you notice them when they haven't been actively promoting themselves.
For instance, there's a lovely web site up from the Dexter - Ann Arbor Curling Club, a club based somewhere in the area that has made its own homemade outdoor curling rink complete with homemade curling stones ($20 in materials, compared to $200 for the real thing) and with rink markings "painted on the ice with a mixture of food coloring and Pabst Blue Ribbon beer."
Based on all of the warm weather we are having, there's no chance to assume that this information is going to be useful this year. Writing about it now, after the season, gives me a chance to find it again next year.
Dig up some public records which anyone could get, but no one has yet
Once a week I write a FOIA Friday column devoted to public records and government data. This is a weekly excuse to do a deep dive into government paperwork, with the goal of either unearthing something interesting or writing about the frustrations along the way.
There is an endless stream of permits, reports, meeting minutes, agendas, maps, charts, tables, spreadsheets and accounting logs that are necessary for governance, and much of it is available for the asking. Much of it is also completely mundane and routine, so routine and dull that there's no one looking at it except the people who created it and the people who received it. "Back page news that should be on the front page," as the Ann Arbor Newshawks note.
Some stream of these government documents are republished on the Ann Arbor Area Government Documents Repository.
Dig up some history that isn't already in common circulation
Townies are notorious for describing places by where something long gone used to be. Use this pattern to your advantage to appear to be more aware of the local scene than you really are.
A dive into Google Books can almost always unearth something relevant, especially if you constraint your search to documents in the public domain. It's perfect for finding anything relevant about anything that happened before 1922, when the copyright rules put most bookish content into a snippet-sized copyright limbo.
Digitized newspapers from the past are a welcome source of oddities, long forgotten yet still notable in some form. The Google News archive search helps you tell just enough of the story of the history of old snowstorms to be credible with details.
Your readers know more than you do
Never forget that whatever you write about, someone is out there who knows more about it than you do. Be certain to leave open some uncertainty, some unfinished analysis, or some unexplained details; your goal is a story like the pinball history column that accumulated dozens of comments worth of detail from readers who were there.
Edward Vielmetti writes a pithy self-description for his daily column for AnnArbor.com.