Posted on
Thu, Mar 25, 2010 : 12:38 p.m.
Ann Arbor entrepreneur Maria Thompson departs electric vehicle battery firm A123Systems
By Nathan Bomey
Ann Arbor alternative energy entrepreneur Maria Thompson retired this month from electric vehicle battery firm A123Systems, AnnArbor.com learned today.

Thompson was credited with playing an instrumental role in securing a $249.1 million federal grant from the U.S. Department of Energy in August -- funding that helped A123 accelerate its plans to add more than 5,000 jobs in Michigan over the next few years. She also helped the company secure various tax incentives from the state of Michigan to help support its growth.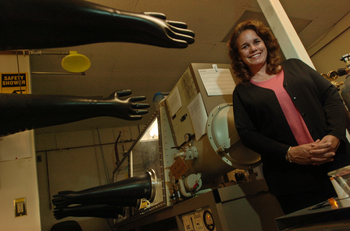 File photo | AnnArbor.com
Thompson served as president of A123's research and government solutions group in Ann Arbor after the firm acquired startup T/J Technologies in 2006. Les Alexander, A123's director of operations in Ann Arbor and a T/J Technologies veteran, succeeds Thompson.

T/J Technologies -- which Maria and husband Levi, an engineering professor at the University of Michigan, launched in 1991 -- became A123's Ann Arbor division.

Battery technology developed by T/J was considered crucial to helping A123 produce lithium-ion batteries for electric vehicles and electrical grid applications. A123 was an early partner with General Motors on the Chevrolet Volt, and the firm has since assembled a diverse range of industry partners.

A123 in September completed an initial public offering on Nasdaq, raising nearly $380 million to fund its operations and becoming the only publicly traded lithium-ion vehicle battery company in the U.S.
"I've learned a lot from people at A123, we've expanded our presence in Michigan and they allowed me to focus on the things I wanted to focus on, which was really economic development," Thompson told AnnArbor.com.
Thompson said she and Levi would stay in Ann Arbor, where they plan to build a house and continue raising their children. An entrepreneur with a creative streak, she also plans to devote more time to her artwork.

She said she plans to become more active with the local boards she serves on, including Ann Arbor SPARK, U-M's Technology Transfer Office's National Advisory Board, NextEnergy and the U-M Zell Lurie Institute for Entrepreneurial Studies.
At some point, she said, she may consider running another company.
"I've been so busy over the past 19 years," she said. "I just haven't had time to really think about it."
Michael Finney, CEO of Ann Arbor SPARK, said Thompson's significant success with taking a startup to blockbuster could have a profound influence on business development in the area. He hopes Thompson will mentor other early-stage companies in the region.
"We've had initial discussions about getting her involved with other startups in our pipeline," Finney said.
Thompson said she was most excited about A123's growth and its impact on Michigan's economy.
"There's tremendous potential for the company as well as for Michigan because those battery systems will be made here," she said. "I feel really good about that. Bringing those plants to Michigan was my personal high point."

Thompson joins a growing list of high-profile business executives who have resigned from their entrepreneurial companies in recent months. They include:
-Ted Dacko, who is resigning as president of Arbor-based HealthMedia, a rapidly growing health coaching software firm acquired by Johnson & Johnson in October 2008.
-Jenn Baird, co-founder of Scio Township-based medical device startup Accuri Cytometers, who resigned as CEO in January.
-Jeff Williams, who resigned in January as CEO of Pittsfield Township-based HandyLab, which was acquired in November by Becton, Dickinson and Co. for $275 million. Williams took over as CEO of Accuri.
-Bhushan Kulkarni, founder of Ann Arbor-based software consulting firm GDI Infotech, who resigned this month to lead a spinoff firm, InfoReady Corp.

-George Dunbar, who resigned in December as CEO of Ann Arbor Township-based Aastrom Biosciences and later accepted a position with Ann Arbor-based venture capital firm Arboretum Ventures.
SPARK CEO Michael Finney has said the region should not be alarmed by turnover among local entrepreneurial executives. Instead, he has said, it's critical to ensure that they feel comfortable with the level of opportunity in this region.
"In robust communities where entrepreneurs and this kind of activity has been pretty fluent over the years, it's not uncommon," Finney said last month. "We're getting to the point where it's starting to be part of our culture."
Contact AnnArbor.com's Nathan Bomey at (734) 623-2587 or nathanbomey@annarbor.com or follow him on Twitter. You can also subscribe to AnnArbor.com Business Review's weekly e-newsletter or the upcoming breaking business news e-newsletter.