Posted on
Fri, Mar 9, 2012 : 5:59 a.m.
Former Goodnite Gracie bar in downtown Ann Arbor reopens under new ownership
By Lizzy Alfs
The former Goodnite Gracie bar on Huron and First streets in downtown Ann Arbor reopened last month with a different name and an updated look after local bar owners acquired the business earlier this year.
Owners Adam Lowenstein, Justin Herrick, Robbie Schulz and Paul Drennan -- who are also partners of downtown Ann Arbor restaurants and bars BTB Burrito, Alley Bar and Good Time Charley's -- purchased both Goodnite Gracie and the connected bar Live at PJ's in January.
They have since transformed the roughly 8,000-square-foot connected space into two separate bars: LIVE and The Last Word, which is named after a 1920s cocktail from the Detroit Athletic Club.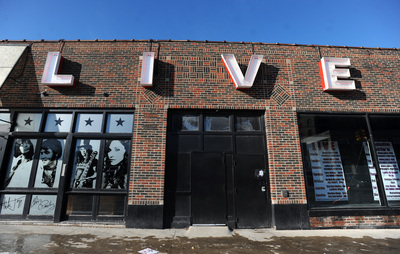 Angela Cesere | AnnArbor.com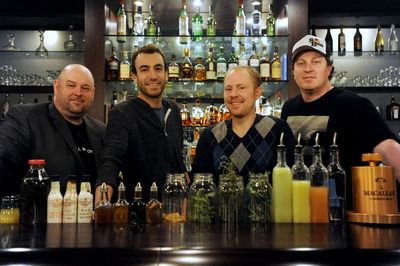 Angela Cesere | AnnArbor.com
Following minor renovations to update the space, LIVE reopened in February with the following weekly lineup: a new live music showcase on Wednesdays, grad night on Thursdays, the live music happy hour tradition Friday evenings, and a DJ on Friday and Saturday nights.
And so far, the owners said, the feedback has been positive.
The Last Word, which has its own entrance off Huron Street, reopened a few weeks ago after the owners transformed the space by removing one of the stages, replacing the seating and rearranging the layout.
From candles on the tables, to a bookshelf and framed pictures lining the walls, the owners are trying to create an intimate, conversational atmosphere.
"The room and the whole feel of the place is supposed to be this warm, comfortable feeling that you can feel at home in," Lowenstein said.
To help create that environment, they plan on only allowing 96 customers inside at any given time, which is the bar's seating capacity.
The Last Word still has a small stage with a piano, and the bar might host solo musicians or small bands every once in a while.
But the main focus, the owners said, are the craft cocktails.
"We're mostly trying to have a craft cocktail bar and the music will always be somewhat secondary," Herrick said.
Drennan added: "[Schulz] and I are both beverage geeks. It was definitely a niche in Ann Arbor to explore a little more complicated drinks than people are used to."
The bar's craft cocktails range in price from $7 to $14, and there is also a wide selection of bottled beer available and a still-in-development wine list. But Drennan also assured customers: "If you want a Jack and Coke, you can absolutely get that."
The price of the craft cocktails, Drennan said, reflects the "quality and cost of the ingredients."
Among the ingredients in some of the made-from-scratch cocktails: fresh squeezed grapefruit and orange juice, fresh ginger and herbs, balsamic and rosemary syrup and bitters.
The owners also plan on adding appetizers and bar snacks to the menu in the coming weeks, such as nuts, cheeses, meat and olives.
The Last Word's current hours are 7 p.m. - 2 a.m. Tuesday through Saturday. LIVE is open 9 p.m. - 2 a.m. Wednesday through Saturday.
Lizzy Alfs is a business reporter for AnnArbor.com. Reach her at 734-623-2584 or email her at lizzyalfs@annarbor.com. Follow her on Twitter at http://twitter.com/lizzyalfs.