Posted on
Tue, Apr 12, 2011 : 1:58 p.m.
Snyder, Republican legislators close to deal on pension tax, business tax cut, reports indicate
By Nathan Bomey
UPDATE 6:09 p.m.: Snyder, Republicans unveil new proposal

Gov. Rick Snyder and the Republican leadership in the Michigan Legislature may be on the cusp of announcing a budget deal that would involve a major business tax cut and some form of a pension tax, according to multiple reports trickling out of Lansing this afternoon.
Several news organizations, including the Detroit Free Press, the Associated Press, the Detroit News and Gongwer News Service, are reporting that Republicans are close to announcing a tentative deal.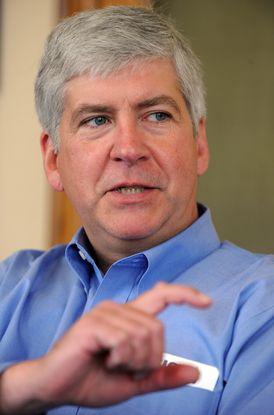 Lon Horwedel | AnnArbor.com
It's not clear whether the deal involves an agreement on the entire budget or just parts of the budget.
At 2:30 p.m., the governor's media representatives issued a statement saying that at 4 p.m., Snyder, Lt. Gov. Brian Calley, House Speaker Jase Bolger and Senate Majority Leader Randy Richardville would "hold a media roundtable to discuss significant progress on the tax reform plan."

Snyder has proposed replacing the state's controversial Michigan Business Tax with a flat 6 percent corporate income tax that would exempt many small businesses. It would result in a net $1.8 billion tax cut for businesses.
He also wants to tax all pensions except those held by members of the military — a proposal that would eliminate the total exemption for public pension holders and the $45,000-per-person exemption for private pension holders. That proposal would raise about $900 million in revenue.
The entire budget, including the current $1.4 billion deficit, would be balanced by eliminating most business tax credits and individual income tax credits and enacting big funding cuts to public schools, higher education and municipalities.
The Detroit News is reporting that the tentative deal would "phase in the planned income tax for public and private pensions." But the Free Press is reporting that the deal may "include exempting all pension income for those over age 66, and exempting $45,000 in pension income ($90,000 for couples) for some younger retirees."
Several attempts by AnnArbor.com to reach Republican legislative officials this afternoon were not immediately successful.
Snyder's proposal to tax all pensions met sturdy opposition among some anti-tax Republicans and Democrats uncomfortable with the implications for low-income seniors.
Republican legislators have reportedly been considering a scaled-back version of the pension tax and business tax cut.
Snyder, a first-time politician and a former venture capitalist, has portrayed the proposal as fair. He said seniors with pensions should not get preferential tax treatment compared to seniors who are taxed on their regular earnings. He also argued that the business tax reform would simplify the state's tax process and create jobs, a claim that drew skepticism from some experts.
Contact AnnArbor.com's Nathan Bomey at (734) 623-2587 or nathanbomey@annarbor.com. You can also follow him on Twitter or subscribe to AnnArbor.com's newsletters.