Posted on
Sun, Oct 30, 2011 : 5:59 a.m.
Fierce competition: Downtown Ann Arbor high-rise apartments wield lavish amenities to attract tenants
By Lizzy Alfs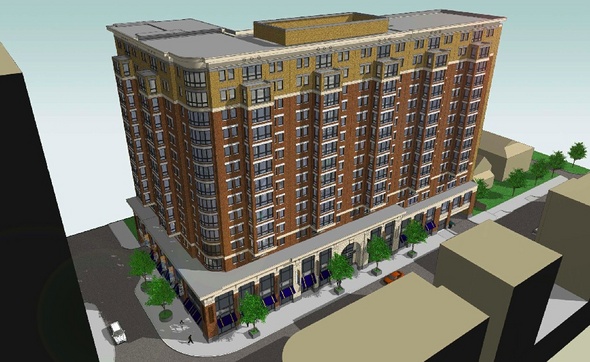 Ann Arbor web archives
See related story: Two under-construction student high-rises begin signing leases in anticipation of fall 2012 opening
A state-of-the-art fitness center in your basement. A flat-screen HDTV mounted to your wall. A movie theater, a billiards table and even dual hot tubs.
Downtown Ann Arbor's flashy new student high-rise apartment complexes are wielding a wide assortment of lavish amenities in a fierce competition to attract tenants — even as rental prices reach as high as $1,745 per bed.
With two new high-rise apartment towers expected to open in fall 2012 and many students ready to sign leases for the next academic year, the battle for leases has kicked into high gear.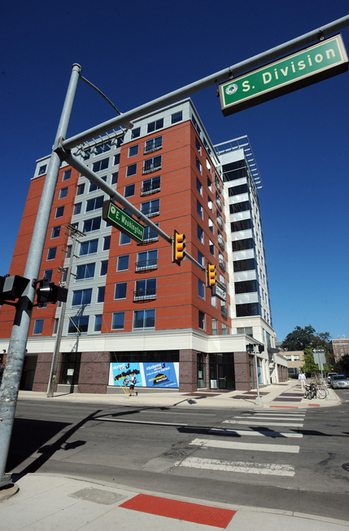 Melanie Maxwell | AnnArbor.com
Downtown high-rises

Sterling 411 Lofts
When it opened: Fall 2009

Address: 411 E. Washington St.
Beds: 343
Stories: 10
Price range: $800-$1,625
Amenities: Billards table, tanning beds, study room, fitness center
Zaragon Place
When it opened: Fall 2009

Address: 619 E. University Ave.
Beds: 248
Stories: 10
Price range: $975-$1,650
Amenities: High-definition TVs, fitness center, energy efficient appliances, indoor parking

Landmark
When it will open: Fall 2012
Address: 1300 S. University Ave.

Beds: More than 600
Stories: 14
Price range: $975-$1,745
Amenities: Tanning beds, yoga studio, fitness center, movie theater, game room

Zaragon West
When it will open: Fall 2012
Address: 401 Thompson St.
Beds: 199
Stories: 14
Price range: $1,100-$1,650
Amenities: Fitness center, indoor parking, high-definition TVs

The properties are targeting U-M students with cash to spend and a disdain for traditional student housing.
High-rise construction projects Zaragon West and Landmark are expected to open next fall. Collectively, they'll add about 800 new beds to the student apartment market in downtown Ann Arbor.
They join two new high-rise apartment complexes that have brought 600 beds onto the market within the last few years: Sterling 411 Lofts at the corner of Washington and Division and Zaragon Place on East University Avenue.
Meanwhile, Bethesda, Md.-based developer Potomac Holdings is proposing a new 13-story development on East Washington Street called The Varsity, which would add about 400 more beds if it wins approval from Ann Arbor City Council.
Property owners and leasing managers said the new high-rise apartment complexes have sparked an intense competition for tenants. One of their prime selling points: the lush amenities. University of Michigan students who sign leases for the 14-story Landmark development — formerly called 601 Forest, located at 1300 S. University Ave. — will be able go to a yoga class followed by a tanning bed session, all without leaving the building.
Zaragon West, which is located at 401 Thompson and is a sister property to the 10-story Zaragon Place, boasts of being a "technologically advanced, green high-rise community" on its website. With a fitness center, indoor parking, high-speed Internet and flat-screen TVs, Zaragon West hopes students are willing to pay the $1,100 minimum price per bedroom.
Chicago-area developer Rick Perlman of Zaragon Inc. said the "quality of construction is amazing" at both Zaragon towers, and he believes he's offering the two best locations and the best products. He also doesn't anticipate a problem filling the 200 beds at the 14-story Zaragon West.
"The people who live at Zaragon Place love it, and it's been terrific and highly successful," he said. "Obviously, there's a lot of beds coming on [the market], but we think we're going to have success at Zaragon West."
With a minimum price per bedroom of $975, Landmark offers students amenities such as hot tubs, a fire pit, a bags toss court, free tanning beds, a billiards table and shuffleboard, and a 27-person movie theater.
Open since fall 2009, Sterling 411 Lofts offers similar amenities at a minimum price of $800 per bedroom, including a fitness center, study room, billiards table and high-definition TVs in each bedroom. Sterling 411 Lofts will also be adding free tanning beds to its amenity package in the coming months, said Mark Foraker, senior vice president of Houston-based The Dinerstein Companies, which owns the property.
"That's definitely in direct response to what some of the other high-rises are coming into the market with," he said. "We just want to make sure that we stay competitive."
In addition, high-rise developments are turning to ground-floor retail that will appeal to the student population.
On its first floor, 411 Lofts is boasting about a soon-to-open market launched by Sava Lelcaj, owner of downtown Ann Arbor's Sava's Restaurant.
"Anybody that walks in the door, we make sure to highlight [the market]," Foraker said. "It's a great amenity. There's a lot of value there."
Perlman said Zaragon West will have a "very interesting" restaurant in the first-floor retail space on the corner of Thompson and East William streets.
Image courtesy of Neumann/Smith Architecture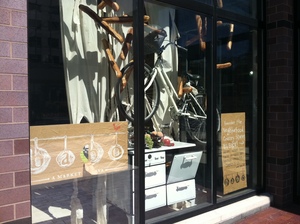 Lizzy Alfs | AnnArbor.com
"It's a restaurant that's very well known in Detroit," he said. "I think everyone is going to be surprised and delighted and it's going to be great for Ann Arbor."
He also has a cafe and market called "revive + replenish" on the first floor of Zaragon Place.
Landmark will have several retail spaces fronting South University Avenue and South Forest, said JJ Smith, executive vice president of development and construction for Landmark property owner Campus Acquisitions, in an email.
"We anticipate signing a mix of quick-serve restaurants and convenience retailers to enrich the living experience in and around Landmark and the South University neighborhood," Smith said.
Adding to the competition for students is the University of Michigan's new dormitory at the corner of State and Washington, a $175 million, 450-bed complex called North Quad that opened in fall 2010. The dorm has quickly become a popular spot for U-M students, with the dining facility overflowing with lunchtime diners who reportedly have to sit on the floor at times.
The mix of new competitors and U-M's stated intention to reduce enrollment next year is causing high-rise developers to go the extra mile to lure tenants quickly.
And fueling the competition even more, the leasing offices for Zaragon West and Landmark are just steps away from one another on East Liberty Street in downtown Ann Arbor.
But since the high-rises are competing to sign leases, developers are aware that in addition to offering amenities, they must design creative marketing campaigns to reach potential student tenants.
For example, Landmark recently sponsored a fraternity tailgate party, designed "Live at Landmark" T-shirts and distributed specially marked sunglasses.
Perlman of Zaragon Inc. said it's extremely important to "get the word out" about Zaragon West. He said he's advertising around the U-M campus, putting banners on the under-construction building and reaching out to students via a website and Facebook page.
"You definitely have to advertise these things and market them," he said.
Lizzy Alfs is a business reporter for AnnArbor.com. Reach her at 734-623-2584 or email her at lizzyalfs@annarbor.com. Follow her on Twitter at http://twitter.com/lizzyalfs.