Posted on
Mon, Jul 18, 2011 : 5:31 p.m.
Downtown store closure also means a loss of arts and music venue
By Bob Needham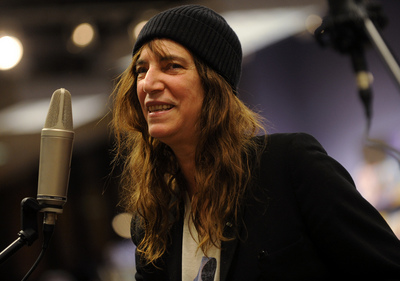 Melanie Maxwell | AnnArbor.com
It's a minor point in the context of the overall situation, but the closure of
Borders
stores — in particular, the loss of the flagship downtown location on Liberty Streeet — will create a blow to the cultural life of
Ann Arbor
.
As the store closes as part of the company's liquidation, obviously it means one fewer place to buy books and music downtown. But beyond that, Borders has long been an important host of arts and entertainment events — author appearances and readings, of course, but also concerts, story times for young people and other popular draws.
Nicholas Delbanco, a noted author and University of Michigan professor who had a book signing at the downtown Borders, wrote in an email back in February, when the company filed for bankruptcy protection: "The times, as we all know, are a-changing. But one of the things that's been a constant, for me, in the more than a quarter of a century I've called Ann Arbor home, is the presence of splendid local and national bookstores.
"The loss of Shaman Drum, last year, was a body blow; the potential closing of Borders is another. We still have, and happily, Nicola's Books — but I cannot imagine this town without the smell of new-stocked shelves, the look of books on tables, the sight and taste and sound of literate chatter and the chance to congregate with other writers/readers. We never, I think, took the idea of such community for granted — but value it all the more keenly, now, with the prospect of loss."
The downtown Borders has served as the host of Live at 01 (a reference to the store's flagship status) — a series of books and music events that the store records and posts on the company's website. Some of the concerts at the store have also been used in the "Live From Studio A2" compilation CDs that radio station WQKL (107.1-FM) produces to benefit the Michigan Theater. (The store has also given those discs prominent display space.)
Lorin Burgess, a social worker in Ann Arbor, attended an in-store concert by the Indigo Girls at the downtown site with his family.
"It is quite possibly the only venue where we could all go together to introduce our children to one of our favorite musical groups," Burgess wrote in February. "My older daughter was 3 years old at the time and was dancing on her chair, which drew a big smile from Emily Saliers. That couldn't have happened anywhere else, and definitely not during my lunch hour. Even with so many great local music venues, those in-store performances will probably be impossible to replace."
The downtown Borders has hosted many big names: last year brought an appearance by iconic musician and author Patti Smith, a talk by "Ultimate Cheapskate" Jeff Yeager, and a discussion with National Public Radio's Michele Norris.
Concerts last year included Natalie Merchant, Sharon Jones and the Dap-Kings, Martin Sexton, and John Hiatt, among others. In past years, acts like Barenaked Ladies and Hootie and the Blowfish have also appeared there.
Jenn McKee contributed to this story. Bob Needham is director of entertainment content for AnnArbor.com. Reach him at bobneedham@annarbor.com or 734-623-2541, and follow him on Twitter @bobneedham.