Posted on
Thu, Apr 21, 2011 : 11:10 a.m.
Iggy and the Stooges concert at Michigan Theater draws national media attention
By AnnArbor.com Staff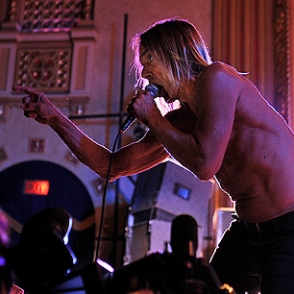 Melanie Maxwell | AnnArbor.com
It wasn't only Ann Arbor that was fascinated by the Iggy Pop and the Stooges homecoming concert at the Michigan Theater on Tuesday.
The sold-out show brought the surviving members of the pioneering punk-rock band to their hometown to pay tribute to Ron Asheton, the band's original guitarist, who died in 2009.
The event drew some significant attention online, including from some national media. Some links worth checking out:
• Rolling Stone published a review of the show online, using a photo shot by AnnArbor.com's Melanie Maxwell. (The shot used by Rolling Stone is shown at right, but there's a full slideshow in our news story about the concert.)
Past coverage
AnnArbor.com stories about the Stooges homecoming show:
• Billboard.com also recently published a recap of the evening.
• MTV also had someone on hand to chronicle the event.
• Prior to the concert, the Associated Press ran an interesting interview with Iggy Pop.
• More locally, author Brett Callwood did a nice review for the Metro Times.
• And well-known local blogger Mark Maynard also has a report on the show, including some interesting reflections and several homemade video clips he shot.
In all, it was definitely a night that will be remembered around Ann Arbor for a long time to come.