Posted on
Wed, Apr 20, 2011 : 1:22 a.m.
Iggy Pop and the Stooges offer a punk rock celebration for a fallen bandmate
By Roger LeLievre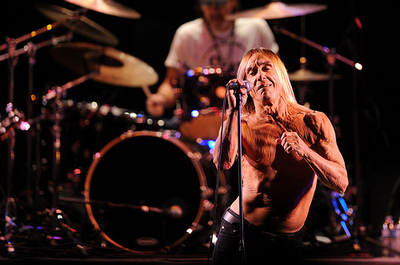 Melanie Maxwell | AnnArbor.com
From the looks of things, Ann Arbor and the Michigan Theater survived the punk rock bombast of genre pioneers Iggy and The Stooges Tuesday night in fine shape.
The group, fronted by former local Iggy Pop (known here during his high school days by his given name, James Osterberg Jr.) was in town to play a tribute concert for their former bandmate/Ann Arborite guitarist Ron Asheton, who died in 2009.
Around 1,700 were on hand — a full house, according the Michigan Theater's Executive Director Russ Collins, who said three times that many tickets could have been sold, demand was so high. "There's definitely been a feeling of celebration for doing something good for a buddy that has passed on," Collins added. The show was a benefit for local music and animal charities, including the Humane Society of Huron Valley.
The mood at the Michigan was definitely upbeat. The audience appeared to run the gamut of ages, from those obviously too young to know firsthand about the early days of punk to folks who clearly were there and wanted to relive some of the mayhem. There was plenty of black leather, though not so much else in the way of punk fashion. At times it looked a bit like a reunion; there was plenty of hugging and handshaking out in the lobby before the show began. If punk was meant to be angry, this crowd was the absolute opposite.
Past coverage
Other AnnArbor.com stories about the Stooges homecoming show:
After the opening act, the outstanding, Stooges-inspired rock band Space Age Toasters, from Ann Arbor's Neutral Zone teen center, Ron Asheton's brother and bandmate Scott Asheton offered a few remarks, as did host Henry Rollins, who also has his roots in early punk rock. "Have fun, get naked if you want … God loves The Stooges," Scott Asheton said. Rollins, his comments a mix of prose and poetry, called Ron Asheton "a young visionary" with a "pulverizing, fuzzed-out blues attack. Who knows where he got it, but he knew he was going somewhere with it."
As expected, the shirtless Pop, poring sweat and guzzling from bottles of water, flung himself about the stage like a madman, writhed on the floor, threw open bottles of water out into the audience and dove off the stage (thankfully someone caught him) all with an impish grin that seemed to say, "Hey, I know what's expected of me, and I love it!"
"Fifty felt like 20 tonight," said clearly elated fan Elaine Roman. "This was like the old days."
"The crowd was sincere and loving every minute of it," Roman said, adding that she could feel the love in the room for Ron Asheton. "Without Ron, there wouldn't have been The Stooges and I think Iggy knows that."
Her friend Amy Garber agreed. "Iggy stage-dove, for God's sake," she said. "I thought it was wonderful. … (The show) was beyond expectations."
"I thought (the show) was wonderful," said Rob Utterback, a harpsichordist from Ann Arbor, who admitted to being unsure about what a harpsichordist sees in punk rock. "When I figure that out, I'll tell you," he finally allowed. "(I like) either 16th century music or some band with the word 'puke' in it."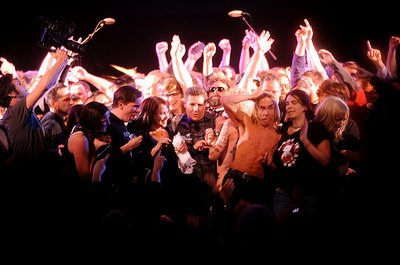 Melanie Maxwell | AnnArbor.com
Security must have had a collective coronary when Pop invited the crowd to "get on stage and dance with The Stooges." What looked like a couple of hundred people took advantage of the opportunity and rushed up front. It was a mob scene where pure anarchy seemed to reign, and it took a few minutes to clear the stage after that was done.
The show was LOUD. There were some 30 speakers aimed at the crowd, not including the onstage monitors. Raw power indeed.
Cameras were everywhere, thanks to a documentary being filmed on Iggy and The Stooges (director Jim Jarmusch was reportedly in the house), and the concert was broadcast live on XM satellite radio.
Just before the show ended, Pop sat down on the edge of the stage and reminisced about Asheton as he and guitarist James Williamson performed a special acoustic tribute song.
"I have to thank Ron for Iggy," he said. "When I wanted to start a band, Ron was the first guy who would get behind me. … He had a gift, sort of a charm — his compositions were very simple but very memorable."
Pop also expressed his appreciation to the audience, and Stooges' fans in general. "Thanks for showing up ... thanks for giving me a life," he added.
The evening's most surreal moment came when each of the band members was presented with a key to the city of Ann Arbor, an awfully establishment gesture aimed at a group that has prided itself on being anything but establishment. Iggy treated it with the gravity it deserved, grinning cheerfully as he mimed an obscene gesture with his microphone.
An after-party at the Necto nightclub, organized by Pop's management, was attended by around 50 invited guests. One notable no-show: Iggy Pop.
Video of "I Wanna Be Your Dog" from Tuesday's concert, uploaded by YouTube user thorndike: