Posted on
Thu, Dec 2, 2010 : 10:53 a.m.
Works by U-M composer Michael Daugherty earn 5 nominations for Grammy Awards
By Bob Needham
Acclaimed composer and University of Michigan faculty member Michael Daugherty has been nominated for a Grammy Award, the top honor in the recording industry.
Daugherty is nominated for "Best Classical Contemporary Composition" for his piece "Deus ex Machina."
In addition, an album that includes that piece along with another Daugherty work, the "Metropolis Symphony," received several additional nominations. Recorded by the Nashville Symphony with conductor Giancarlo Guerrero on the respected Naxos label, the album received nods for: "Best Classical Album"; "Best Orchestral Performance"; and Terrence Wilson and Guerrero were nominated for "Best Instrumental Soloist(s) Performance (with Orchestra)." Also, the album's producer, Blanton Alspaugh, was nominated for "Producer of the Year, Classical," for his work on the Daugherty/Nashville Symphony album along with several other projects.
There are a couple other local angles to the Grammy nominations as well.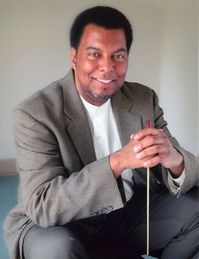 John McLaughlin Williams — a high-profile conductor who recently moved to Ann Arbor and has already won one Grammy Award — also received recognition: He was nominated along with Eliesha Nelson and the Northwest Sinfonia under "Best Instrumental Soloist(s) Performance (with Orchestra)" for the "Concerto for Viola and Orchestra" from "Quincy Porter: The Complete Viola Works." That album was also nominated for "Best Chamber Music Performance."
In addition, David Frost was also nominated for classical producer of the year, for a body of work that includes a recording of the U'M's Evan Chambers' work "The Old Burying Ground," performed by Kenneth Kiesler and the University of Michigan Symphony Orchestra.
Daugherty is one of the most well-known modern classical composers in the country, and his works are performed and recorded frequently. Although his list of honors and awards is long and varied, this is the first time he's received Grammy recognition.
"And 5 is a lot of nominations," he joked in an email to AnnArbor.com this morning. "I may have to move my bowling trophies to make room...."
"So much planning and hard work goes into a recording project like this! It is nice for everyone involved to be recognized."
Daugherty is known for drawing inspiration from pop-culture sources. His "Metropolis Symphony" — one of his well-known works, which constitutes the first part of the Nashville Symphony recording — was composed to celebrate the comic-book character Superman.
"'Metropolis' has been performed often during the last 20 years. Just came back from a performance of Metropolis in Europe by the Slovenia Philharmonic," the composer noted this morning.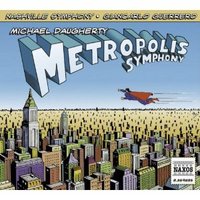 "Deus ex Machina," the piece for which he received the Grammy composer nomination, premiered in 2007, according to
his website
. It "was commissioned by a consortium of the Charlotte, Nashville, New Jersey, Rochester and Syracuse Symphony Orchestras," Daugherty wrote on the website. "The title Deus ex Machina refers to the Latin phrase, 'god from the machine.' Each of the three movements of the piano concerto is a musical response to the world of trains."
Asked how the idea came about, he noted today: "I have always loved trains and enjoy hearing the train whistle late at night as it roars through Ann Arbor."
The Nashville Symphony recording was made last year, with Daugherty on hand. The Nashville project was the first recording of "Deus ex Machina."
The recording is widely available, both on CD and digitally via Amazon.com, as well as iTunes and the Naxos website.
An Iowa native, Daugherty holds a doctorate from Yale University. He has been on the University of Michigan faculty since 1991. A full biography is available on his U-M faculty website. Earlier this fall, the Ann Arbor Symphony Orchestra featured a Daugherty work as part of a special "Made in Michigan" program.
The Grammy Award winners are set to be announced Feb. 13. A full list of Grammy nominees is on the Grammy website. (The classical nominees are toward the end of the list.)
A work by another U-M composer, William Bolcom's "Songs of Innocence and Of Experience." won four Grammy Awards in 2006.