Posted on
Mon, Aug 29, 2011 : 5:51 p.m.
Ann Arbor medical marijuana dispensaries didn't open Monday following raids, court ruling
By Juliana Keeping
Medical marijuana dispensaries in Ann Arbor appeared to be closed Monday, almost a week after an appeals court ruling and raids threw the future of the businesses into the unknown.
Christian Davis, a co-founder of OM of Medicine, a dispensary at 112 S. Main St. in Ann Arbor, said via e-mail that no dispensaries are operating today in Ann Arbor that he is aware of.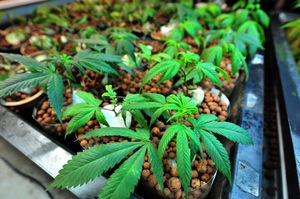 The Michigan Court of Appeals ruling on Tuesday made the sale of marijuana at dispensaries illegal in the eyes of the state. The establishments can be shut down under a state public nuisance law, according to state Attorney General Bill Schuette.
Then Michigan State Police drug investigators raided two Ann Arbor medical marijuana dispensaries Thursday — an action they said was part of an ongoing investigation into the businesses and not related to the court ruling. Dispensary owners aren't so sure that the raids and the court ruling aren't related, Davis said.
Medical marijuana action
Here are some of AnnArbor.com's recent stories on the issues surrounding medical marijuana:
"Despite the claims that have been made, it is still unclear whether the raids in Ann Arbor were a result of this ruling, in conjunction with it, or independent of it," Davis wrote. "Until all pertinent information has been obtained and analyzed, and the legal ramifications determined, The OM of Medicine will not be open."
Davis said thousands of patients are going without their medicine as a result of the events of last week.
"This is cruel and inhumane," Davis wrote. "State and local governments would never be allowed to withhold prescription pharmaceuticals from cancer patients being ravaged by chemotherapy or any other illness, and this is no different. We have received hundreds of phone calls and emails from our members wondering what they are supposed to do without their medicine."
An individual who picked up the phone at Green Bee Collective, 401 S. Maple Road in Ann Arbor, confirmed they are closed as well. The employee declined to provide a name and referred other questions to an attorney.
Ann Arbor city officials said last week a new licensing process for dispensaries is now under review; the businesses received applications in the mail Aug. 22.
Calls to several other Ann Arbor dispensaries went unanswered Monday afternoon.
However, dispensaries are still operating in Ypsilanti.
An employee at 3rd Coast Compassion Center, 19 N. Hamilton, in Ypsilanti said the business was open Monday.
"In other parts of the state, and even as nearby as Ypsilanti dispensaries are open because their local city attorney's office decided they do not agree with the Attorney General's interpretation of the appellate court ruling," Davis wrote.
According to Ypsilanti City Manger Ed Koryzno, the city has licensed four dispensaries and one grow facility.
Adam Tasselmyer, the founder of Herbal Solutions, 124 W. Michigan Ave. in Ypsilanti, said his shop is open.
It closed the day of the raids, but re-opened the next day. He said his business is a non-profit and accepts donations in exchange for the medicinal marijuana, so it is not a sales transaction.
Prior to Tuesday, the state had been silent on dispensaries. They popped up any way after the Michigan Medical Marihuana Act went into effect in April 2009. The law sets up a system under which patients can grow marijuana for themselves or have a state-registered caregiver do it for them.
Tasselmyer said his business is not a nuisance.
"I had my patients come in Thursday and want to know: 'How we are supposed to get our medicine?' People rely on this every day."
That's why he re-opened, he said.
Schuette said he would send a letter to the state's 83 prosecutors outlining how the businesses can be shut down under the recent changes to the law.
Washtenaw County Prosecutor Brian Mackie was not available to comment Monday.
Ann Arbor City Attorney Stephen Postema said he's not advising dispensaries whether they should or shouldn't operate — he said they should seek legal advice from their own attorneys. In the meantime, he said he's reviewing the situation with the county prosecutor.
Juliana Keeping covers general assignment and health and the environment for AnnArbor.com. Reach her at julianakeeping@annarbor.com or 734-623-2528. Follow Juliana Keeping on Twitter