Posted on
Fri, Jan 22, 2010 : 6 a.m.
Ann Arbor officials narrow focus to hotel and conference center plans
By Ryan J. Stanton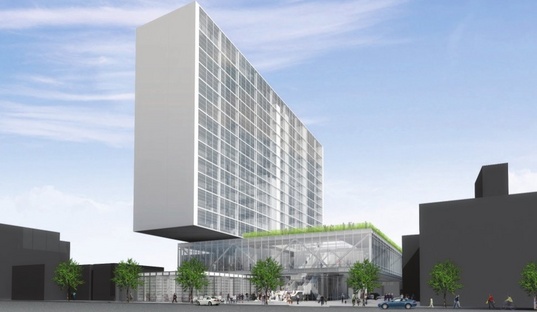 Ann Arbor officials narrowed the pool of development proposals for the Library Lot Thursday night, zeroing in on two hotel and conference center projects.
Members of the city's RFP advisory committee and a team of city staff members met for two and a half hours to discuss the five projects presented to them over the previous two days. They decided the next step will be to hire a real estate consultant to evaluate the two hotel proposals.
Ryan J. Stanton | AnnArbor.com
"I think both have some merit," said John Splitt, a committee member and chairman of the Downtown Development Authority. "I'm interested in seeing financially how those would work out. There's potential positive return, but again, without going deeper into their cost proposals, it's really difficult for me to tell what's there."
A group of New York investors known as Valiant Partners LLC is proposing a project called Ann Arbor Town Plaza Hotel and Conference Center. It includes plans for a 150-room hotel, 32,000-square-foot conference center, condos, restaurants and retail shops - all on the Library Lot.
Valiant is asking the city to issue bonds for $8 million to build the conference center, promising to pay back the city over 20 years with proceeds from the hotel.
The other proposal chosen for further evaluation is a project by Acquest Realty Advisors of Bloomfield Hills called @ Hotel and Retail Center. It features a 190-room hotel with meeting spaces, restaurants and retail shops. Acquest is asking the city to partner on the project by building a 40,000-square-foot conference center on the former YMCA site across the street.
City officials acknowledged some hesitancy about getting involved in a project that requires the city to assume any financial risk. That's why they're gong to have a consultant conduct an independent analysis that will look at the feasibility of the two plans - and whether the developers behind them can pull off what they're promising.
Mike Pettigrew, the city's deputy treasurer, offered his own financial perspective during Thursday's meeting. He said he considered the Valiant proposal "the most complete."Â 
But he said said it still presents a risk because, if the hotel doesn't perform, the city will be on the hook for making payments.
A majority of committee members agreed they want to see vertical development on the 1.2-acre city lot on South Fifth Avenue. Jayne Miller, the city's community services administrator, said the city's efforts over the last five years have been working toward the goal of increased density downtown, and there's no reason to stop now.
"It comes back to the work that we've done around the A2D2 project. It seems to me counterintuitive for us not to go with a project that brings that density to downtown," she said.
Ryan J. Stanton | AnnArbor.com
Susan Pollay, DDA executive director, agreed and said the committee should select a developer that had done similar projects before. She said the library is an important anchor in the downtown and whatever is selected to go next door should support the library's success and growth and bring new audiences and energy to the block.
"To my mind, there are only two legitimate projects on the table," Pollay said.
Only one committee member, Sam Offen, championed the concept of an urban park. Offen, a member of the city's Parks Advisory Commission, said he liked the proposal from Dahlmann Apartments Ltd. to construct a large town square of mostly green space. Other committee members said they thought the plan lacked a financial commitment to cover future operations and maintenance.
No committee members spoke in favor of the community commons proposal by Ann Arbor residents Alice Ralph and Alan Haber. Most agreed the duo lacked a clear plan and made unconvincing assumptions that an open space would somehow attract large crowds downtown.
Another project that was dismissed was an 84-room hotel called the Fifth a2 proposed by Jarratt Architecture. Committee members said they expected more substance, and it appeared to be a case of an architect looking for a developer to finance a project that wasn't well thought-out.
Other committee members said they had concerns about the Acquest proposal that could be a deal-breaker for them.
"It sounds like it's dependent on the city developing a conference center on the Y site, and I just don't see that moving forward," said City Council Member Margie Teall. "What we're looking for is a team to come in and produce something that's really going to be successful without as much dependence on the city."
Teall said she preferred the proposal by Valiant Partners, which she liked for several reasons - including the fact that it features a joint research facility for the library.
"I liked the unique, striking design," she added, noting that her 16-year-old daughter saw a picture of it in the AnnArbor.com print edition on Thursday and said, "I like it."
"I thought the architecture was imaginative, and I think that's what we need," Teall said. "It's something striking enough that people are going to come down and say 'wow.'"
Eric Mahler, a city planning commissioner and committee member, reiterated what he said earlier this week - he's still not impressed with the Valiant proposal. He described the contemporary design as a "monstrosity" and said it could end up being a "white elephant" should the project fail.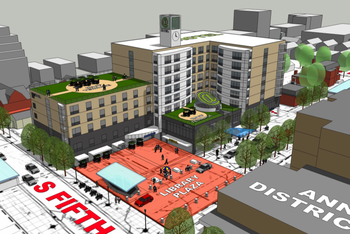 Offen cited a report put out earlier this week by City Council Member Sabra Briere, who suggested there might not be a strong enough demand for a hotel and conference center in downtown Ann Arbor.
Briere's report details a recent meeting she had with Ann Arbor-based consultant Chuck Skelton, who performs site hotel feasibility analyses all over the country. According to Briere's report, Skelton informed her the hotel market in Michigan is doing poorly and that, in Ann Arbor, occupancy rates have deteriorated to 55 percent. That's about 10 percent to 15 percent less than needed to break even, according to what Skelton told Briere.
Breire said she learned from Skelton that the addition of any new rooms in Ann Arbor likely would negatively impact existing hotels. Likewise, she was told the conference center proposed by Valiant wouldn't generate new demand, but would only further divide existing business.
Miller agreed there's a lot to be concerned about.
"That's why we're hiring a consultant to look at the nitty-gritty," she said. "To make sure we answer all the right questions or ask the right questions and then make decisions. I also believe that while financially we're going to be really concerned right now ... if the economy turns around, we have time to work through the logistics. And if the economy turns around, finances free up. We can come up with a different financing model that's going to work for us better."
Unlike the public interviews that drew dozens of citizens to the library earlier this week, only three residents attended Thursday's debriefing inside city hall. 
One of them was Barbara Kritt.
"I don't think that the interests of the public are represented by the process or by the decisions," Kritt said. "To not have, in some way, polled the public before choosing the designs and the particular projects seems a backwards way to go about it - if, in fact, it is an open public process."
Ryan J. Stanton covers government for AnnArbor.com. Reach him at ryanstanton@annarbor.com or 734-623-2529.