Posted on
Tue, Dec 4, 2012 : 5:58 a.m.
Ann Arbor's public art program suspended while committee considers changes
By Ryan J. Stanton
The city of Ann Arbor is partially suspending its Percent For Art Program while a five-member committee looks into options for taking a new approach to public art.
That could involve everything from revising the current program to starting a completely new program or having no program at all.
"It's time that we took a hard look at this," said City Council Member Marcia Higgins, D-4th Ward. "Maybe it is time we say, 'OK, we're going wipe the slate clean and make a new ordinance.' "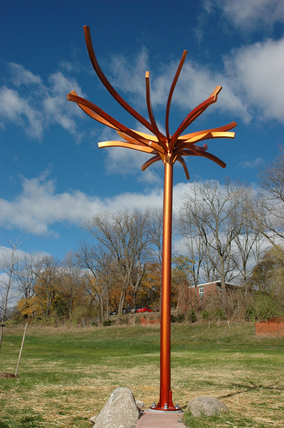 Courtesy of City of Ann Arbor
The
Ann Arbor City Council
voted 10-1 Monday night in favor of Higgins' resolution to suspend use of art funds until April 1 with a few exceptions.
The suspension won't affect three projects already in the planning stages. That includes a $150,000 project in connection with the Argo Cascades on the Huron River, a $360,000 project at the site of the new East Stadium bridges and $23,380 project at a rain garden at First and Kingsley.
The council's action also won't stop the $150,000 hanging sculpture that's slated for installation in the Justice Center lobby in either March or April. That's already under contract.
Craig Hupy, the city's public services administrator, acknowledged the council's action also won't have much effect on a handful of other projects in the pipeline, including two upcoming murals in yet-to-be-determined locations in the city and other artworks being discussed in connection with a plaza on Forest Avenue, a roundabout at State and Ellsworth and the city's manhole covers.
Council Member Jane Lumm, who has been calling for termination of the Percent For Art Program ever since voters turned down a public art tax last month, said the council should be honest about what Monday's action means and what it doesn't mean.
"The practical consequences of this suspension are virtually zero, so none of us should walk away from this thinking that by temporarily suspending Percent For Art now we're somehow being responsive to the community," Lumm said. "I really don't think that we are."
Mayor John Hieftje announced the names of the five council members who will serve on the committee that will work between now and Feb. 15 to decide how to to amend the city's public art ordinance: Sabra Briere, Sally Hart Petersen, Stephen Kunselman, Christopher Taylor and Margie Teall. Hieftje said he hopes the city will continue to have an art program of some kind.
Under the existing program, the city takes 1 percent of the money budgeted for city capital projects and sets it aside for public art. That has resulted in diverting well over $2 million from dedicated millages for streets, parks and solid waste, as well as water and sewer utility funds.
Hieftje stressed Monday night that only $50,000 of the money set aside for public art ever came from the city's general fund, which includes the police and fire department budgets.
One criticism of the program has been that it leaves the Public Art Commission with its hands tied — able to spend the revenues only on permanent installations that relate to the source of the funds, such the $750,000 water sculpture in front of city hall that was paid for with water and sewer funds. If the city is going to have an art program, most agree it should have more flexibility.
Several council members mentioned they wish the city could do a better job leveraging outside funding for public art, including private funding from the community. Hieftje and Council Member Chuck Warpehoski, D-5th Ward, both pointed to Toledo's art program as a good example.
"I'm very hopeful that as the committee looks at this, we can look at what it would take to reach out in a better way to bring in more funding," Hieftje said.
But if the city is going to do that, Hieftje said, it's going to need a framework and it's going to need an art commission.
The council's action doesn't remove any of the art funds that already have been set aside in the fiscal year 2012-13 budget or prior budgets.
With respect to the three projects exempt from the suspension, the council has directed the Public Art Commission to directly contact local organizations, including neighborhood associations, that might be interested in the projects. The commission must hold two or more public forums at which interested members of the public can offer their opinions on the projects.
After each public forum, the commission must provide a report to council summarizing the information provided and the comments received.
Warpehoski said he thinks some of the tension regarding the public art program has been a question of clarity: Has council given clear direction to the Public Art Commission to go about its work?
"This is a chance for council to provide that clarity," he said.
Teall was the only council member to vote against the temporary suspension, which she worried would have a chilling effect on art ideas coming from the Public Art Commission.
Ryan J. Stanton covers government and politics for AnnArbor.com. Reach him at ryanstanton@annarbor.com or 734-623-2529. You also can follow him on Twitter or subscribe to AnnArbor.com's email newsletters.