Posted on
Sun, Jun 23, 2013 : 5:59 a.m.
Experts: Washtenaw County's heroin problem only beginning
By Kyle Feldscher
More dealers on the street, more opioid prescription pills and a more casual attitude among those who try the drug have led to heroin use becoming a deadly problem in southeast Michigan.
Police and medical officials are growing concerned — and frustrated — with the spread of one of the most dangerous drugs known. In June alone, at least 10 people in Washtenaw County have been treated for suspected heroin overdoses, and two of those people have died.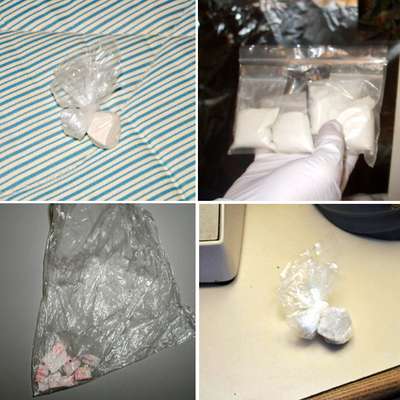 Photos courtesy of Washtenaw County Sheriff's Office
It's not clear to experts what's caused these deadly overdoses. Some officials in Michigan are warning about the return of fentanyl, a toxic chemical produced in laboratories that can be between 40 and 100 times stronger than morphine, being cut with heroin. Others speculate the heroin being sold on the streets now is simply purer than it has been in the past.
Regardless, two things are certain: The heroin epidemic in Washtenaw County continues to affect the community. And, to this point, it's not exactly clear how to stop its spread.
"I think we're at the beginning, not the end, of a trend," said Bruce Thomson, an addiction counselor with Thomson Solutions in Ann Arbor. "We're in for some real tough times."
A Pill Problem Turns To Powder
Heroin usage across the country is on an upward trend, correlating with an increase in the usage of opioid prescription pills such as OxyContin and Vicodin, said Rich Isaacson, special agent with the Drug Enforcement Administration's Detroit office.
"The fastest-growing substance abuse problem in our society for the last seven or eight years is misuse of prescription drugs and opiate painkillers," he said. "What we have seen is, as non-medical use of prescription opiate products increases, that has directly led to an increase of heroin use at the same time."
Many heroin users started off using prescription painkillers. However, switching to smack from pills like OxyContin and Vicodin often comes down to simple economics.
Linda Thomson, an addiction and recovery therapist and Bruce Thomson's wife, said people who are addicted to pain pills will quickly deplete their funds, but their need for opiates only grows. Then, they find they can get hits of heroin for a fraction of the cost.
"The biggest thing is they get on these pain pills and those are $50 to $80 a pill on the street," she said. "Eventually, they find out heroin is only $5, and they switch."
Washtenaw County Sheriff's Office Sgt. David Archer, who works out of Ypsilanti Township, said the eastern part of the county is a destination for heroin addicts.
Archer said he knows of one man, a heroin addict who had numerous contacts with deputies, who traveled from Jackson on a regular basis to Ypsilanti Township. Why? Because the heroin being sold in Ypsilanti Township is cheaper and a better product than he could find in his area.
"That should tell people a lot. People are driving from Jackson to get heroin here because it's cheaper and a better product," Archer said.
The Slippery Slope
The more the heroin spreads, the greater the effect the drug has on the community — not only in overdoses but also in crimes against other citizens.
The heroin addiction is a beast that constantly needs to be fed. Even if the drug has dropped to bargain-basement prices, that's still a constant flow of cash an addict needs to be able to produce.
Linda Thomson said that it usually starts with addicts selling their own possessions — computers, televisions, anything that people will buy. When all of that's gone, an addict will usually turn to petty theft, mostly from family, friends and those closest to them.
After that comes crimes such as home invasion and burglary. It comes as no surprise to police officers when they find out a crime was committed by someone trying to raise money to feed a drug addiction — indeed, it's been said that the underlying cause of many theft crimes in Washtenaw County is heroin.
"Anecdotally, I 100 percent believe we have seen an increase in theft crime, and will continue to see an increase, in direct correlation to opioid use," Bruce Thomson said.
With that kind of demand, it's no surprise to learn there are more street-level dealers in Ypsilanti Township than in years past. The influx of street dealers has been disturbing and frustrating to deal with, Archer said.
Time and again, law enforcement and addiction specialists point to opioid prescription painkillers as the biggest reason why heroin addiction continues to grow. What's even more disturbing is the ease with which some people transition into heroin usage.
The Thomsons said they've both had clients who simply decided heroin sounded like a good idea.
"'I was doing such-and-such and a friend of mine suggested we try heroin' - it is that causal for a lot of kids," Bruce Thomson said. "'I just thought I'd try it.' It has become a much more casual event in the life of young people."
Deadly Important Questions, But No Answers
The fact that people are dying of suspected heroin overdoses doesn't come as a surprise when usage of the deadly drug is increasing. What troubles investigators is the lack of an explanation for why heroin overdoses and deaths are increasing.
In Washtenaw County, 10 possible heroin overdoses have been reported in June, and eight of those overdoses came in two days.
Two of those suspected overdoses resulted in the deaths of a 27-year-old man and a 30-year-old man. Both of those cases are open pending toxicology reports.
Media reports have circulated about a 20-fold increase in heroin overdoses in the Downriver area of southeast Michigan, possibly due to a strain of the drug with the appropriately-morbid name Black Shadow. The possibility that scares many professionals is the presence of fentanyl.
Fentanyl is a toxic drug cooked up in laboratories that the Thomsons say can be between 40 and 100 times more powerful than morphine. For comparison's sake, heroin is about two to four times as strong as morphine.
"The tiniest amount of that will kill you dead," Bruce Thomson said. "And yet, this stuff is being sold on the street."
A Canadian advisory warning about the spread of fentanyl stated some dealers are selling the drug as heroin or in pill form, purported to be a different type of pill. The advisory connected cases in Ontario, Quebec, Rhode Island, New York, Pennsylvania and Michigan.
In Metro Detroit, police and health officials get especially nervous about the mention of fentanyl — not too long ago, the drug was responsible for about 300 overdose deaths in the area.
However, the problem could potentially be quite the opposite.
"In our most recent analysis, we have not found any new adulterants in the heroin we've seized over the last six months," Isaacson said, allowing that something could have changed in the drug supply in the last month.
Heroin is often mixed with additives — such as caffeine, anti-malarial medicine, laxatives, over-the-counter painkillers, lactose or dextrose — in order to decrease the potency of the drug and make it more profitable for the dealers, Bruce Thomson said. The less amount of pure heroin used means more product can be sold to addicts.
However, if the drugs aren't cut as heavily and more pure heroin makes its way into an addict's hands, the result can be deadly.
"If someone screws up and they don't cut it sufficiently, the heroin is more pure than you're used to and it can have an opioid effect," Bruce Thomson said. "That's the cutting down of bodily functions, and the key one is breathing."
Isaacson said the possibility of stronger and more pure heroin coming into southeast Michigan could possibly be an explanation for recent overdoses.
"Black tar heroin is the most common type of heroin and we haven't seen it here (in southeast Michigan) very often," he said. "It could be an explanation, that people are coming across new heroin and that could be leading to some of these issues."
What frustrates investigators is that it isn't clear yet. It's hard to attack the spread of fentanyl, or a more pure batch of heroin, when there isn't clear evidence of a cause.
Saline police indicated the 27-year-old man who died in the city on June 7 overdosed after getting out of rehab. The man who died in Ypsilanti had heroin and a large amount of alcohol in his system. Toxicology screens are being done on both men, but until those are finished, there still won't be answers in Washtenaw County.
As with most things in life, the answer is probably somewhere in the middle — a combination of pure heroin and dangerous additives seems likely, Archer said.
"Street dealers are trying to make more money and they cut the product that they get, or they're getting a more potent heroin product," he said. "I think it's a combination of probably both."
Kyle Feldscher covers cops and courts for AnnArbor.com. He can be reached at kylefeldscher@annarbor.com or you can follow him on Twitter.