Posted on
Sun, Dec 12, 2010 : 6:04 a.m.
$50 million underground parking deck taking shape in downtown Ann Arbor
By Ryan J. Stanton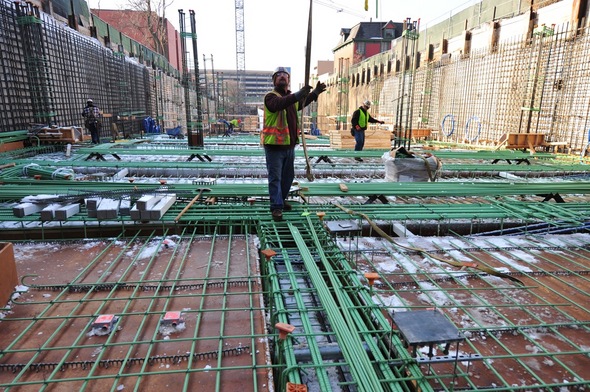 Ryan J. Stanton | AnnArbor.com
Fifty-five feet below ground in the heart of downtown Ann Arbor is another world — one where construction workers toil through these chilly months to put in place the steel and concrete bones of a new underground parking structure.
It's a first-of-its-kind project for Ann Arbor, and a bit of a logistical challenge for the Lansing-based Christman Co., the construction manager hired by the Ann Arbor Downtown Development Authority to complete the project.
But Christman has done this kind of work before.
"I feel really good about the fact that we have a really strong, experienced, knowledgable crew," said Patrick Podges, Christman's vice president, during a tour of the site on Friday. "We have a lot of great subcontractors out here all working hard to do the right thing."
Work on the $50 million parking structure —Â to be located between Fifth Avenue and Division Street, south of Liberty —Â began in earnest in January. Nearly a year into its construction, the project is about one-third of the way complete, Podges said.
"The big thing was to get the hole dug," he said. "Without the hole dug, we can't really be that productive. Now the hole's dug and you're going to see the deck start taking shape."
Signs around the site originally declared the 717-space deck would be open in August 2011, but those have been removed. It now is expected to be finished in December 2011 or January 2012 — a shift in schedule that officials attribute to a delay in securing easements at the start of the project. Christman originally wanted to start in October of last year.
But the project is steadily moving ahead now. Along the east leg of the hole, crews have started pouring concrete decks. Two are complete and a third is on the way.
"I'd say we're tracking fairly close to schedule," Podges said. "You know, we've had some obstacles to overcome — boulders that impacted the earth retention system, and dewatering that we've had to do to drop the water table. But I think we've been attacking those unforeseen conditions rather well, and we're fully anticipating that progress will really pick up."
The downtown Ann Arbor skyline seemed to change overnight in November when Christman erected a 150-foot-tall stationary crane that now towers over the site. It's so tall that it has air-traffic lights on top and required a permit from the Federal Aviation Administration.
The crane's long arm can be seen swinging across the site on a daily basis, unloading construction materials into the massive pit, where crews remain hard at work excavating dirt, pouring concrete and bending steel reinforcing rods into place.
The amount of concrete being poured for the project is enough to construct a five-foot-wide sidewalk stretching for 133 miles. In fact, it's estimated it will take about 5,100 truckloads to deliver the entire 43,000 cubic yards of concrete over the course of the project.
Ryan J. Stanton | AnnArbor.com
Another 9 million pounds of reinforcing steel are being embedded into that concrete. If they were laid out end to end, those bars would extend nearly 650 miles.
It's also estimated that the amount of dirt excavated and removed from the site will have taken about 6,250 truckloads when all is said and done.
"It's exciting," said Amy Sullivan, Christman's project manager overseeing the daily work. "This is what we do and we love to do it. And I couldn't do this with any better people."
Christman is handling the structural concrete portion of the project itself through its subsidiary company, with the help of three subcontractors: Ypsilanti-based Doan Companies, Livonia-based RAM Construction Services and Flint-based Eagle Excavation.
Most of the contractors working on the project are Michigan-based, and 100 percent of the work is being done by union laborers, Sullivan said.
Ludington-based Hardman Construction Inc. is overseeing the installation of the earth retention system around the perimeter of the site, and the Warren-based Angelo Iafrate Construction Co. has been overseeing the excavation work.
There was a scare about two weeks ago when a small breach in the southern earth retention wall created a sinkhole effect next to the Ann Arbor District Library. Sand began funneling through the wall, which sunk a few bike hoops and a portion of the concrete sidewalk along the northern edge of the library property.
Luckily, no one was hurt in the incident, Podges said. He noted that Christman now has clocked more than 70,000 man hours without a lost time accident.
Josie Parker, director of the Ann Arbor District Library, gave credit to Christman for how it handled the situation.
"It was, from my understanding, a pretty minor incident," she said. "It was taken care of immediately and, from the library's point of view, Christman did a fabulous job of dealing with it and taking responsibility for it. There was no interruption of library services."
Fifth Avenue has been closed for several months while trucks continue to use the street as a loading zone. That has dealt a blow to nearby businesses, including Jerusalem Garden, a Middle Eastern restaurant, and Earthen Jar, a vegetarian Indian food joint.
"We are hurting. Business is down — no doubt about that," said Push Sethi, owner of Earthen Jar, who is looking forward to the end of the project.
Ali Ramlawi, owner of Jerusalem Garden, said the same. "Another year and I can have a normal business again," he said. "It's just been really stressful. We're down at least 10 percent."
Parker said she doesn't think there has been a negative impact on library operations. In fact, door counts show patron visits are up slightly, she said.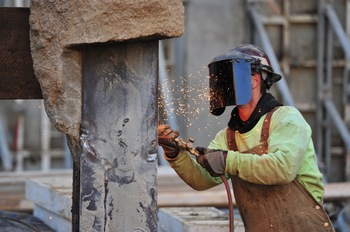 Ryan J. Stanton | AnnArbor.com
However, books and other items checked out in the first three quarters of this year total 885,473 — down from 927,896 for the same period in 2009, records show.
"From the library perspective, it's going well," Parker said. "I know that people have to work a little harder to park, but other than that we aren't hearing anything about it negatively."
The parking structure project in its entirety — including three water mains, electrical work, a new alley and more — is estimated to cost about $50 million. Related work on South Fifth Avenue and Division Street is estimated to cost another $6 million.
The city issued a bond on behalf of the DDA last year for about $49.3 million, while the DDA committed to putting up $8.4 million in cash. The DDA reimbursed the city for its bond issuance costs of about $480,000 and also paid an overhead fee of about $1.5 million.
The DDA is expecting to pay off the debt using parking system revenues.
The parking deck has been designed to accommodate a large future development atop the city-owned site known as the Library Lot. City officials now are considering a private developer's proposal to build a new downtown hotel and conference center there.
The following aerial photos taken in November are courtesy of the Christman Co.
Ryan J. Stanton covers government and politics for AnnArbor.com. Reach him at ryanstanton@annarbor.com or 734-623-2529.